One of the concerns of foreigners when considering living in Vietnam is whether to choose between two big cities, Hanoi or Saigon. So, today's article will make it easier for you to decide where your next destination is!
Living in Vietnam: Should I choose Saigon or Hanoi?

Cultural differences between Hanoi and Saigon
Technological and Internet conveniences are helping to narrow the cultural gap between Saigon and Hanoi. However, in general, the capital Hanoi is still a bit more classical and traditional than Saigon.
One of the most vivid examples is the nightlife. If in Saigon, the bars and clubs in Saigon will close in the morning, while in Hanoi, the bars  close at midnight.
Lifestyle
Not only that, the relationship between people in Saigon and Hanoi is also different. Especially in terms of romantic relationships, in Saigon you will find more couples living together before marriage than in Hanoi. Besides, building friendships is not the same. Specifically, Hanoians often keep their distance when making new friends while Saigon people are more friendly and open right from the start.
Economic development
Generally, people living in Vietnam have all the necessary modern amenities for housing as well as services to meet their living needs. Local markets have gradually disappeared to make way for buildings and offices.
Besides, Hanoi and Saigon have also welcomed many foreign tourists with many attractive tourist attractions. In particular, both Hanoi and Ho Chi Minh City have become the most bustling and modern megacities of our country.
Public transport
Compared to Ho Chi Minh City, Hanoi capital has more developed infrastructure. Specifically, the Metro system is being built faster than the city named after Uncle Ho in the southern region.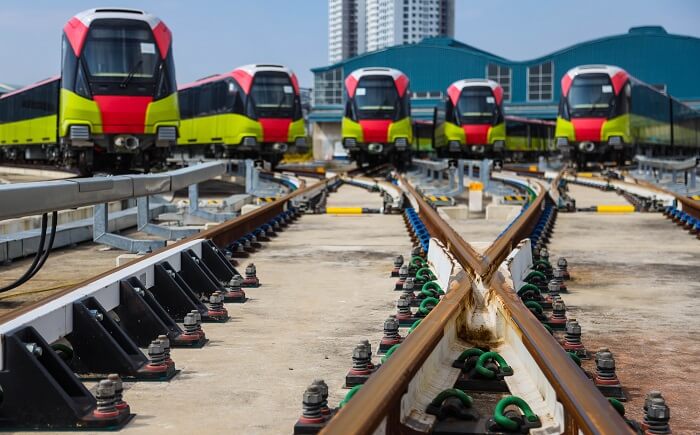 In comparison to Ho Chi Minh City, Hanoi capital has more developed infrastructure.
Weather
Hanoi and Ho Chi Minh City will have huge differences in seasons and temperatures. Specifically, in Hanoi, there will be four distinct seasons: spring, summer, autumn and winter. Winter and early spring are the coldest times of the year, but temperatures are still between 15 and 20°C. Meanwhile, in Ho Chi Minh City, the year-round temperature is usually warm.
However, summer is more humid in Hanoi than in Saigon. Because the North is affected by the humid wind blowing from Laos. Meanwhile, Saigon is drier because of the wind from Cambodia. But overall, in both cities summer can be scorching hot.
If you are considering living in Vietnam, but are still confused between these two cities, let us help you with some comparison of the "wealth" of the two places.
Is Hanoi or Saigon more developed economically?
Over the years, Hanoi and Ho Chi Minh City, as the two economic locomotives of Vietnam, have always been at the forefront of the transformation process, especially in the economic field. Since then, it has inspired the renewal of theoretical and economic thinking and contributed to the whole country with important development steps.
Statistics from many economic surveys in recent years have shown that Ho Chi Minh City is a special city and holds an extremely important position in terms of society, economy, politics, science. technology in our country. Specifically, Saigon accounts for 25% of the national budget, about 22-23% of the country's GDP and 33% of the country's services. The average annual economic growth rate of Hanoi is 9.5%, 1.5 times higher than the national average. Its budget revenue accounts for nearly 20% and its GDP accounts for 10% of the whole country.
Above is some information about living in Vietnam, specifically in the two big cities of Ha Noi and Saigon. Hope you find this information useful!