To make work permit is a legal  procedure for foreigners working in Vietnam. Legally, a work permit is a tool to protect foreigners when they work in Vietnam. Or in other words, it is a labor contract which will govern and protect the rights of workers.
In order to make work permit, you have to satify these requirements: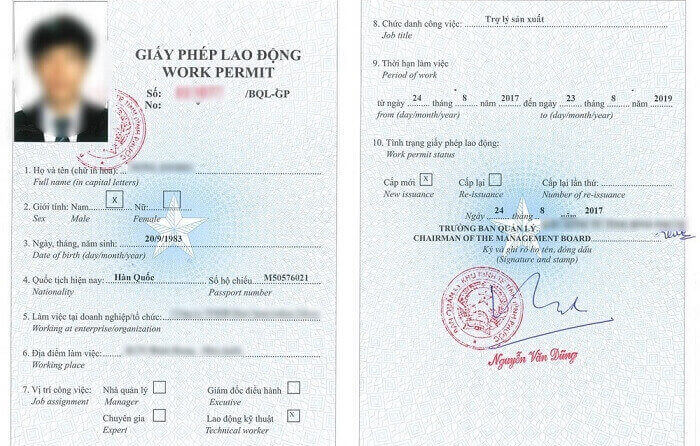 – Two (02) Professional photos
This should be a photo from the shoulders up and facing forward. Please try to ensure the background is a solid color and the picture includes the applicant's head or face. Moreover, the photos size should be 4 x 6 cm, to be in white background, taken within the past 06 months without glasses and neatly groomed hair.
– Passport (Original & notarization). The hard photocopy must be notarized at a notary public or by a notarization official
– Degree (Original & legalization)
– TESOL/TEFL/Teaching Certificate (Original & legalization)
– The experience letter (at least 3 years oversea) (consulate legalization) (if any)
– Criminal Record Check (issue within 6 months) (Original & legalization)
– Health Check (issue within 12 months) (Original & legalization if issuing from other countries, not Vietnam)
Procedure to make Criminal Record (Police check):
Option 1: Applicants applying for an FBI Criminal Record Check must first go to their local police station and give their fingerprints on official fingerprint paper. After that, applicants will need to submit those fingerprints to the FBI Headquarters along with an application form, payment, and a cover letter explaining that they are applying to teach in Vietnam and need the criminal record check for international purposes. The cover letter will allow the section chief that issues the criminal record check to notarize it with their signature.
Option 2: Go to your local police department where you reside or last resided in your home country, request that the police conduct a local or state criminal records search and provide you with a document reflecting that there is no history of a criminal record. Local police departments may require your personal appearance in order to conduct the search
– Health check (issue within 12 months)
All applicants must declare chronic health conditions on application so that we can assess whether they will adversely impact the health check. The health check certificate must be issued within the last 12 months, you can make it in Vietnam or in your country (You will need to legalize Health Check if you make it in your country). Please make sure that you have 02 4 cm x 6 cm portrait photos of yourself and your passport with you. You need to take your photos with a white background and within the last 6 months to reflect your current appearance.
– Legalize your work permit documents:
In order to use your documents in Viet Nam, each document must be legalized by the Foreign and Commonwealth Office/the Department of Foreign Affairs and then in turn legalized by the Embassy of Viet Nam in Teacher's country.
For legalization at the Embassy of Viet Nam, you need to submit to the Consular Section, Embassy of Vietnam in person or by post the following documents:
1. Legalization Application Form
2. Documents (original or copy) with ORIGINAL apostille stamp
– Degree (legalized & notarized + translated).
– ESL Teaching Certificate (TEFL/TESOL/CELTA, etc) if your degree is not in Education (legalized & notarized + translated).
– Language Proficiency Requirement (Level 5 V-Step/ C1/IELTs 7.0) if your degree is not in Education &  you are an non-native teacher. (legalized & notarized + translated)
– Working experience confirmation document from former employers (At least 3-year, if any) (legalized & notarized + translated).
4. A self-addressed envelope if you want to receive your documents by post.
5. Lastly, some legalization fees
Please email to Vietnam Embassy for details or on Vietnam Embassy official website in your country.
For documents returned by post, the Embassy can provide tracking number if requested.
Above are some documents you need to know to make work permit. To know about the procedure to make or renewed work permit, see here: