COVID has affected all of our lives and now that it has, at last, started to abate, international travel is again at last possible. Vietnam was one of the last places to accept visitors (and even allow people to leave and return once again) and now it has reopened it can be difficult to work out the rules and regulations to enter. Below is some information on the Covid regulations and procedures to get into Vietnam:
We will take you step by step through the process – enabling you to be confident that you have ticked all of the boxes and your transition into the wonderful world of Vietnam will be as smooth as possible.
Covid regulations and procedures to get into Vietnam
At the time of writing (mid-April 2022), the Covid regulations and procedures to enter Vietnam are as follows:
Passengers must have:
A negative COVID- 19 NAAT, RT-LAMP or RT-PRC test taken at most 72hours before departure or,
A negative COVID- 19 rapid antigen test taken at most 24 hours before departure.
This does not apply to passengers younger than 2 years
This is very good as it means you have a choice- the PRC test ( the first option ) is a much more expensive and detailed type of test however the advantage of this is that you can take it 72 hours before departure. Note that they will use the stated departure time of the aeroplane – not the actual time – so don't worry if the plane is delayed and sets off an hour or so later than anticipated! The advantage of taking it early means that if by any chance you do test positive for COVID then you will have more time to be able to sort out and change your flight – with the 24-hour option you would really be racing around.
The Covid regulations and procedures regarding the exact method of test-taking is rather lax. Some countries demand that the test is taken at a specified clinic – or at the very least that it is a service that has a video that watches you take the test to ensure that you are doing it yourself and correctly. However, Vietnam does not worry about that – all you are trying to achieve is a certificate that states the date and time of the test and the test result. Please note that the certificate does need to come from a government-approved organization (so you cannot just make your own!)
After you have your certificate that proves, you are negative for COVID you need to upload it to the official government site – https://tokhaiyte.vn/?page=login
Covid regulations and procedures- Health declaration
You need to register for an account and then fill in an online form that asks for your official details, the details of the flight, the place that you will be staying whilst in Vietnam ( in case they need to contact you ) as well as your COVID details.
Please note that the form cannot simply be opened and stays open for a long period of time ( e.g. a day or more ) so it is best to look at the form and know what is needed – get the information and then complete it all at once.
When you get to the website page there is a choice of three types of forms:
Domestic move declaration ( this is if you move from one place within Vietnam to another )
For people entering – entry declaration – THIS IS THE FORM YOU NEED TO ENTER THE COUNTRY
Public declaration ( for domestic guests )
The form is available in a variety of languages (simply press the corresponding flag). It is important to note that this form is taken very seriously – it is an official document so do not be tempted to make things up!

After you have filled in basic information details, there is a section on symptoms and where you have been. Note that if you tick "yes "(well – in the form it is actually "have " ) to any of these then you will probably not be allowed into the country.

Although it now does not matter if you are vaccinated or not (even those with no COVID vaccinations can now enter) there is a section on the form which asks for details about your vaccination and asks for the upload of a certificate. You simply press the blue button ( which doesn't translate ) to add another vaccination – so if you have been vaccinated against COVID twice then you press the blue button twice and you will add two sets of information ( endearingly mistyped as " nose " instead of " dose " ! )
Note that for the British there is only one option – English – rather than British or United Kingdom – or even Scottish and Welsh added to the English. This is just a misunderstanding – so if you live in the UK you need to put yourself down as "English "on this form.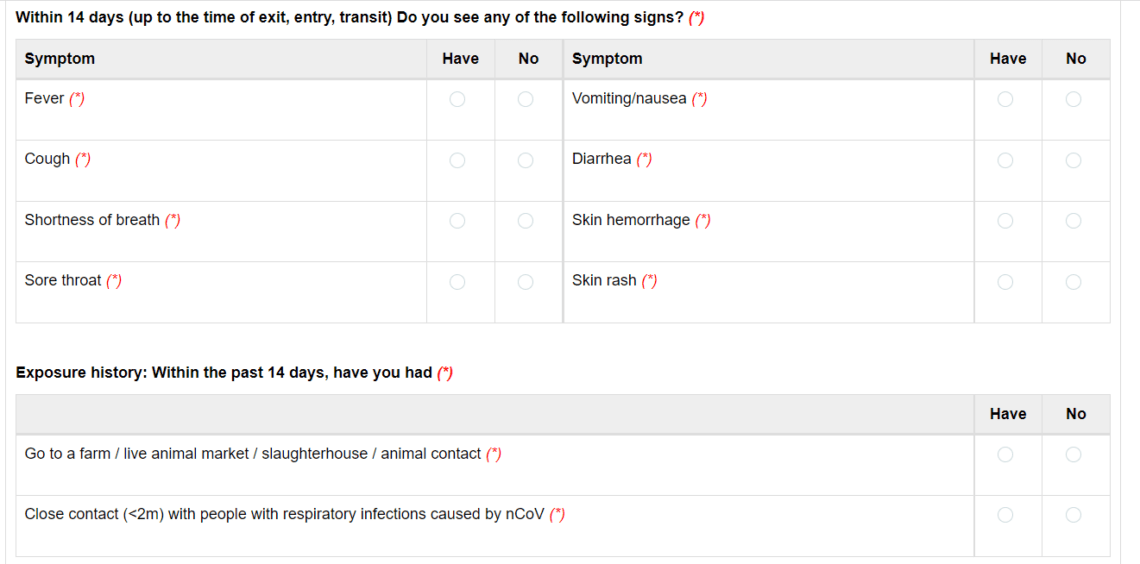 The vital part of this form is the last section – the testing. You simply add the information and then upload the certificate. It will show how much of the file has been uploaded and will then tell you the file has been uploaded – note that this only comes up momentarily – so you do need to watch to check
Once completed, you simply add in the security code and press send.
Covid regulations and procedures- the QR code
You will then have a page with a QR code on it – this is the VITAL box for entry into the country. There is intermittent internet within the airport and no internet at all at the place where you need to show the QR code so it is vital that you either print out the QR code or take a photo so that you can show it.
When you arrive in the country before immigration (where you show your passport etc.), there is a table with people sitting and some small box machines. The people sitting there will be holding up and showing the page with the QR code that was generated after you sent off the form so you will know it is the time to show your QR code. You simply press your QR code against the box machine and that is it – it is a simple two-second procedure! After this, you simply carry on to immigration, as usual, to deal with visas etc.
Overall, the Covid regulations and procedures are quite straightforward when it is all broken down into easy steps – the important thing is to make sure that you have your test taken in the time frame dictated, that you fill in the form before you get to the country and that you have your QR code all ready to show – welcome to Vietnam!