Temporary work stoppage or job loss due to prolonged social distancing makes life difficult for expats in Ho Chi Minh City. But they are still willing to join hands to help the people of Vietnam- the country that they have always loved during the Covid-19 period.
Work interruption during the Covid-19 period
Mr. Matyas Folop (38 years old, Australian) has lived in Vietnam for 4 years. In early 2020, he returned to Australia to visit family and planned to return to Vietnam in March. But the pandemic hit and swept the world, he was stuck in Australia for a year and a half.
"I really want to go back to Vietnam. So I decided to do a 4-week quarantine, with all the paperwork and over $4,000 for expenses. Specifically, $1,500 for air tickets, $1,800 for isolation fees at hotels, $872 for visas, $204 for insurance and other expenses. After all, I am finally in Vietnam in June 2021," said Mr. Matyas.
As soon as he returned, Mr. Matyas continued to be caught up in the influence of the 4th wave of Covid-19 epidemic in Ho Chi Minh City. "My times were horrible," he blurts out as he recalls. Fortunately, his business in Australia is still operating stably, so his income has not been affected much. But living around the house for many days made him tired and depressed.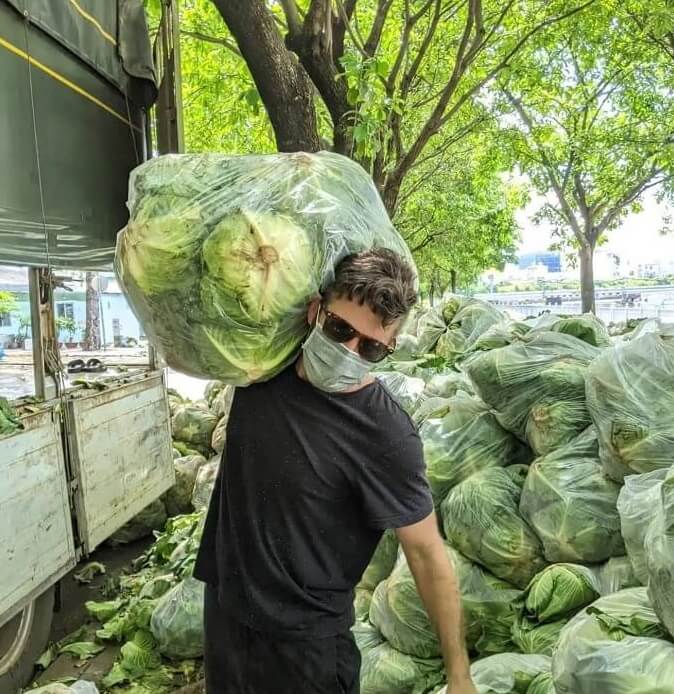 Mr. Henry Barany (35 years old, British) faced many difficulties when his business in Binh Thanh District (HCMC) was stopped. He shared: "My Phat Phuc Racing motorcycle shop had to close completely for more than 3 months. The car rental company The Extra Mile, which I partnered with a friend, has been able to survive mainly by the support of many loyal customers."
Mr. Robin Deepu (Indian) who has lived and worked in Vietnam for more than 10 years could not imagine Ho Chi Minh City falling into such difficulties like it did in the Covid-19 period. His business is in District 1 (HCMC) and Ho Chi Minh City. Hoi An (Quang Nam) must stop operating.
"Overall, we did have financial difficulties. Pandemic is like other challenges in life that we have to face," said Robin.
Missing families back home during the Covid-19 period
Henry's father has been with Vietnam for 27 years and passed on his love of this country to him. Having lived here for 14 years, he has never seen the city suffer so much during the recent epidemic. "I feel uncomfortable watching dear Saigon go through this extremely difficult time," he expressed.
Henry's mother and grandmother are living in England. Because of the epidemic, Henry could not return to England and his mother and grandmother could not go to Vietnam. The nostalgia and concern for the health of the two were always in his mind. "I will return to visit them immediately, one way or another as soon as the restrictions are lifted," said shop owner Phat Phuc Racing.
In India, Mr. Robin's family had a very difficult time during the Covid-19 period. His father and mother were both infected with the virus. "I was helpless and frustrated when I couldn't help my parents. Fortunately, they were taken good care of and have made a full recovery," said Robin emotionally.
Similarly, Mr. Trevor Long (56 years old, Australian) has lived in Vietnam for 9 years and experienced 2 difficult years of the Covid-19 period. He has a Saigon Motorcycles store in Thu Duc City and had to close it when the city was social distancing. He cannot return to Australia. His father passed away in his hometown in February 2021, when he was not around. The granddaughter has also not seen her grandfather for a long time. "We live day by day hoping for something positive," said Mr. Trevor.
Best wishes to Vietnam
Despite the difficulties, foreigners who have been attached to Vietnam in general and Ho Chi Minh City in particular have the love and desire to become a part of this place. During the time of social distancing, Mr. Henry, Matyas, Robin and Mr. Trevor participated in volunteer activities to help the people of Ho Chi Minh City.
Mr. Matyas joined 2 volunteer groups Nova Volunteers and Flying Heat. He and other volunteers in the Nova Volunteers group spend a lot of time collecting, loading necessities on trucks and transporting them to many districts. With Flying Heart, the scale of operation is smaller. However, Mr. Matyas still managed to raise more than AU$8,000 for this volunteer group to buy rice and fresh food for people during the Covid-19 period.
"I want to do something for the place where I have been for four years. I feel lucky that I don't have to worry about food, shelter and money. Therefore, I want to help people who are in need. Helping people really makes me feel more positive about the situation," said Matyas.
Henri teamed up with his close friends Robin Deepu and Frank Vossen, the owners of Baba's Kitchen. They set up a charity kitchen for 3 months. More than 2,000 meals are cooked every day to be delivered to hospitals, vaccination sites, orphanages and the homeless.
Looking back at the project, Mr. Henri excitedly said: "The funding to run the project is from us, a group of close friends, longtime foreigners in Vietnam, customers and benefactors around the world. We call this group of wonderfully kind people the Baba family. Baba's Kitchen restaurant in Thao Dien is used as a charity kitchen and all the staff, team members and other volunteers participated to make this project happen.
Witnessing the hardships and sufferings that this place has to endure during the Covid-19 period, Henri feels the vitality of Saigon people. They pull together, help each other. "Every day, we thank all participants for their continued help and support. We always say to each other: Be strong, be safe and stay optimistic!" he added.
Mr. Trevor is a member of the Baba family. He helps people pack and distribute food to send to the vulnerables.
Now, everyone is back to their business. Mr. Matyas is completing the procedures to receive a TRC to start a new job in Vietnam. Besides, he has a plan to support his friend who is in charge at an education center for poor children in District 8 (HCMC), as well as help the homeless.
For Henri, Robin and even Matyas, their biggest wish is that Vietnam can overcome the pandemic and recover from the Covid-19 period. What they have done in the past 3 months is like thanking the country for accepting them. "We will be the first to celebrate when Saigon comes back again. Fighting Vietnam!"