If you are concerned about a diet with a high amount of meat and fish accumulated, which can cause a nutritional imbalance in the long term, looking for other vegetarian options is an alternative solution. Visiting these places, you can enjoy savory dishes that are good for your health as well as relax after a long day. Refer to our list of the top 8 most-delicious vegan restaurants in Hanoi below and tell us which one is your pick!
Top 8 most-delicious vegan restaurants in Hanoi
Uu Dam Chay restaurant
We ensure that you will be impressed from the first time you visit the restaurant because it is very beautiful, from the tree-lined road to luxurious shimmering space, ideal for formal meetings.
The design is very modern with the service spaces and the restaurant's interior. You may spot many Buddha statues and antique-looking shelves around, which makes the whole vibe appear to be even more serene.
Not to mention, there is a variety of delicious vegetarian food here for you to choose from salads, soups, fried rice, pho rolls, to spaghetti. The staff is also very kind and friendly, so if you have any questions about your order, feel free to ask them, and they are willing to assist immediately.
With a budget from 65.000 to 100.000VND for a delicious and eye-catching dish; you will certainly have the best experience here.
Tinh Thuc Vegetarian Food Restaurant
Tinh Thuc Quan – Tinh Thuc Vegetarian Food Restaurant is one of Hanoi's largest vegetarian buffet restaurants nowadays. Probably, you haven't known that you can eat 60 vegetarian dishes for only 100.000VND, which is considered too affordable for the quality compared to many other restaurants.
The setup of this restaurant is also highly appreciated by the community. In contrast to Hanoi's summer weather, the chilly atmosphere provided by the set of ACs here will help you cool off.
If you visit Tinh Thuc Quan in the evening from Monday to Thursday, you will get a 20% discount program, which is considered a great bargain for many people.
Also, this is a place where Buddhists can come to eat vegetarian food, listen to Dharma lectures, read Buddhist books, and join hands in charity work across the country.
Tinh Thu Restaurant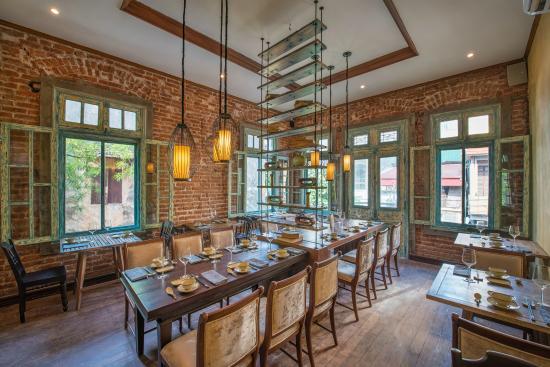 Coming to Tinh Thu restaurant, you should not be worried about food quality because all ingredients are carefully selected since they put customers' health first. Fresh vegetables, tofu, shiitake mushrooms,… are all imported from organic vegetable supplies in Vietnam, and vegetarian products are imported from reputable companies whose products are certified as safe for health.
They also offer licorice tea to help you loosen up and feel comfortable. Most people love this restaurant due to its diverse menu and airy, peaceful space with meditation music playing throughout. The price here is just around 80.000 VND for two people per meal.
Huong Thien restaurant
Mentioning the top 8 best vegan restaurants in Hanoi, Loving Hut must be listed, as it is a delicious Hanoi vegetarian restaurant that was born with the message "Be a vegetarian, live green to save the planet".
Understanding the meaning of vegetarianism for each person's health and biological balance, the restaurant is always trying to create excellent and beautiful vegetarian dishes from fresh ingredients, ensuring safety for your health.
This is also the vegetarian food-eating place many foreign customers usually visit thanks to its Vietnamese dishes and peaceful atmosphere with prices ranging from 90.000- 150.000VND / person.
Minh Chay Vegan Restaurant
Minh Chay is a Hanoi vegetarian restaurant with a comfortable natural space that is very suitable for young people. With a simple wooden table full of fallen leaves scattered around, diners are ensured to have the best dining moments with their loved ones.
If you are a big fan of selfies, don't forget to bring your camera to take great photos and show them off on your social media. Because from the food to the scenery, every corner in Minh Chay restaurant is a great check-in spot.
However, one thing that differentiates this restaurant from others is that the restaurant owner has a rich knowledge of mental health and vegetarian dishes, so diners can chat with him and find him to be a living bookstore, knowing many new and interesting facts.
He also gives suggestions about dishes for you whenever you visit here. Moreover, the soups such as mushroom soup, lotus seeds, and vegetables here are delicious with the price from 150.000 – 200.000 VND/person.
Hoa Dang restaurant
One of the top 8 famous vegetarian restaurants in Hanoi is Hoa Dang restaurant. It is famous for being spacious and delicately decorated with French style.
Its menu features 100 national dishes from imported, non-GMO organic vegetables. Food ingredients are carefully selected, imported from countries like the US and Japan, and have full food safety certificates.
One of the special things about Hoa Dang is that the people are open and friendly, from diners to staff.
Price: 100.000 – 250.000 VND/ person
Mandala Restaurant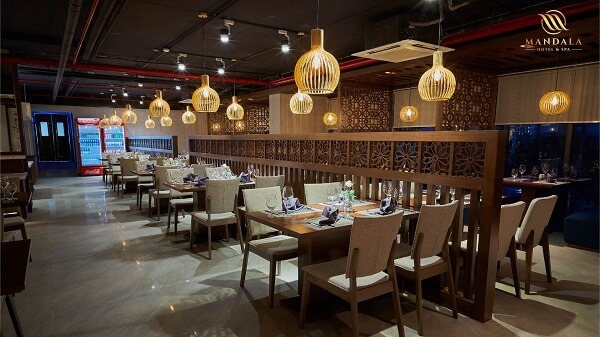 Located in the middle of busy Giang Vo street, Mandala restaurant is like a peaceful place to return to with the appearance of the sacred Buddha in the middle of the noisy city. It has decorative motifs with lotus flowers, carp, murmuring water, and meditation music melodiously promisingly gives you such a rare peaceful feeling in a hectic city like Hanoi.
Vietnamese vegetarian dishes that can be adjusted according to their preferences will satisfy diners whether they come from any region of Vietnam and even visitors from any place in the world.
Price: 50.000 – 200.000 / person
Nhat Tam restaurant
Nhat Tam is a famous name among the vegan restaurants in Hanoi. The dishes here are quite diverse for you to choose from, but one of the most famous foods here is salad, which is the favorite food of many people.
The restaurant space is very spacious with three floors, but each floor is decorated cozily. In addition, if you want to organize parties and birthdays at the request, contact them because they have this kind of service.
Although it is located deep in a small alley, the enthusiastic and open attitude of the staff with excellent vegetarian dishes is a great plus point making Nhat Tam always have loyal customers for many years.
Price: 100.000 – 150.000 VND/ person
In conclusion
Hopefully, the top 8 most-delicious vegan restaurants in Hanoi can help you make a decision on finding ideal vegetarian places in Vietnam more easily among various ones. No matter where you choose to visit, do not forget important criteria for opting such as price, the taste, and quality of food, and serving attitude!