Beware! This game can be addictive!. The Jurassic Park game is designed to perfection, with complex and possibly surprising effects. In addition, the various rewards and options make it impossible for your students to get bored, even if they play for the 100th time!
Why should you play this game?
For the same reasons as many of VTJ's other carefully selected and collected games, which include:
– Highly applicable, extremely useful for online classes. It helps students become more interested and focused on the lecture/practice part through quizzes.
– Easy to monitor scores and to edit the content. The game also comes with great visuals and vivid sound effects
– What makes this game unique is that it has a scoreboard where you can go back after each answer to edit each team's score.
– Suitable for all types of content: grammar, vocabulary, word meanings, etc.
How to play the Jurassic Park game?
Rules:
– The gameplay is quite similar to other games introduced by VTJ:
– Students divide into teams to play. If the class is large, or if the class is less than 4 people, let them play individually.
– Students choose 1 question box and answer, if the answer is correct, their team gets a random reward
How to play:
– To start, click anywhere and let the intro run by itself. Click the small Jurassic Park logo (at the bottom right of the screen) when necessary!
– In the character selection board, click the double arrow icon under each dinosaur to choose a character for each team.

– In addition, on the top of each character there is a scoreboard, click on the

symbol to adjust the numbers to match the score of each team.
– Click the Jurassic Park logo to return to the question selection page, which has 24 questions labeled by 24 letters of the alphabet.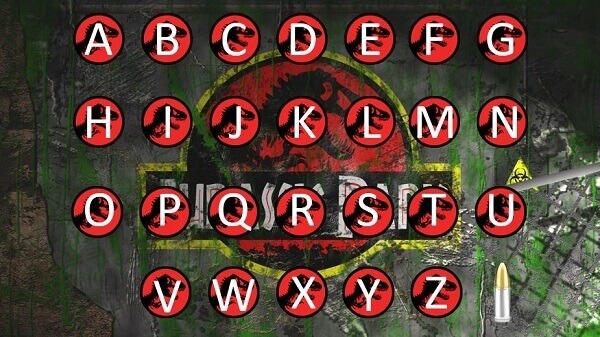 – Click the bullet to return to the scoreboard from the question selection page, and click the Jurassic Park logo if you want to return from any other page to the Question selection page.
– On the choose a path page, click "Jungle", "Swamp", or "Mountain" to advance.
DOWNLOAD THE JURASSIC PARK GAME NOW!