One thing for sure is that this game is not for everyone. If you consider yourself as a conservative and serious-minded type of teacher, the Poop game wouldn't be a choice. However, we believe you might find it considerably helpful in spicing up your lesson, and at the same time provide good practice to your students when it comes to teen and kid classes.
Why should you play the Poop game?
– Highly applicable, extremely useful for online classes. It helps students to get loose and become more relaxed while learning online.
– The funny yet somewhat crude sound effects may make some people uncomfortable but can be extremely exciting to some cheeky students. The more emotions you create for the kids to play, the more enjoyable they will feel about the lesson, which makes it easier for them to consume the knowledge.
How to play the Poop game:
Rules:
– The gameplay is quite similar to other games introduced by VTJ:
– Students divide into teams to play. If the class is large, or if the class is less than 4 people, let them play individually.
– Students choose 1 question box and answer, if the answer is correct, their team gets a random reward.
The random rewards are as below:
Poo = points

Steal points
Change points
Lose all your points or

NUCLEAR!!!
In addition, other types of Poop that you can find in the Reward section can be Dancing poop, Pinkpoo, Poo-ple, Pixel Poo,… corresponding to the number of points they bring (each type of poop gives you certain points)
How to play:
1. After instructing how to play and calculate points for students, go to the main menu.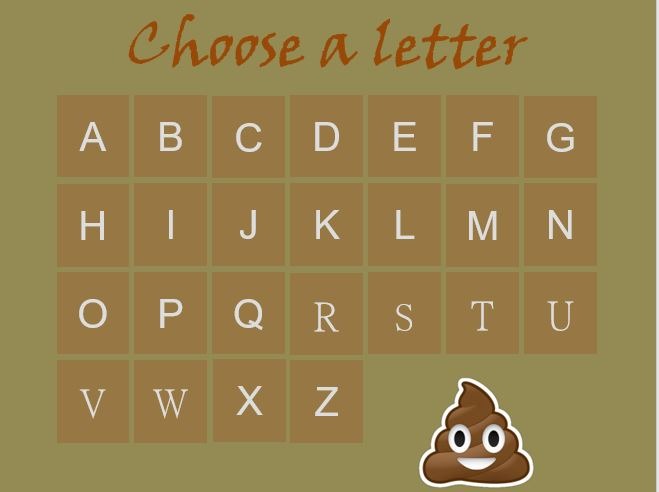 2. Select 1 letter displayed on the screen, it will take you to the corresponding question.
3. After students answer, to show the answer, press anywhere on the screen.
4. If a team gives the correct answer, press the "✔" icon and you will discover the reward for that team.
5. If the answer is wrong, press "x" and it will take you to another question. If the answer is correct, press "✔" again to go to the score section.
6. Once the score has been saved, click this icon

 to return to the main menu.
Download the Poop game now!