Since the out break of Covid-19 pandemic began in Vietnam in March 2020, the Government had to lock the country down to control the spread of the virus in community. Schools were closed and many foreign English teachers had to leave because they  couldn't get a job.
Now, many foreigners who want to come back to Vietnam to be a teacher have a common question: "How to enter Vietnam during Covid-19". Life goes back to normal, students go to schools, English centers reopen, Vietnam is in high demand of foreign English teachers. You can see on the Facebook groups about English teaching jobs in Vietnam, there're hundreds posts saying they're looking for English teachers all over Vietnam but currently the number of foreign teachers in Vietnam is very small so they couldn't find teachers even they pay high salary, much higher than before Covid-19. It leads to a fact that you have a lot of job opportunities in Vietnam at the moment.
The problem is going to Vietnam at this time from abroad is not easy. Getting a visa now is more difficult, flights to Vietnam are limited and you don't even know if Vietnam allows foreigners to entry.  Good news is since September 2020, Vietnamese government has reopened some international flight routes to Vietnam and allowed experts and employees to enter the country with guarantee of the company. To enter Vietnam during Covid-19 is difficult but still possible. On this article we are going to give you some information about how to entry Vietnam during Covid-19.
Now VTJ is having program: EPIV – English Placement Program In VietNam 2021 to support teachers outside Vietnam to enter and get an offer at School/ Center in Vietnam. (English Placement Program in Vietnam (EPIV) includes supporting to sponsor foreign teachers coming to Vietnam and make job arrangements for teachers at schools / centers in Vietnam) click here to find more detail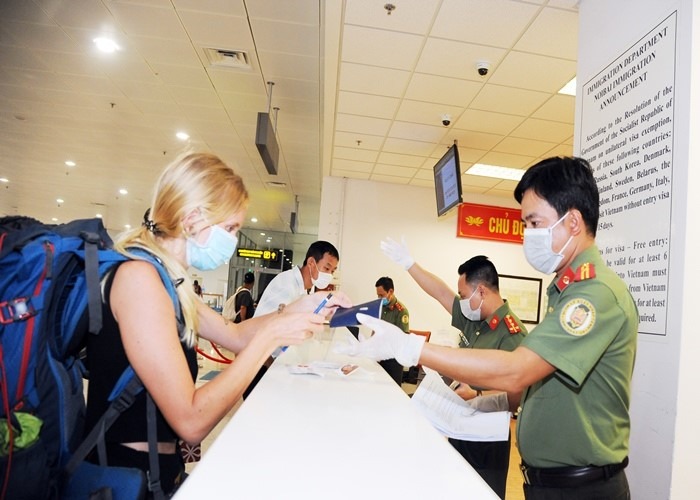 Foreigners wearing face masks at the check point
1. Visa and work permit.
Currently you only can get visas to enter Vietnam if you're sponsored by a company. Companies in this case are schools and English centers that hire you as a teacher so first thing you need to do is applying for a job, if you're accepted the company will help you to process your visa and you need to send them some needed documents to do it. After everything goes through, your company will send you a approval letter, you will show this letter to the immigration at the airport when you arrive and the immigration will get you a visa stamp. When you've arrived to Vietnam, you will need to make your work permit and residence card to work here legally and longer. Your company
The documents you need to provide for visa (send the copy to your company to process your visa before going to Vietnam).
A copy of our passport photo.
A copy of your university or college degree.
A copy of your teaching certificate (TEFL, TESOL, DELTA)
The documents you need to prepare for work permit:
Your university or college degree.
Your teaching certificate (TEFL, TESOL, DELTA).
Your police check.
All of them need to be authorized at the Vietnamese embassy in your country so you would need to do everything before going to Vietnam and bring the original documents with you. If you can not do it in time, you can come to Vietnam first with your visa and ask your family to send those documents later.
One more thing you need to do before getting to the plane is you need to do a Covid-19 test by the real time PRC technique maximum 3 days getting to the plane and get a certificate to prove that you are negative with the virus. The tests must be done at testing centers approved by their government or at test centers approved by the World Health Organization (WHO). The Vietnamese immigration will require you to show the test result when you get to the airport in Vietnam.
Visa fees:
Normally your company will pay for the fees of visa and work permit, you would need to ask the recruiter in the interview about this. In case your company asks you to pay for it, the total price for all of them is about 700$ (visa approval letter, visa stamp, work permit, residence card).
*Reference source: https://e-visa.ie/vietnam/corona
Which agency you can help you get a teaching job in Vietnam and support you with visa?
EIV is the number 1 agency about recruiting English teachers in Vietnam. They recruit teachers for public schools, private schools and English centers all over Vietnam. They can help you to get a job and support you with visa, work permit and all the information about entry Vietnam requirements.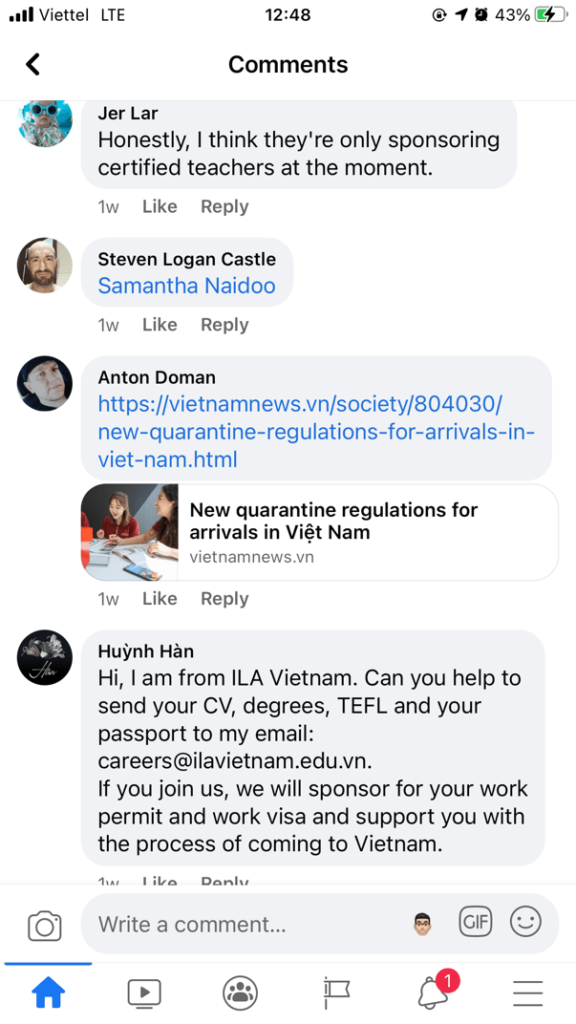 People comment on Facebook groups about how to enter Vietnam during Covid-19
2. Procedures of quarantine
Just like all other countries in the world, you need meet the entry Vietnam requirements required by Vietnamese government and go through a quarantine when you first get here. The quarantine will last for 14 days including 7 first days at hotels, resorts and other places nominated by the Government and 7 next days at home but follow the requirements from the Government. Since September 1st, the government requires travelers to pay for all the fees of quarantine (including the virus test fees)
Below is the quarantine schedule required by Vietnamese's Government:
Before getting to the plane
Having a valid passport.
Having an approval letter
Having a test result of Covid-19 approved by the Government 3 days before getting to the plane.
Having international insurance or commit to pay all the fees of treatment in case the person get covid-19.
Confirmation from the place that you choose to have quarantine.
Electronic medical declaration 12 hours before getting to the plane.
On the plane
Wearing face masks during the flight and follow all the rules of the airlines.
At the entry gate
Wearing face masks and do the body temperature check.
Checking for validity of the requests before boarding the aircraft.
Installing 3 mobile apps: Vietnam Health Declaration, NCOVI and Blue-zone.
Take measures to prevent infection while moving straight to the registered quarantine site.
4. The first 7 days of quarantine
Wearing face masks and carrying out infection prevention at the quarantine site.
Taking samples for testing if didn't do it at the airport. Taking samples 2 times on the 2nd day and the 6th day.
If the test result is negative with Covid-19 on the 6th day, the person is able to go home to take the next 7 days of quarantine there.
5. The next 7 days of quarantine
Wearing face masks and Take personal hygiene measures to prevent infection.
Do not use public transport to get from your property to work.
Connect continuously and update daily health status on declared applications
Sampling for final phosphorus test on the 14th day of entry
Notes:
Do not use public transport to transport inbound persons to quarantine areas, to accommodation, from accommodation to workplaces.
Health monitoring 14 days after the end of accommodation isolation.
Open persistent connections and health notification application settings.
Report health status and exposure as directed
6. Quarantine fees
Vietnamese Government requires foreigners who want to entry Vietnam to book a quarantine place before entering Vietnam. The minimum amount of a hotel for quarantine is just 5$ and the food and other expenses are also very cheap but you can book a luxury hotel or resort. The price would be much more expensive (more than 100$ per day) but the service is absolutely perfect and you can enjoy more when you stay there. Choices are on you.
You can ask more information how to book an accommodation for quarantine from Viet international company (WhatsApp: +84977583086)·
Reference source: https://www.ivisa.com/vietnam-blog/vietnam-14-day-quarantine-requirement
After you go through all the procedure the welcome to Vietnam. Maybe all the procedures are very strict and take a lot of time to finish but it's necessary to protect our country and all the people who are living here as you know Vietnam currently has zero case in public, all people who got the virus are isolated right away since the got to the airport. Our lives have gone back to normal in Months and you will be safe here.
Also as I mentioned above, the high demand of English teachers at the moment makes it easier to find a job and you can choose the one that suits you best instead of choosing one which you don't really like. The salary of teachers has raise rapidly, this is the good time for you to come of course only if your abilities are good enough so prepare well before any interviews with recruiters to make sure that you can take the chance. Above is some information about how to entry Vietnam during the Covid-19 pandemic.
Base on these guidance's, you can imagine what you need to do before going to Vietnam. It's quite complicated but It's going to be worth it. We hope you can make it and help Vietnamese people to improve their English.
Author: Khoa Pham