Breakfast around the world varies tremendously, from the continental breakfasts of Europe to the huge English breakfasts of baked beans, eggs, sausages, etc. Vietnam, however, has a whole new take on breakfast – some of which is more understandable to the expat taste buds and others that seem very alien and unusual – not only in terms of taste but also in the fact that these things are served for breakfast. 
Breakfast in Vietnam is considered the most important meal of the day and this is very evident in the wide variety of foods available. It is not unusual if you go to a hotel that has a buffet to find full-on foods such as spaghetti bolognese, meat, and rice and stir-fried rice on offer for breakfast  – which seems very unusual to the Western palate – but you soon are able to readjust your expectations! 
Pho – The Iconic Vietnamese Breakfast Dish 
The most common Vietnamese breakfast food is that of Pho – which you see everyone busy eating at street cafes each morning. This dish consists of a huge steaming bowl of rice noodles immersed in a flavourful broth, topped with thinly sliced beef or chicken, fresh herbs, and a squeeze of lime. It is almost impossible to eat a whole bowl – so you may like to start with sharing with a friend to start with! 
There are various types of pho – with the two most common being Pho bo (beef) and Pho ga (chicken) which are available throughout the country. In addition, there are regional variations – from the Hanoi-style Pho with a clear broth or the Saigon-style Pho with added spices so there is always something new to try! 
Pho is available in restaurants and cafes as well as in little street cafes (where you buy from a tiny stall and sit on small plastic stools) – it is not uncommon to see portions of Pho being carried along the street for delivery –  both just being carried as well as balanced whilst driving a motorbike! 
In addition, you are able to get takeaway Pho – this is an interesting experience as you ask for a portion and then get a whole collection of little bags of ingredients which you can take home and mix together.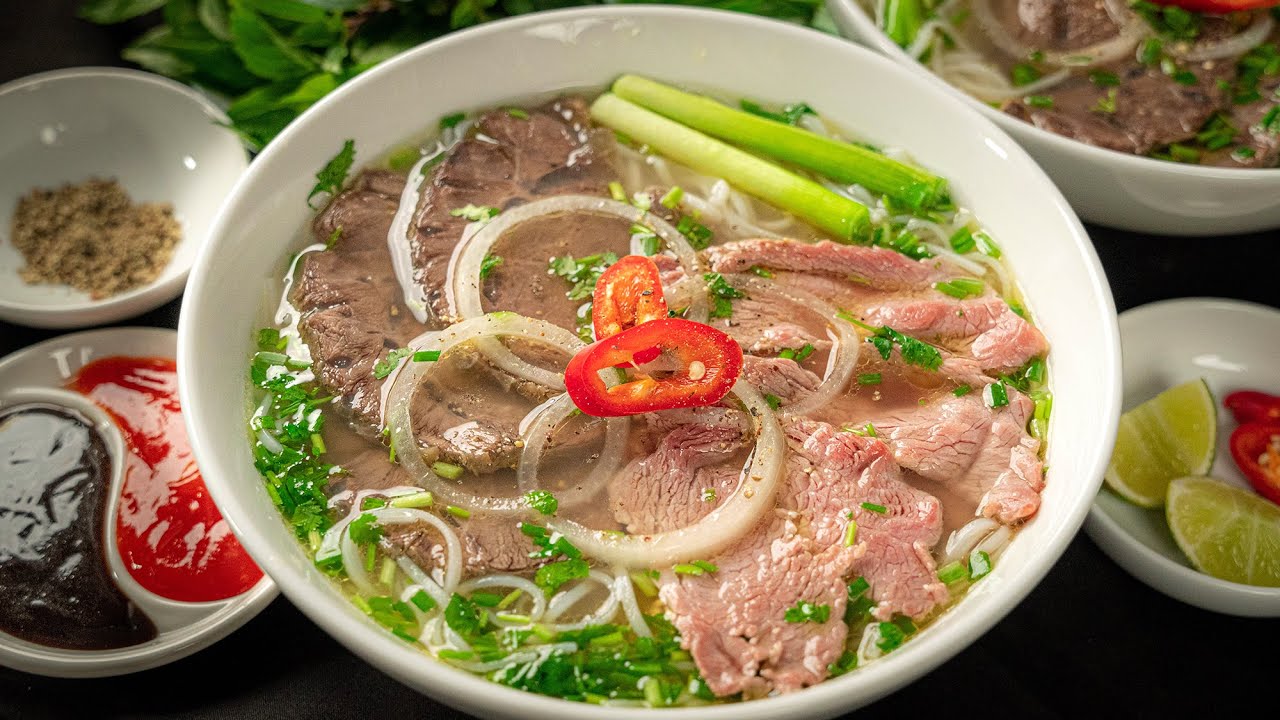 Pho – the staple breakfast food
Banh Mi: The Portable Breakfast Sandwich 
After Pho, Banh Mi is probably the second most popular breakfast staple in Vietnam. This dish is one that looks much more usual to Westerners as it has a French heritage. This consists of a crusty baguette filled with a wide array of fillings, such as pate, cold cuts of various types of meat (usually pork or chicken), and pickled vegetables. There is also an option of having egg – which has a Vietnamese twist with herbs and powders. Unlike a sandwich in the West which is usually a little bland, the Banh Mi is packed with ingredients and has a huge handful of herbs (cilantro) – to top it all off there is a huge squirt of hot chili sauce – if you don't like hot food then you can always ask for no chilli towards the end when you see the huge squeeze bottle coming out! 
As with the Pho, you can buy the Banh Mi in a restaurant or street café, although it is very common to have this as a takeaway (as it is super easy to pack and take) and you can then take it to work to eat when you arrive. 
You will find it is very common for Vietnamese to get a takeaway breakfast and take it to work  – so look around and see what other people are doing and if it is common for people to bring in their takeaway breakfast you can soon follow suit.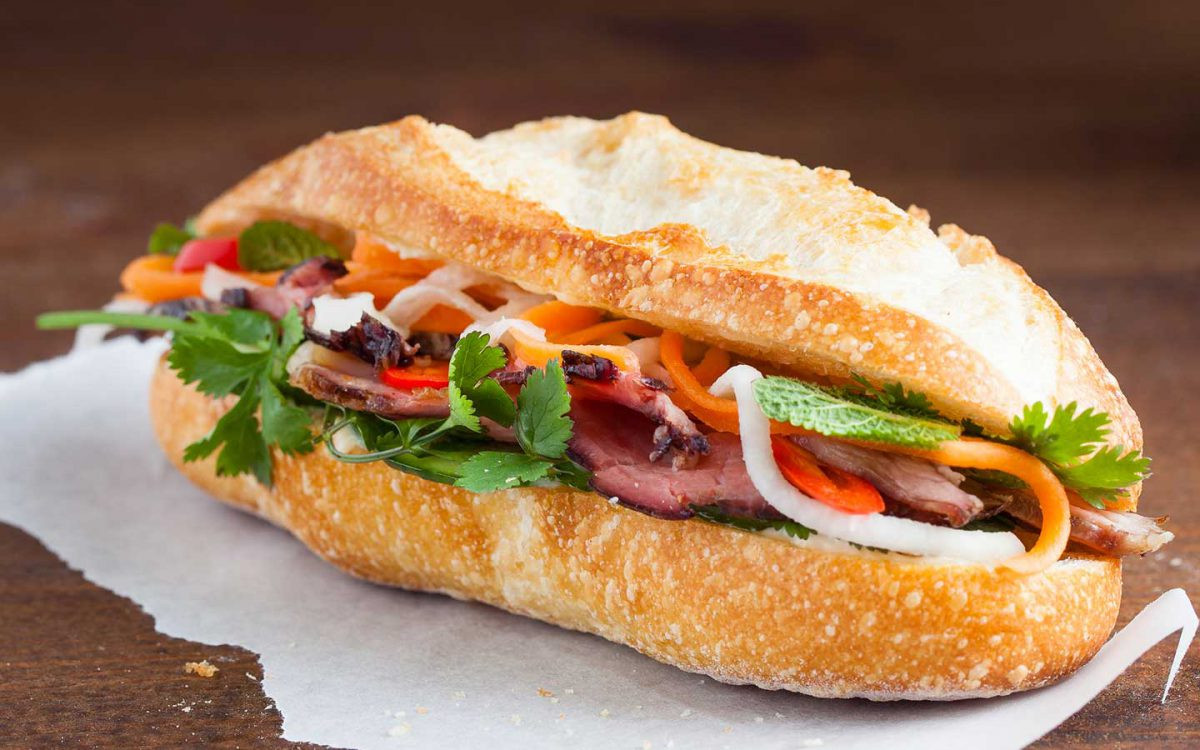 A Banh Mi is a Vietnamese twist on a baguette sandwich 
Xoi: The Filling Sticky Rice 
Xoi, or sticky rice, is a filling breakfast dish that is just as the name suggests – rice that is like normal rice but at the same time is different as it is all stuck together rather than being separate granules – which dramatically changes the flavour (as well as the texture) 
It is made by steaming glutinous rice and then topping it with a variety of ingredients such as mung beans, shredded chicken, fried onions, or roasted peanuts. Each region has its unique style of Xoi ranging from Xoi La Cam, made with pandan leaves, giving the rice a vibrant green colour to Xoi Xeo, which is topped with mung bean paste, or Xoi Gac, which is made with the red aril fruit, gac. 
To the Western palate, this is a dish that takes a bit of getting used to in the morning, however after a while, you do get used to it – although many Westerners are not able to eat the whole portion (Vietnamese are very skilled at eating an enormous amount of rice!) 

Xoi: The Filling Sticky Rice
Bun Bo Hue: The Hearty Noodle Soup 
While Pho is consistently the number one option for a soup-based breakfast, Bun Bo Hue is another popular noodle soup that makes a flavourful breakfast option. Originating from the central region of Vietnam, this dish is characterized by its complex broth made from beef and pork bones. The dish features thick rice vermicelli noodles, slices of beef, pork, or even pig's feet, and is garnished with fresh herbs, bean sprouts, and lime. The taste is certainly unique, with a spicy, sweet and sour flavour all at once and is certainly something that needs a little bit of practise to face first thing in the morning however once accustomed, you will find it is a most filling start to the day!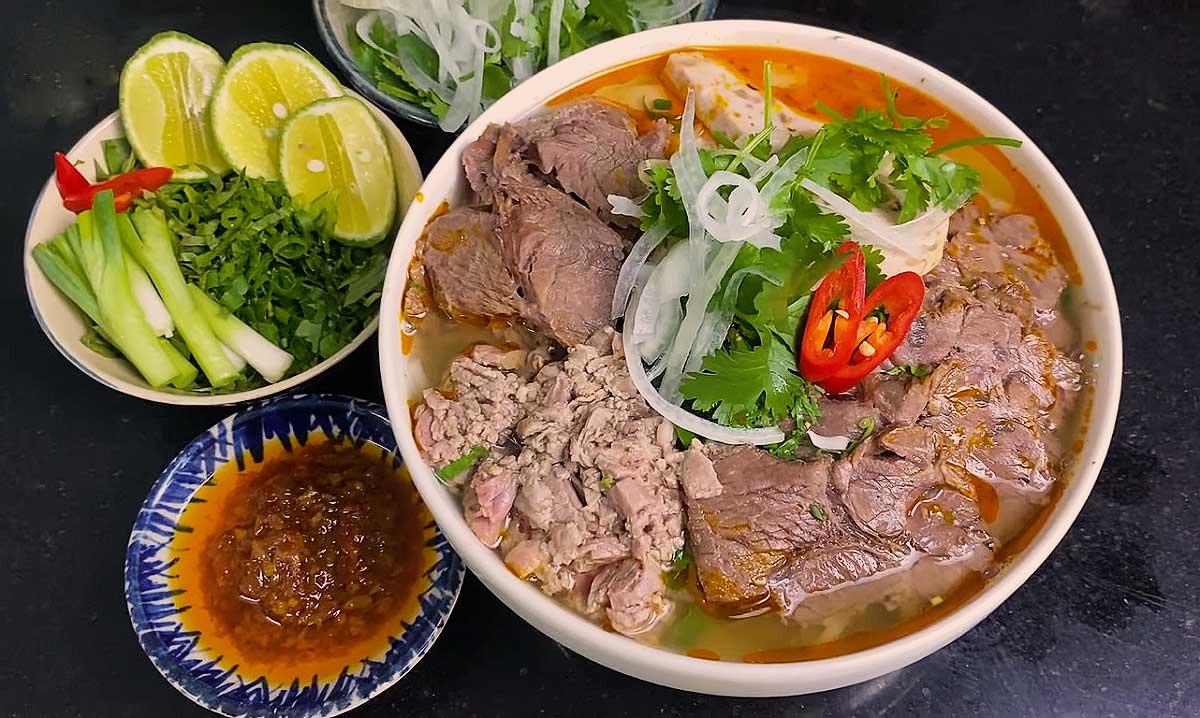 Originally from the central regions, Bun Bo Hue is a great alternative to Pho
Banh Cuon: Steamed Rice Rolls
For those who prefer a lighter breakfast option, Bánh Cuốn is an excellent choice. These delicate rice rolls are made by steaming a thin sheet of fermented rice batter and then filling it with a mixture of minced pork, wood ear mushrooms, and shallots. They are typically served with a side of dipping sauce, fresh herbs, and crispy fried shallots.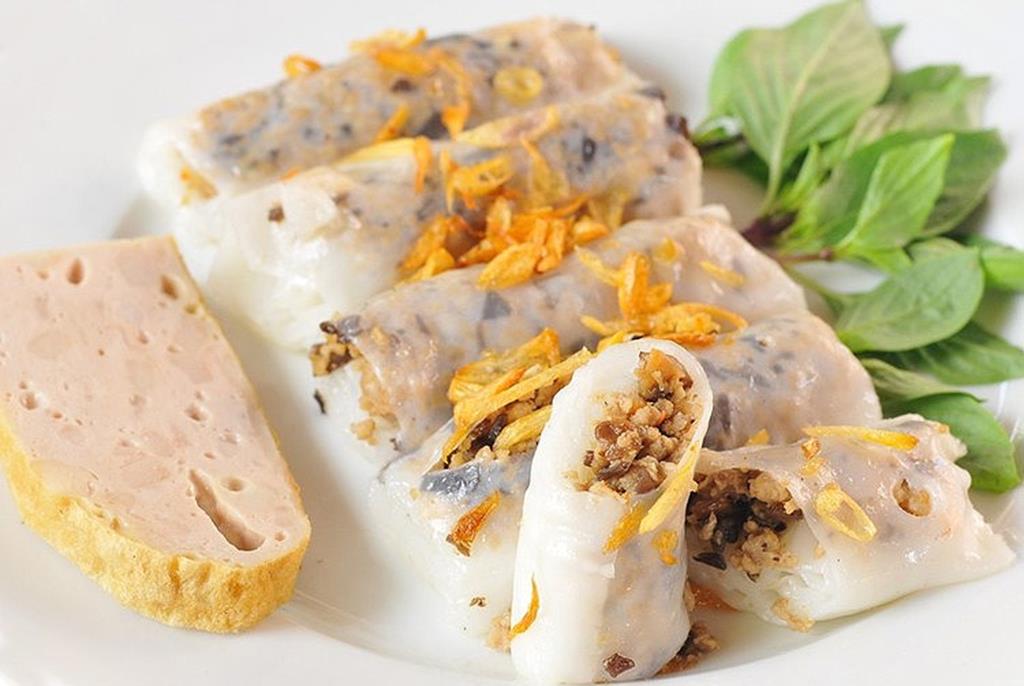 Banh Cuon: Steamed Rice Rolls
Che: Sweet Dessert Soups
Something new to Westerners is sweet soups  – which can be eaten at any time of the day as a dessert as well as a breakfast dish.  These sweet treats are known as Che and come in various forms, including Che Ba Mau (three-coloured dessert), Che Chuoi (banana sweet soup), and Che Dau Xanh (mung bean sweet soup). These soups are made with a combination of ingredients such as beans, fruits, coconut milk, and jelly, creating often quite bright-looking concoctions that taste very sweet.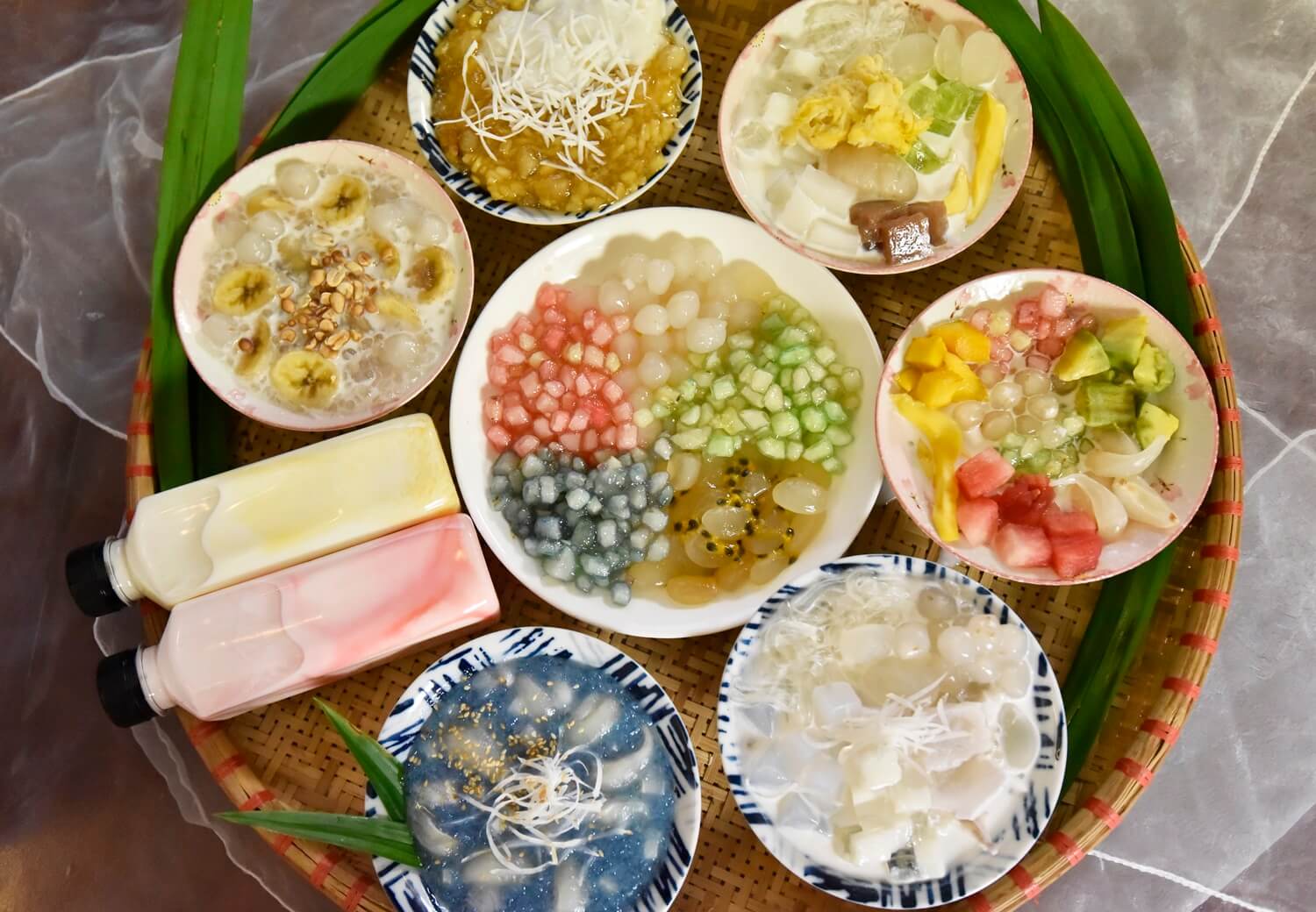 Che: Sweet Dessert Soups
Overall, Vietnamese breakfast cuisine is a testament to the country's culinary richness and diversity. Whether you savour a bowl of Pho in Hanoi, bite into a Banh Mi on the streets of Saigon, or enjoy a comforting Xoi in Hue, Vietnamese breakfast foods provide a delicious and culturally significant experience that should not be missed.