If you want to travel on your own to enjoy the stunning beauty of this destination, then our post on a 3 days 2 nights to HaLong Bay trip will be a useful suggestion for you.
Make sure you stay until the end to grasp everything necessary from our guidebook for your next trip!
All costs you need to prepare for your 3 days-2 nights trip to HaLong Bay
Transportation from Hanoi to Ha Long Bay
If you depart from Hanoi capital to Ha Long, it takes about 2-4 hours by coach on average. You can register for traveling by this method at My Dinh and Gia Lam coach stations.
Ticket prices range from 100,000 VND to 200,000 VND depending on the quality of the car as well as the type of seat or bed. In addition, you can also travel to
HaLong by other means such as rental cars or scooters.
If you choose to rent cars, it might cost around 3,500,000VND for a 3 days 2 nights journey, meanwhile traveling by motorbikes just costs 100,000 VND for gas, but it might take a lot of time. Thus, we highly recommend opting for coaches if you like to stick to your budget of 3,000,000 VND.
Accommodation 
Accommodation is also an important thing that needs to be considered carefully. The room price will also vary depending on your chosen area, ranging from about 180,000 VND/night to 2,500,000 VND/night.
A tip to save money when traveling to Halong is that you should go between Monday and Thursday. From Friday to Sunday, it is often crowded with tourists, so the room rate might be significantly increased.
Food & Drink
Ha Long is not only famous for its magnificent beauty, but also for its super delicious specialties that everyone who visits should try at least once, such as steamed fish, seafood vermicelli, grilled oysters, and so on.
The cost of these dishes is also determined by the number of dishes consumed and the number of people eating. However, the cost of each meal is not prohibitively expensive in general. The cost of eating seafood at popular restaurants ranges from 150,000 to 400,000 VND per person.
To save on food costs, choosing casual restaurants will also be a good choice for you when going on a trip to HaLong .
Sightseeing and Entertainment Expenses 
If you go sightseeing by boat, the price may range from 200,000 – 250,000 VND/person. Meanwhile, the cost of cruising on a yacht ranges from 1,700,000 VND/person.
When visiting Ha Long, visitors can explore popular tourist and entertainment attractions such as Sun World Ha Long Park in addition to the natural scenery.
This is Ha Long's largest entertainment complex, with three main areas: Dragon Park, Ha Long Water Park, and Ba Deo Amusement Park. The ticket price for an adult is about 350,000 VND /ticket.
Travel cost for a trip to HaLong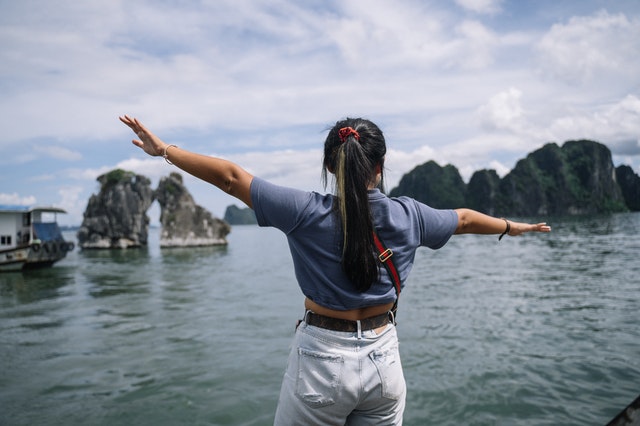 In case you move here by coach, you can rent a motorbike for 120,000 – 150,000 VND/day to take the initiative in moving, freely roaming, exploring every corner of the beautiful city. Travel costs will also be saved quite a bit if you choose this vehicle.
Itinerary for 3 days-2 nights trip to HaLong Bay
The itinerary below is our suggestion for your trip to HaLong for 3 days and 2 nights.
Morning: Depart from Hanoi in the morning, arrive in Ha Long, check-in at the hotel, have lunch, and rest to prepare to experience Halong Bay for 3 days and 2 nights in the afternoon.
Afternoon: Visit Sun World Park and experience Typhoon Water Park, Dragon Park, Ba Deo amusement park, Queen cable car here. In addition, you can relax to enjoy the beauty of the beach and Sun World food court.
Typhoon water park: This is an adventurous water play area for people having a passion for exercise. There are various games that you can participate in, such as tropical storms, tornados, dragon-riding, giant lightning, python challenge, etc. These are all high-risk games for those who love exploring and experiencing.
If you are a big fan of sports games, this area is definitely for you. According to many visitors who have paid a trip to HaLong, the games here are new, unprecedented, unique, and refreshing. You should only choose simpler and safer games if you are a faint-hearted person.
Dragon park: Dragon Park is an exciting world with 20 games from simple to adventurous and unique. This is an area where many young people love and have fun.
Here, you can try following the footsteps of dragons, pirate ships, or raging rhinos. These games are very stimulating and suitable for those who are highly competitive. If you want to try more dangerous games, join the roller coaster with the longest track in the world.
Queen cable car: Take the Queen's Cable Car from Ocean Station to Sun Station. It is the world's tallest cable car, standing nearly 190 meters tall. It also holds the record for the cable car that can carry the most passengers at once.
This is the only way to get to the mountain peak. Take in the scenery and revel in the splendor of the park.
Evening: Have dinner at a casual restaurant.
Morning: Get up early to catch the sunshine at Halong Bay, then have breakfast.
Continue the day trip by visiting Thien Cung Cave, and Dau Go Cave can both be visited by boat. The cruise will then meander between the thousands of towering karst islands, leaving you in awe of the bay's majesty. Other places include Dragon Rock Island, Ga Choi Islet, and Con Coc Islet.
Afternoon: Visit Bai Chay beach to swim, join the water activities, or relax and get a tan.
Day 3: Quang Ninh Museum – Hanoi
Morning: You can have breakfast at the hotel, then check out early in the morning. Continue visiting Quang Ninh museum, you can learn about many cultural and historical artifacts here, which is a super attractive check-in spot when traveling to Ha Long for 3 days and 2 nights.
Afternoon: Catch the coach to come back to Hanoi, and end your trip in HaLong Bay.
In conclusion
Above are our suggestions for a 3 days 2 nights trip to HaLong bay that costs only 3 mil VND which is ideal for anyone who likes to go on a trip on their own. However, you can completely change and calculate your schedule based on the costs we mentioned to have a great trip as you expect.
We hope you'll have interesting experiences in HaLong bay once you arrive!