Called by many as the "miniature Sapa" of Quang Ninh province, Binh Lieu has a wild and attractive beauty. If you are a fan of trekking in Vietnam, do not miss the chance to travel to Binh Lieu this Tet holiday!
Trekking in Vietnam- the 1200 meter-high Binh Lieu
Binh Lieu is a mountainous district in the northeast of Quang Ninh province, bordering China. In recent years, the name Binh Lieu has become better and better-known.  It's an interesting destination that attracts young people as well as foreigners who love trekking in Vietnam.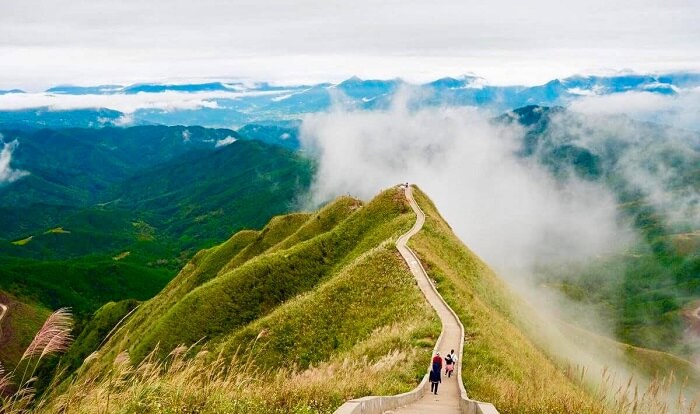 Due to the mountainous terrain, Binh Lieu's climate is different from the whole province of Quang Ninh. Its summer is cooler and the winter tends to be colder. Especially when coming to Binh Lieu this December, visitors will experience the flower season in the pleasant weather.
At this kind of weather, it is very suitable to check-in border landmarks in Binh Lieu such as 1305, 1300, 1302, and 1327. The road to landmark 1305 is the most impressive, because of its shape. When viewed from above, it is very similar to a "dinosaur spine".
The road from the center of Binh Lieu to the landmark 1305 is already a spectacular arc, since it is a route patrolling the Vietnam – China border. The road has an average height of over 700 m above sea level, surrounded by mountains and green trees.
If you don't want to climb about 2,000 steps to reach the landmark, you can stop and take pictures at any point. However, it's better to go to the top if you are flexible and have a good pair of walking shoes.  In good weather conditions, after 2 hours of climbing, you can reach the destination.
The spectacular sceneries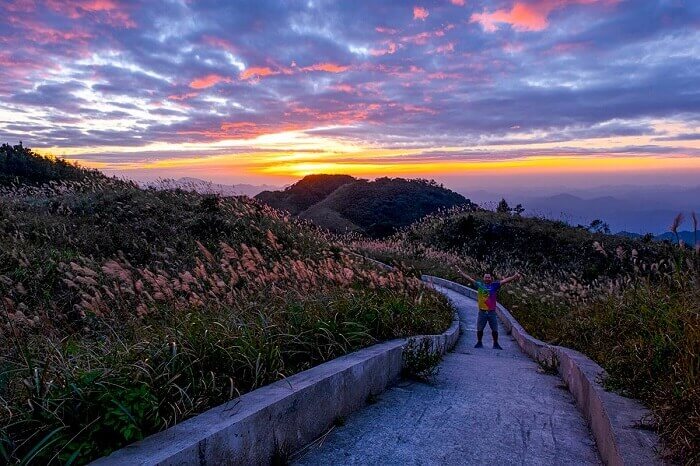 In addition to the landmarks, tourists who love to explore nature and enjoy climbing can challenge themselves with Cao Xiem peak. People call it the roof of Quang Ninh province with an altitude of 1,429 m. According to the guides who are local people, backpackers will go through some anise and pine forest… These types of trees are blooming with brilliant red and yellow leaves. Even if you have gone trekking in Vietnam many times, it will still be a refreshing experience. The view here consists of the wild grasslands, natural rocky beaches, as vast as the plateau, and finally the mountain slopes leading to its peak.
In the summer, the hot sun on the way to Cao Xiem is likely to make it more difficult to climb, unlike in autumn and winter. Because the road from the foot of the mountain to the top is not too long (about 7km each way), visitors can leisurely walk, rest as well as have picnics and meals right in the forest.
After about 2-3 hours of climbing and taking pictures, visitors will be able to see the scenery of Binh Lieu, the majestic mountains of both China and Vietnam.
In addition to Cao Xiem, Binh Lieu also has Goryeo and Cao Ba Lanh. These are also ideal places for people who love trekking, picnicking, camping, or hunting clouds during the day. Goryeo is at an altitude of 1,200 m with many wide lawns that are easy to camp and hunt for clouds. Then we have Cao Ba Lanh peak, which is 1,050 m high, stands out with rocks of many different shapes and sizes.
Binh Lieu has over 96% of the population are ethnic minorities, most of which are Tay, Dao, San Chi, Kinh, Hoa… In which, a branch of the Dao ethnic group is Dao Thanh Phan, ethnic group. They are always known to be wearing costumes with many motifs and red as the main color. When trekking in Vietnam, most tourists are impressed with its cultural features and the people's identity reflected in every corner here.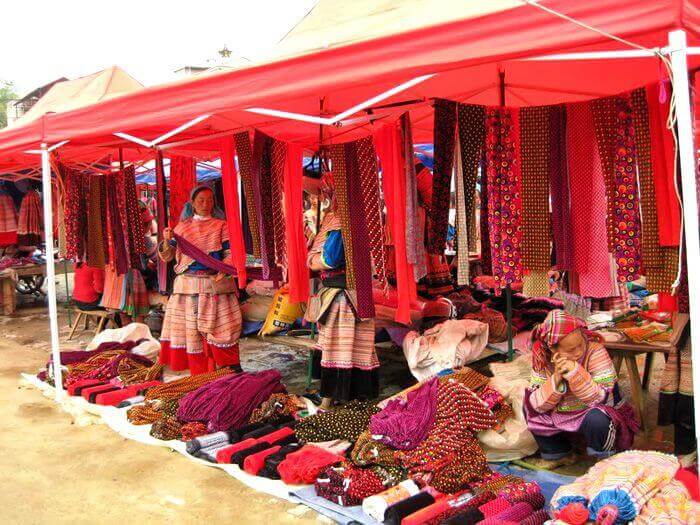 At the weekend, visitors have the opportunity to walk around the market in the town center or the market in Dong Van commune. People hold markets every Saturday and Sunday. Every week, people from all over the village from neighboring communes and districts also bring goods, agricultural, and forestry products to the market to trade.
Many typical items are only available at the market such as bath leaves, medicinal herbs of ethnic minorities, cakes of wormwood, cormorant, etc. One benefit that people really love when going trekking in Vietnam is that they can collect unconventional souvenirs at the highland markets. These gifts are not always available anywhere in the cities. People come to the market to buy, sell, and eat from morning to night. Late afternoon but most crowded is from 10 am onwards, the car is full and the goods are displayed all over the road.
Binh Lieu is definitely a worth-trying destination for trekking in Vietnam. So if you are planning your next trekking trip, you've already known where you should go!