In Saigon, the Mid-Autumn Festival is not only a children's Tet but also an opportunity for all Vietnamese families to get together. Besides, this is also an opportunity for young people to have the opportunity to explore Saigon, under the splendor of the lanterns, as well as the bustle on the streets in the night of the ancient ruins. Another Mid-Autumn Festival is coming, let's explore the top 10 places to celebrate the Mid-Autumn Festival in Saigon with VTJ!
1. Celebrate Mid-Autumn Festival in Saigon at Luong Nhu Hoc Lantern Street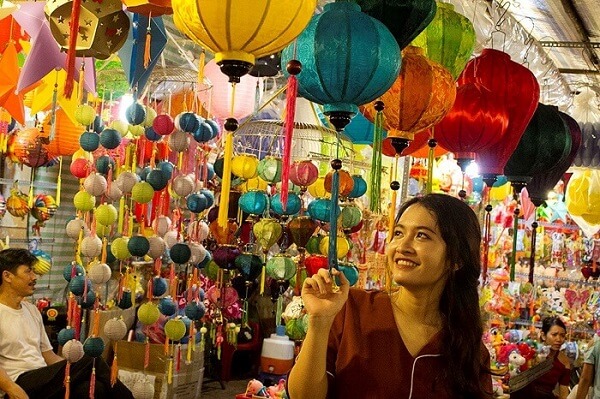 In addition to moon cakes, lanterns are also considered an indispensable "spiritual specialty" on this occasion. True to the name Lantern Street, when walking on Luong Nhu Hoc street, you will have the opportunity to immerse yourself in all kinds of lanterns with diverse shapes, colors and styles from traditional to modern. Here you will be delighted to check-in regardless of day or night.
But of course if you want to see the bright lights and immerse yourself in the bustling atmosphere, the evening is the best choice.
2. White Rabbit Park
A mid-autumn festival not to be missed, with a capacity of more than 5000 people. White Rabbit Park is a promising place with countless interesting games and a place with a very good check-in view. Especially during the Mid-Autumn Festival, there are many activities for children here. 
The price for games here only range from 30,000 to 60,000 VND. In addition, the food stalls with a variety of cheap snacks always attract a large number of guests.
3. Starlight Bridge, Crescent Lake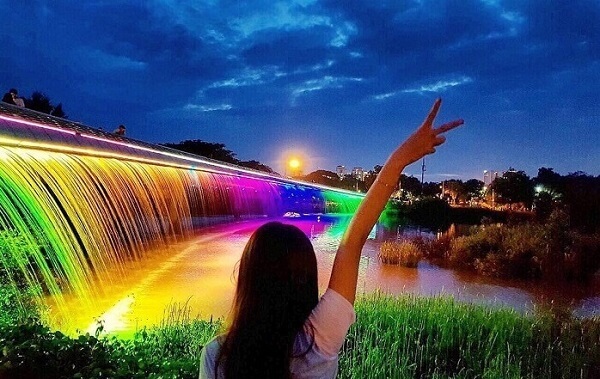 With a length of 154 m, Starlight Bridge crosses the Crescent Lake, which is like a strip of stars on the ground. This place is a paradise of light, a suitable place to walk with family, friends and lovers after a long tiring day. 
Coming here, you can relax while watching the shimmering and constantly changing color of the Crescent Lake. Mid-Autumn Festival is an opportunity for people to hangout, places such as Starlight Bridge and Half- Moon Lake are places you can't miss in Saigon.
4. Nguyen Hue Pedestrian Street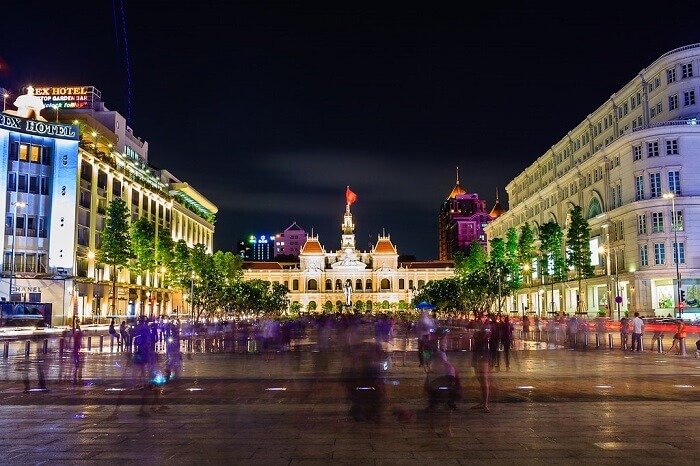 Nguyen Hue pedestrian street, a familiar name to everyone who is in Saigon. Located in the city center with a lot of activities and events taking place every month, this place is crowded with young people who love the hustle and bustle.
Especially, on the occasion of Mid-Autumn Festival, Nguyen Hue pedestrian street will be dressed in a splendid new appearance with hundreds of lanterns. They are decorated to create a colorful space and bustling atmosphere of Saigon.
6. AEON mall Tan Phu, Binh Tan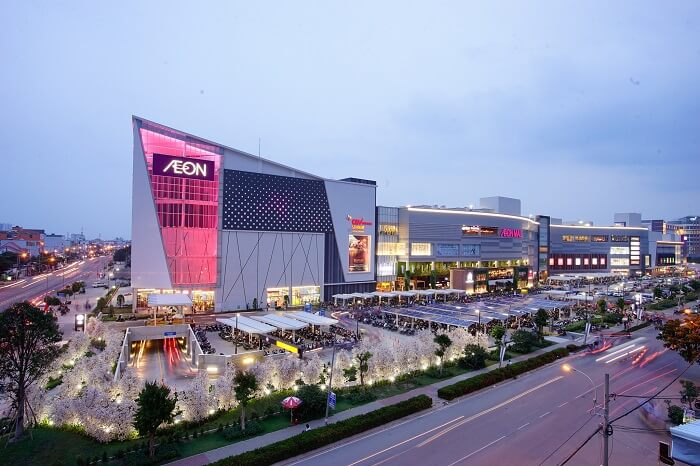 In addition to the famous, splendid streets. Trade centers are also an ideal destination during the Mid-Autumn Festival. Every year, AEON Mall Tan Phu and Binh Tan always build a mid-autumn space with the investment of decorating many lanterns as well as beautiful images and textures. With modern infrastructure, this place often takes place many special events and activities on this occasion..
7. Lotus lagoon, Fairy stream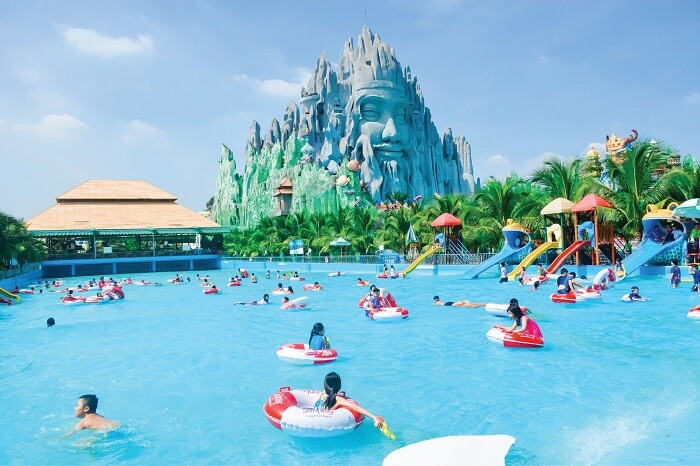 Cultural parks are also a popular destination for many people during the mid-autumn festival. Two outstanding destinations are Dam Sen and Suoi Tien. In particular, this place is very suitable and attracts families and children. Besides, these places are also decorated prominently and shimmering with lanterns.
Coming here, you will also be very excited to see the lion dance and art with Ms. Hang, Uncle Cuoi. The children will participate in "ruoc den" and "pha co" activities. They also receive gifts from playing these games. Especially during the Mid-Autumn Festival, these parks also have free physical games for children.
8. Binh Quoi tourist area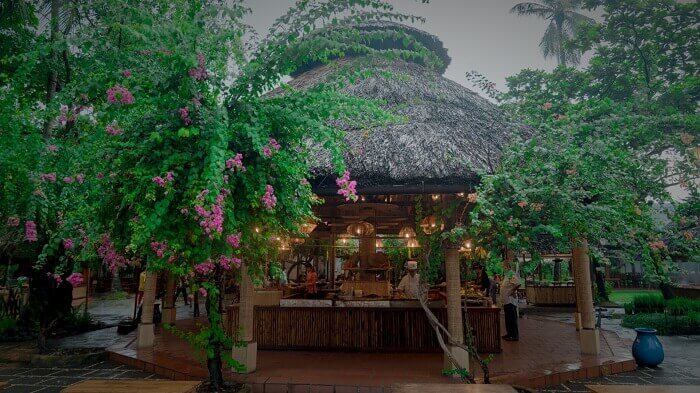 If you want to escape the city during this Mid-Autumn Festival, Binh Quoi is an impeccable choice for you. Is an ideal tourist destination with peaceful village scenery, green and quiet space.
Having the advantage of a large and airy area on the banks of the Saigon River, Binh Quoi 1 resort continues to be an ideal place to celebrate the Mid-Autumn Festival in Saigon.
9. Watching the moon at the overhead cafes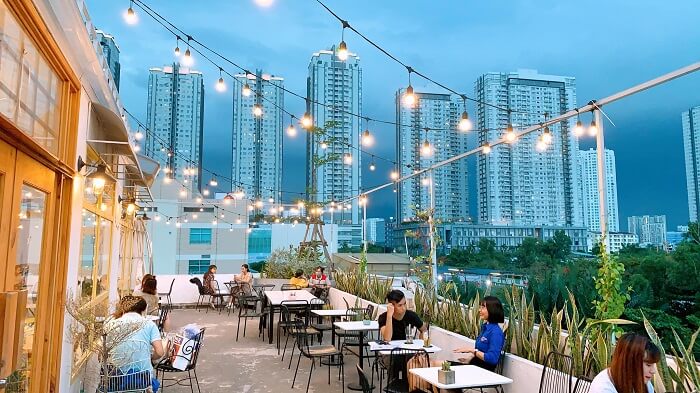 If you want to feel the full beauty of the most beautiful moonlit night of the year, the 50th floor cafe of Bitexco building (District 1) is the place you should go.
Some of the cafes that VTJ recommends for you are Café EON. You can find it on the 51st floor of Bitexco building. Chill Sky, which is a quite luxurious cafe-bar, or Café-bar Blank Lounge located on floors 75-76 of the Landmark 81 building. Proud to be the highest luxury coffee shop in Southeast Asia, King Rooftop coffee is a quite warm cafe that is  perfect for a romantic dating place for youngsters.
10. "Pha co", "ruoc den" at temples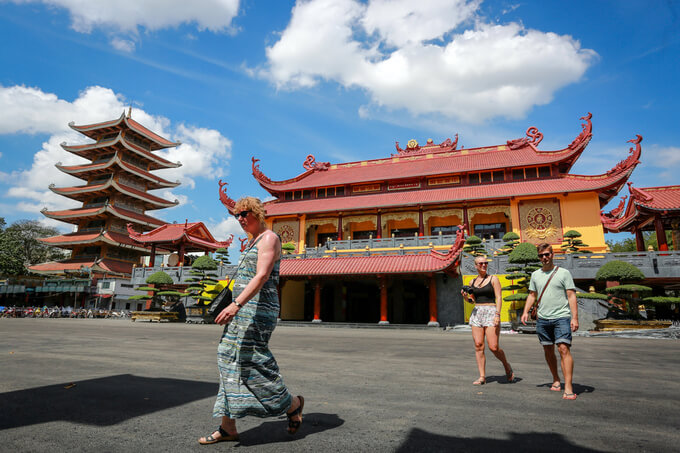 The full moon of August is probably the holiday that attracts the most children of the year to the temples. Parents can bring their children to participate in the Mid-Autumn Festival at Vinh Nghiem, Dai Giac, Pho Quang pagodas… In addition to participating in "pha co"- this is a Vietnamese word for having snacks and treats in this festival. Kids also drop flower lanterns onto the river, and listening to fairy tales on the full moon night,…
Above are some places for celebrating the Mid-Autumn Festival in Saigon