Hanoi is one of seven well-known Asian "food paradises" listed in the world's 20 best food tours. Have you ever experienced these mouth-watering food specialties here? If not, scroll down straight away to discover the top 10 must-try dishes in Hanoi!
Top 10 Must-Try Dishes In Hanoi

1. Bún Chả (Barbecued Pork with Rice Noodles)
Bún Chả is one of the cuisines we have to mention in this top 10 delicious food in Hanoi. It consists of grilled pork, steaming rice vermicelli noodles that are soft and slightly chewy, dipping sauce, and herbs.
Perhaps when savoring, you find it similar to "Bún thịt nướng", but one major difference among them is the meat part. While people use minced pork for Bún chả, grilled pork belly is used in Bún thịt nướng.
I kindly suggest this dish once you visit Hanoi because I'm sure it will certainly bring you unforgettable savoury experiences, which you can not find anywhere in the world.
2. Phở (Vietnamese Noodle Soup)
Phở or Vietnamese noodle soup might not be strange to any Vietnamese dishes lover. It is well-known for being one of the most outstanding traditional foods in Vietnam. However, there are many different variations of Phở, each local has its own taste, and Hanoi does too.
Phở is made of flat rice noodles in a light broth with chicken or beef and traditional seasonings like lime, lime leaves, and chile. Coming to Hanoi city, it is not difficult for you to find vendors or restaurants selling Phở because it is considered either a sort of street or a fine dining dish.
Its taste is twice as delicious when you enjoy it on winter days; a steaming bowl of noodle soup after a back-breaking day or cold mornings can make you mouth-watering. So, try it as soon as you arrive in Hanoi.
3. Bánh Cuốn (Rolled Cake)
Bánh Cuốn is the most common breakfast for many Vietnamese. People make it by using ground pork meat and minced mushrooms, then covering them with rolled thin rice sheets.
If you ever have a chance to watch people making it, I recommend trying it after it is made because a hot "Bánh cuốn" will increase your appetite for eating much more. However, it will be a bit tasteless if you do not get to use it with a signature dipping sauce.
It is a mixed combination of fish sauce, a drop of cà cuống-a huge water bug essence, which makes it so delicious that you never get tired of eating it everyday.
Don't be worried if you do not know which restaurants sell it because you can find Bánh Cuốn almost everywhere in Hanoi.
4. Bún Riêu (Crab Noodle Soup)
Another dish in our list of top 10 must-try dishes in Hanoi you should not miss is Bún Riêu (or Crab Noodle Soup). Its main ingredients are crabs, tomatoes, meat, and tofu. However, the taste of this soup is becoming more flavor-packed if it is made by crabs found in the fields, bringing a unique flavor of "Bún riêu" in Hanoi.
The process of making this dish requires a lot of work, especially pounding crabs to get fellas. However, its soup is extremely tasteful when absorbed by the tofu, causing it to burst into your mouth when you bite into it.
Besides, bean sprouts, prawn paste, herb leaves, tamarind/lime, tofu, water spinach, and tomato pieces are also added to the dish. When eating it at restaurants, they also provide a basket of greens and herbs for each table, including leaf lettuce, perilla leaves, cilantro, shredded morning glory stem, and deep-fried crullers for dipping into the soup.
5. Chả cá (Turmeric Fish)
Turmeric fish is the most symbolling dish of Hanoi, so it has been so familiar to residents here for so long. Over the last 5-10 years, this food has become one of Hanoi's most specialty cuisines, gaining international acclaim.
Turmeric fish is the key component, which is incredibly delicate and has no fishy flavor. People marinate fish with turmeric then combine it with dill and other herbs in cooking. It is more appetizing when being eaten with vermicelli rice noodles.
6. Bánh Rán ( Vietnamese Donuts)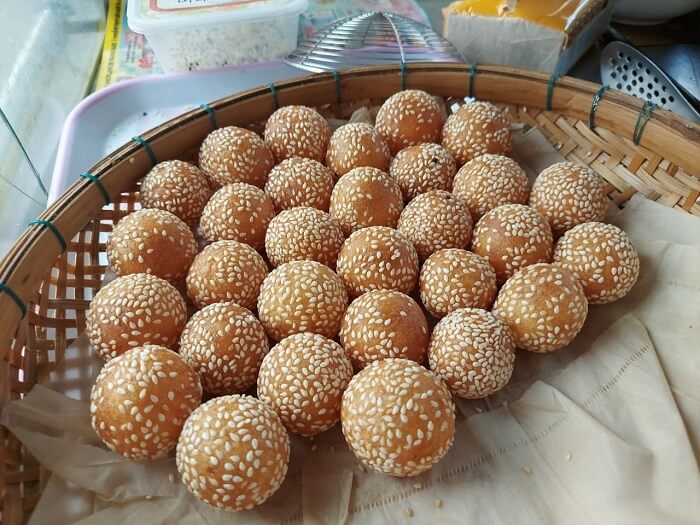 Bánh Rán is an ideal option for many people in the capital. There are two types of bánh rán: salty cake and sweet cake that is more popular than the former.
If the filling of a sweet cake is sweet mashed mung bean, the salty cake is a mixture of minced meat, noodles, and other ingredients. You can look for this dish from women selling on the pavements or around the Old Quarter in Hanoi.
7. Xôi xéo ( Sticky Rice)
While being in Hanoi, another dish you can not ignore is "Xôi xéo" (or sticky rice). It is eaten with many toppings, such as mung bean paste, soy sauce, and fried shallots.
Apart from that, you can opt for various ingredients like boiled chicken, hotdog, eggs, or anything you require. This type of breakfast can be found almost everywhere within the city so it is not tough for you to find a nutritious morning meal like it.
8. Bún Cá ( Fish Noodles Soup)
The dishes served from fish soup are familiar to Vietnamese all across the country. Freshwater fish is extensively utilized in dishes in Northern Vietnam. Bun ca, a popular Hanoi dish, is no exception.
It's a combination of some sort of light fish bone broth with golden fresh white fish that's been delicately cooked. A bed of rice vermicelli can be found at the bottom of the soup.
People tend to eat it with dill, herbs, onions, and bean sprouts mixed with. There is nothing greater than enjoying a steamy bowl of Bún cá on cold days! Most foreign friends I know tend to reminisce about such experiences after leaving Vietnam, which I believe enough to describe how good it is!
9. Ốc Luộc Sả ( Steamed Snails with Lemongrass )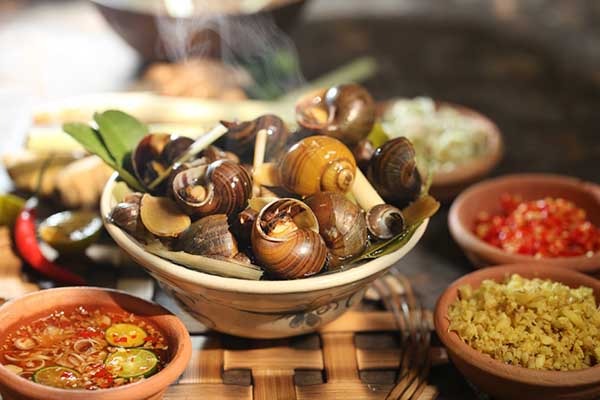 If you see a lot of snails sold on the street, don't be afraid because snails are indeed a popular dish in Hanoi. The dish cooked from fish is popular among the locals, and numerous vendors are offering it.
Try to eat "Ốc luộc sả" once you are here because when you try it for the first time, you will be surprised. Although the snails have a bland flavor after cooking, its taste matches perfectly with the dipping sauce.
Maybe you will find it a bit tough to scoop the meat out of the shell with a pointed utensil at the first try, but after a while; you will soon get used to it.
10. Phở Cuốn ( Rolled Pho )
The final staple in this list is Phở Cuốn – a different form of Phở is a wet rice salad roll filled with beef and platters of fresh greens such as lettuce, or mustard greens, and a variety of herbs.
It's served cold and then dipped in a delicious dipping sauce that is a combination of fish sauce, sugar, garlic, chili, and vinegar. Phở cuốn is one of the street cuisines in Hanoi, so you can buy it on the street or in a simple eatery.
Hope that after reading the top 10 must-try dishes in Hanoi, you can imagine how Hanoi's colorful flavors of sweet-sour spicy are. If you have a chance to visit this cuisine paradise, try to enjoy more food specialties so that your culinary adventure becomes undeniably more meaningful!