Different from the domestic terminal, the international terminal of Tan Son Nhat airport is nearly 3 times larger. It is equipped with many different functional areas. Today's article will suggest you important information such as diagrams, check-in procedures, utility areas and travel experiences at this station. Let's get right into it!
1. Map of Tan Son Nhat airport- international terminal
Compared with the domestic terminal on the 1st floor (T1), the international terminal on the 2nd floor (T2) has significantly improved in size and quality. It is known that currently the new terminal on the 3rd floor is under construction. Immediately after completion, all existing international terminals T2 and T1 will be merged into one to serve domestic flights.
Terminal T2 was built with more than 115,834 m² of usable area, which is divided into 4 separate floors including:
Ground floor: Arrival hall to international terminal, check-in counter, baggage claim and airport exit
1st floor: international arrival hall, area for immigration procedures, visa counter
2nd floor: Departure hall of the international terminal, where check-in procedures are done
3rd floor: Convenience services such as cafes, restaurants and entertainment
To make it easier to understand, we will divide Tan Son Nhat International Airport into two areas:
Map of the international arrival terminal of Tan Son Nhat airport: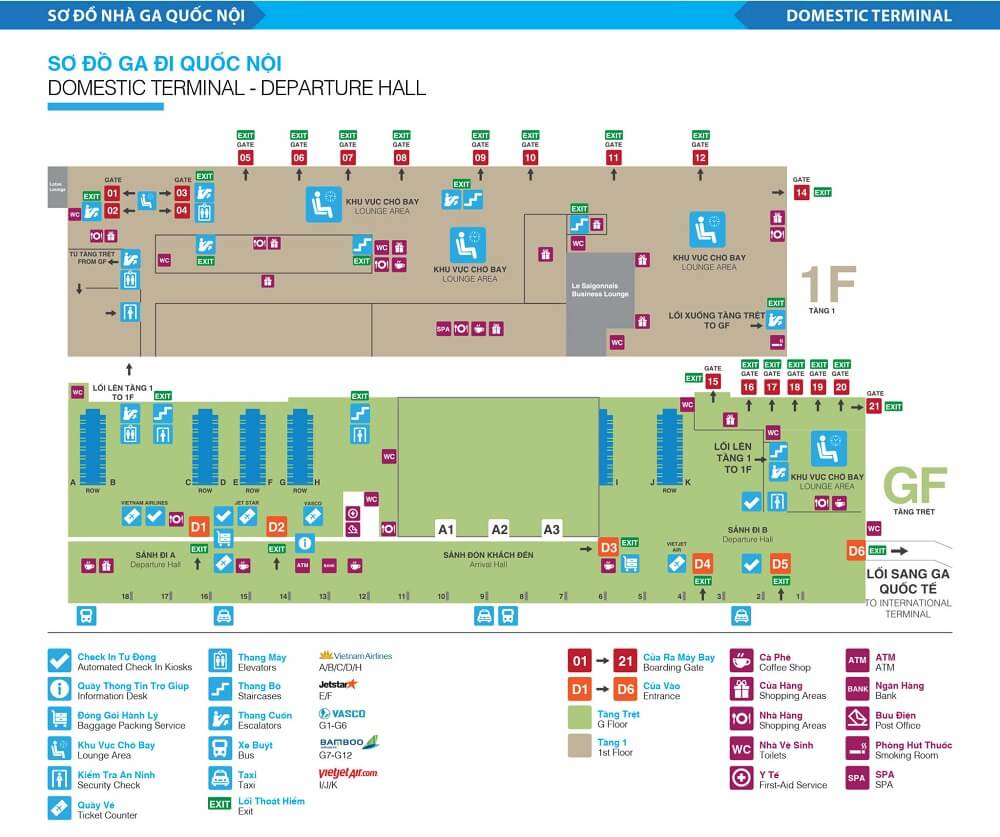 For international flights landing at this airport
You will enter the middle of the 1st floor (1F), pass through the connecting counters

Go through customs and then take the elevator/escalator to the ground floor

Get your luggage through the security check and then go to the arrival hall area A1-A2 to be able to go outside to catch the car.
In the exit area A1 and A2 will be arranged electronic boards to notify the flights about to land. Based on this time, you can actively manage the time to pick up your relatives or customers.
Map of international departure terminal:

How to move around:
First, you need to go to the gate floor D1 and D2 of 2 (2F) – note that the ground floor -> 1st floor -> 2nd floor and then follow the order: check-in, luggage, check-in security, exit procedures, customs clearance.

On both sides of the immigration check-in counter, there is also a currency exchange service if you need it. Once all formalities are complete, you can proceed to the concourse areas near the boarding gate by escalator/elevator to the ground floor (GF) or 1st floor (1F).

On the 1st floor (1F) of Tan Son Nhat International Airport, there are 11 boarding gates including 08, 09, 15, 16, 17, 18, 19, 20, 21, 26, 27 in order. from left to right.

On the ground floor (GF) there are 8 aircraft exits: 10, 11, 12, 14 (left) and 22, 23, 24, 25 (right).

The 3rd floor area will be for business class customers or special members of airlines. General customers can also use this area, but you will have to pay a relatively high fee.
2. Guide to check-in at Tan Son Nhat airport- international terminal
With the information described in the diagram, it was possible to summarize the check-in process at the international terminal of the airport.
Required documents: reservation number, valid passport, visa if you are going to the required country.
Procedure for the procedure:
Go to the check-in counters (from A-L) to check-in for the flight. Each flight will have fixed check-in counters, which you can follow at the electronic board outside. The counter opening time is 03 hours before the flight departure time.

Send checked baggage and enter the customs inspection area

Customs inspection

Complete exit procedures at the counter of the Border Police

Check security and enter the lounge area (ground floor, first floor).
Check-in counters for international flights will close 50 minutes before departure time. You need to arrange time and arrive at Tan Son Nhat airport, at the international terminal at least 3 hours in advance so as not to affect the schedule.
3. Services and shops at Tan Son Nhat airport international terminal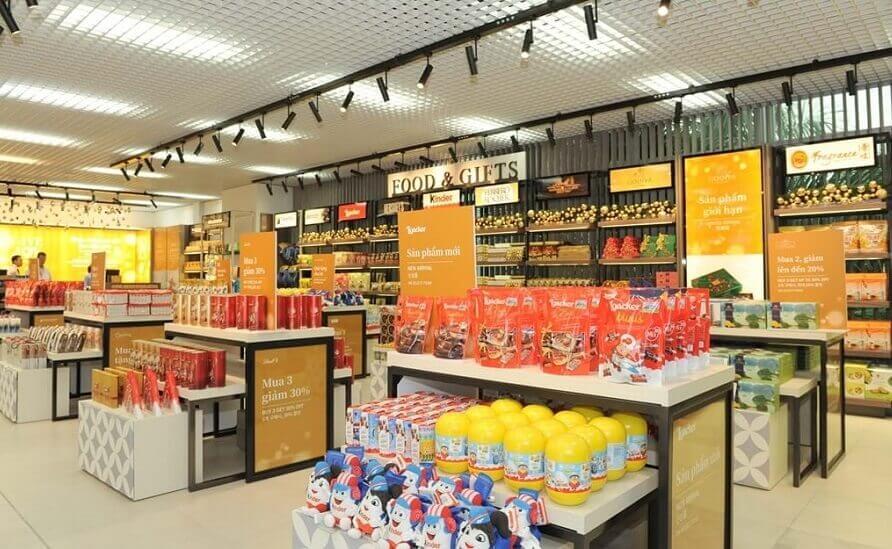 As mentioned above, the airport's international terminal T2 is equipped with many facilities, in contrast to the domestic terminal.
Banking and ATM services: 04 ATMs at Column 14, 01 at Column 3 of the ground floor of the arrivals area.

Medical care services: Near departure gate number 19, 1st floor of departure station and Ground floor, Arrival isolation lobby (Door A2).

Luggage packing service: divided into 4 areas in the arrival hall D1 and D2.

Food and beverage services, shopping: ubiquitous, arrival and departure halls, both check-in and isolation areas. Particularly, the 3F floor area is arranged with many restaurants, high-class rest and relaxation services for business class customers, especially.
In addition, at the arrival station you can also use many services such as free wifi, drinking water and battery charging; tourist information counters; currency exchange…
4. How to move around Tan Son Nhat airport – international terminal?
Due to its location quite close to the city center, when coming and going at this airport, you can use a variety of means of transport such as buses, taxis, motorbike taxis, private cars… quickly.
If traveling by bus, you can catch one of the routes like 109, 119, 152, 159 with fares from 6,000 – 20,000 VND. Travel times are relatively fast and operate until late at night.
In addition, you can use the airline bus, shuttle bus to the locality with the price of about 50,000 VND or more.