Phu Quoc has begun to open up to welcome tourists again from November after many months of closure due to the Covid 19 pandemic. If you plan to travel to this island, this article is made for you. Because the Phu Quoc night market is one of the ideal destinations you should not miss upon arrival on your upcoming trip, now let's get right into it!
Phu Quoc Night Market Location
Phu Quoc Night Market (also known as Bach Dang Phu Quoc Night Market) is the most vibrant place for entertainment, dining, and shopping in Phu Quoc at night.
However, there are many night markets in Phu Quoc, so you should be careful not to confuse this one among the others. Phu Quoc night market is approximately 150 meters away from Dinh Cau night market. These two markets are completely different, but many tourists mistakenly believe that they are the same due to their proximity.
Phu Quoc Night Market address: 6 Bach Dang street – Duong Dong town – Phu Quoc.
What time does Phu Quoc Night Market open?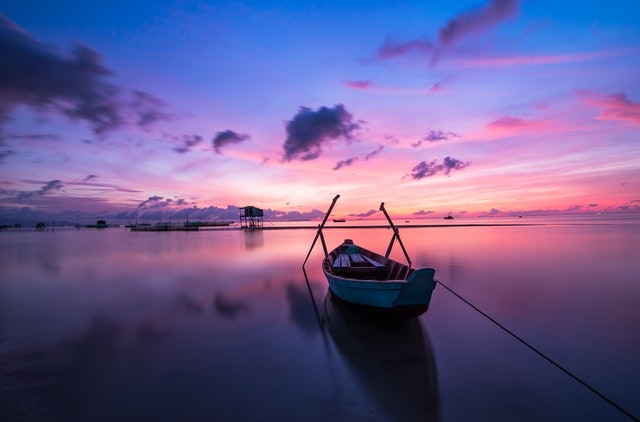 It usually opens from 4 pm to 10 pm. However, the opening time may change depending on the weather and the number of customers visiting.
The Phu Quoc night market, on the other hand, is not open all night. Typically, travel companies will take their tourists to the night market around 18:00, so it is very crowded as there are a huge number of tourists visiting the market at this time.
How is the Phu Quoc night market decorated?
You may also know that countless items are sold at Phu Quoc night market. The stalls at this market are arranged on both sides of the road; a wide aisle is for visitors and shoppers in the middle. As to people here, they are also very enthusiastic, friendly, and hospitable.
Upon visiting it, you will find snack stalls close to the entrance, go inside a little, and you will catch delicious and cheap seafood eateries. Meanwhile, souvenirs and Phu Quoc specialties are sold alternately in each area, so it is convenient for visitors to eat and choose at the same time.
What to eat in Phu Quoc Night Market?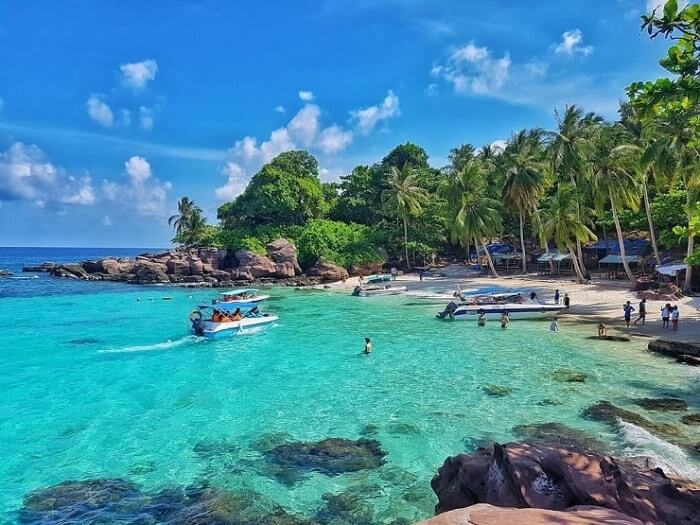 Phu Quoc night market has a lot of delicious dishes, especially Phu Quoc specialties. Just walk along with the market, you can see all these eateries. We have a list of some famous cuisines below for you can refer to:
Chi Candy (Keo Chi)
If you are a big fan of sweets, definitely do not miss this type of candy. It is made from malt sugar mixed with tapioca starch, then thinned until it is as thin as a thread.
The sellers put candy in the layer of rice paper, then added condensed milk, peanuts, grated coconut, and black sesame on top. Although it looks simple, it will make you mouth-watering when eating it!
Grilled Rice Paper
Grilled rice paper is sold at Phu Quoc night market. The crispy rice paper is mixed with a little greasy taste of quail eggs, beef jerky, sausage, ground meat, the aroma of scallions, and the spicy chili, which creates a unique Vietnamese version of pizza.
There are many types of grilled rice paper for you to enjoy, such as egg omelet with cheese, shredded chicken cheese, beef, and sausage cheese with the price of around 30.000 VND/piece.
Octopus cake
Octopus cake – a snack inspired by Japanese Takoyaki. You only need to pay 30,000 VND for the seller; then, you will have a box of 6 tasteful round cakes covered with mayonnaise and salad. The taste is a little bit fatty, salty, and spicy with chewing on a piece of fresh octopus. Be careful; if not, you may be addicted to it because of its delicious taste!
Ice cream roll
Walking along the main road of Phu Quoc night market, you will constantly hear the sound of mixing, ear-catching knocks from Ice cream rolls.
When you want to order, the seller just begins to pour the cream into a cold pan and blend until the fruit and jam blend. Rolled ice cream is fragrant, dense, and less icy than other ice creams, suitable for dessert after eating grilled seafood.
Others
If you have a seafood allergy but still enjoy traveling to Phu Quoc, you can also try dishes such as beef balls, fried chicken wings, and fried sausages when visiting the night market. Their prices are from 15.000-25.000/piece.
What to buy as souvenirs at Phu Quoc Night Market?

Before making any purchases at Phu Quoc specialty stalls such as dried seaweed or rimmed squid, leaf tea, peanuts, etc., you will be allowed to try them. Even if you don't buy them for some reason, the sellers at the Phu Quoc night market are still as enthusiastic as usual.
Furthermore, if you want to purchase something as a souvenir, there are some good options such as dried seafood, pepper, smart cake, jaggery, and so on.
Phu Quoc night market also sells a lot of pearl jewelry. But the prices are very diverse, and the quality is difficult to know right away, so we recommend that if you intend to buy pearls, you should find stores with reputable addresses, where they have receipts and warranties for customers after buying.
Chou chou peanuts are another item that most visitors to this island want to purchase at the Phu Quoc night market. This is a Phu Quoc specialty with various flavors, including spicy, salty, sour, and sweet.
Despite its French origins, it is very popular on this island. Visitors to Phu Quoc rarely overlook this unusual snack. As a result, once you arrive, don't pass up the opportunity to sample this one-of-a-kind dish, which you can also purchase as a gift for your loved ones.
Its price is quite affordable, from only 30.000 VND/box of 100 grams to 120.000 VND/box of 500 grams.
In Conclusion
Hopefully, this detailed review on Phu Quoc night market can help you to have a happy trip upon visiting it in the future. Thank you for reading, and see you in the next post!