Taking place in September, the Moon Festival, also known as Tết Trung Thu or Mid-Autumn Festival is a huge event and will certainly be celebrated at your school (as well as in the streets) 
The Origin and History
The Moon Festival traces its roots back over a thousand years to the Tang Dynasty in China. During this time, the Chinese celebrated the harvest season with offerings to the moon goddess Chang'e, who symbolized beauty, fertility, and the feminine energy of the moon. Over time, this tradition found its way to Vietnam, where it evolved and integrated with the country's own unique customs.
In Vietnam, the Moon Festival carries deep cultural and historical significance. It not only celebrates the end of the harvest season but also serves as a time for families to come together, express gratitude, and pray for prosperity in the future. The festival typically falls on the 15th day of the 8th lunar month, usually in September or early October when the moon is at its fullest and brightest.
Mooncakes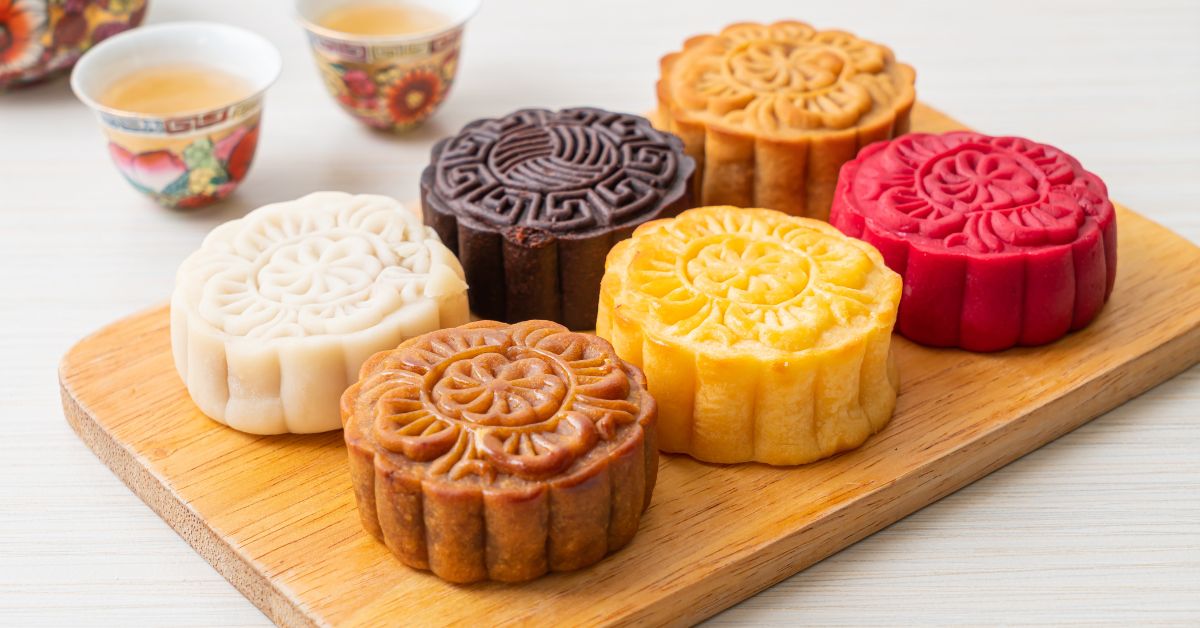 The traditional food during the Mid-Autumn Festival is mooncakes
The traditional food during the Mid-Autumn Festival is mooncakes. These are round, palm-sized pastries, symbolizing the full moon and unity. They come in various flavours and fillings, each carrying its unique taste and symbolism. Some of the most common fillings include lotus seed paste, red bean paste, and salted egg yolk, which adds a rich, savoury element to the sweet pastry.
The pop-up moon cake stalls will start to be seen on streets from about a month prior to the actual day – these are special small shops which only sell mooncakes. They are very well decorated and very popular and there are often a row of them side by side along the street. There are a variety of shops as the intricate designs imprinted on the mooncakes can vary from traditional patterns to modern motifs, reflecting the artistry and creativity of Vietnamese bakers.
Mooncakes are a common way for people to send good wishes to loved ones with gifting mooncakes to friends, family, and business associates being a common tradition during the Moon Festival. You will inevitably find that many of your parents will give you a gift of mooncakes – these usually come in a beautiful large box. Be aware that mooncakes are very expensive and thus if you do not like them (they are an acquired taste and unfortunately most expats find that the taste is not to their liking!) then they are a gift that is very much appreciated by e.g. your landlord or your neighbours. If you like the box and would like to keep it (as some of the boxes are incredibly beautiful) then it is fine to take out the individual pieces (whether they are in their own individual boxes or simply wrapped in cellophane) and give those as a gift – there is no need to give a whole boxed set! 
Lanterns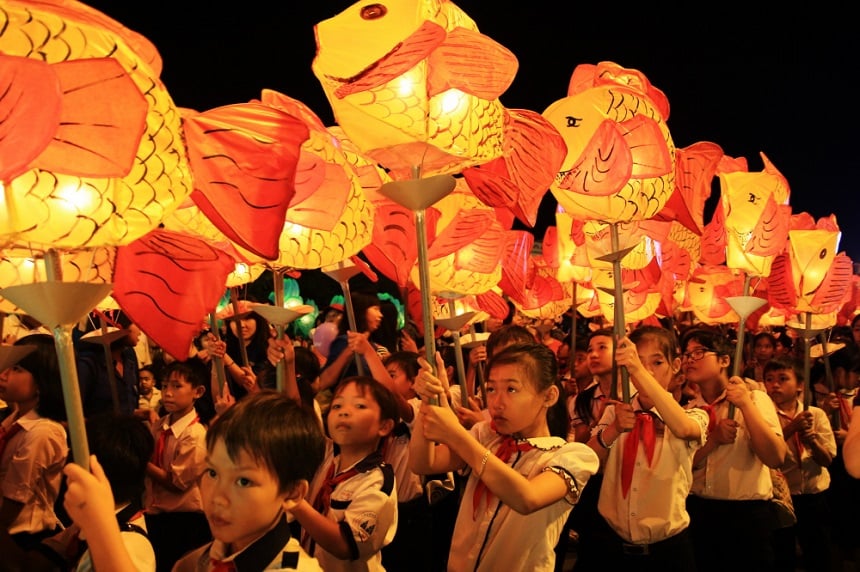 Lanterns can be purchased in a wide range of colours and styles 
Another iconic element of the Moon Festival is the vibrant lanterns that can be seen as decorations everywhere during the Mid Autumn time. Children and adults alike eagerly craft and decorate colourful lanterns in various shapes and sizes and there are a number of lantern-making classes on offer for expats and tourists.  The lanterns can take the form of animals, flowers, or even legendary characters, showcasing the artistic prowess of the creators.
On the night of the festival, families gather in parks and public spaces, carrying their beautifully crafted lanterns. As darkness falls, the lanterns are illuminated making a great sight ( and a wonderful Facebook / Instagram post ! ) 
The Lantern Parade
In towns and cities across Vietnam, communities organize processions where children and adults carry lanterns in a mesmerizing display of light and colour. The parade often includes traditional music, dances, and folk performances.
It is traditional for the children to carry out a lantern parade as part of a class or whole school event – so you need to make sure that you are aware of what will be happening and what you will be doing. Make sure that you know the route of where your class will be walking and ensure that you constantly count your students to make sure that they are all present – it is all too easy to forget one when they have wandered off in a crowd! 
For any events for the mid-Autumn festival, there will be an expectation for you to wear an ao dai – this is a long tunic with trousers underneath. As Vietnamese people are smaller in stature than Westerners it can be difficult to find one ready-made that will fit however they can be easily made by a tailor. There are various styles and you can have an amazing array of fabrics. So although it seems an effort to have something made which you will only wear a few times a year, it is an experience and you will appreciate your efforts when you are wearing it at school as you will be acknowledged as having made the effort.
The Lion Dance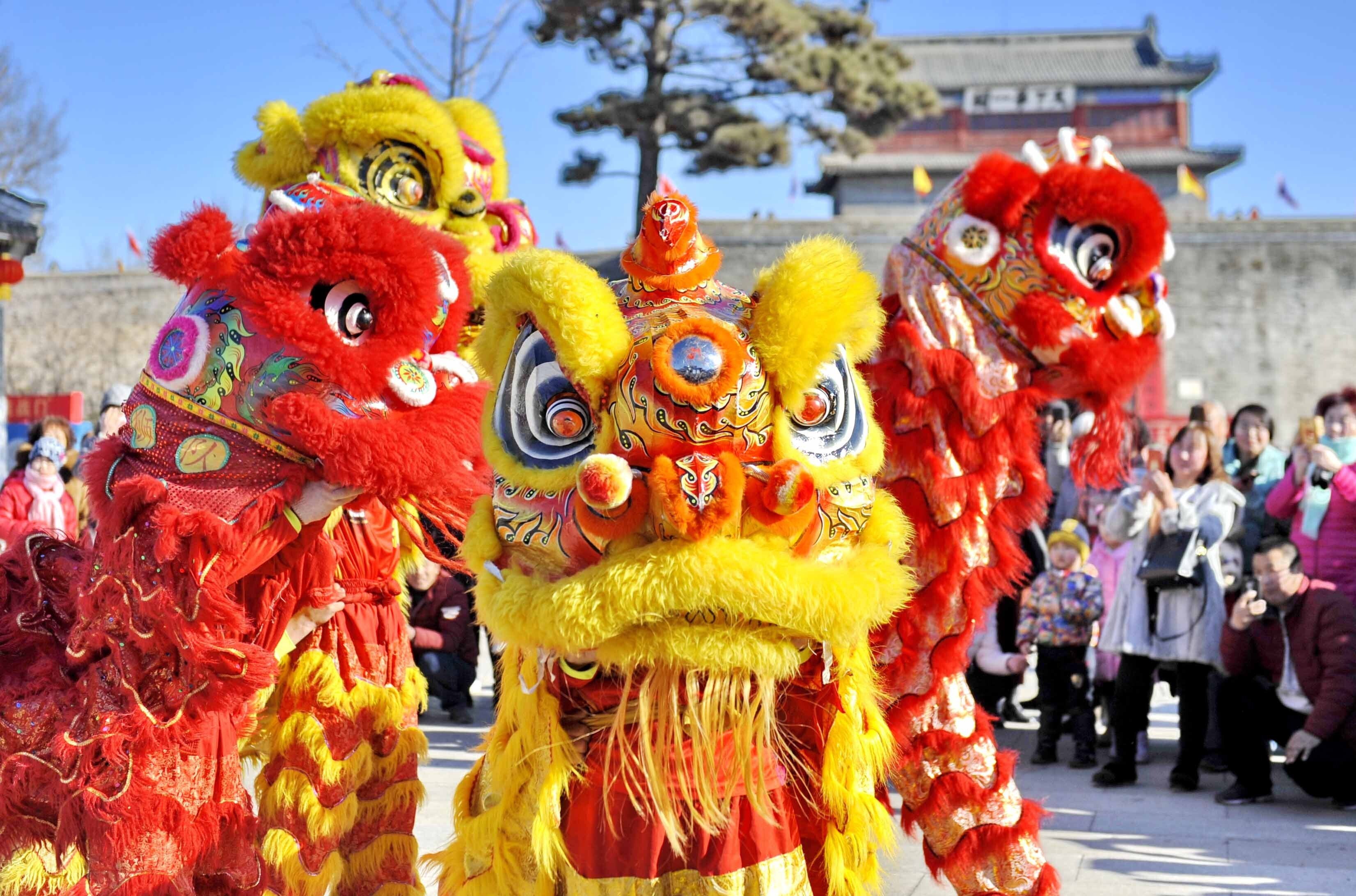 In addition to mooncakes and lanterns, the Moon Festival in Vietnam also features the lion dance
In addition to mooncakes and lanterns, the Moon Festival in Vietnam also features the lion dance. The lion dance is a mesmerizing performance where two dancers, concealed within a lion costume, mimic the movements and gestures of a lion. The dance is believed to ward off evil spirits and bring good fortune.
The lion, often accompanied by drummers and cymbal players, dances its way through the streets, visiting homes and businesses. People eagerly welcome the lion, offering it red envelopes containing money, believed to bring luck and prosperity.
At your school, there will be a lion dance – whether this is a paid-for company or simply some of the older students or teachers. You do need to be aware that this is a very loud event (as there is a lot of drumming) and that it can be incredibly scary for the younger pupils As a result, if you are attending a lion dance with your younger students then make sure you have explained what they will be seeing and doing and make sure that you sit next to those more sensitive children as they will often cry and shy away when the lion comes close.
Overall, the Mid Autumn Festival is a spectacular sight –  from the lanterns and dancing lions to the sounds of the drums and the wonderful moon cakes – so if you are in the country during this time, simply take it all in and enjoy a very traditional Vietnamese celebration.