When living in Vietnam, most foreigners will want to travel across the country to discover new lands. Let's check out the list of 5 best airlines in Vietnam to see which one below is your favorite option when you get moving!
Top 5 best airlines in Vietnam:
Vietnam Airlines- VNA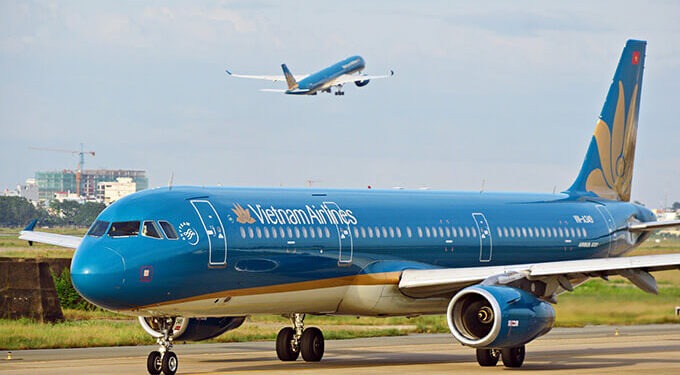 Officially established in 1993 as the national airline of Vietnam, Vietnam Airlines has always strived to affirm its leading position in the domestic and regional aviation industry. VNA is also the first and only 4-star airline in our country up to the present time.
A big plus that makes many tourists trust to choose Vietnam Airlines in each flight segment is a team of professional flight attendants who always serve customers with dedication. You will receive a variety of service experiences right on board with flight classes such as: Business Class, Premium Economy Class and Economy Class.
However, it is because of the accompanying utilities that Vietnam Airlines tickets are always pricier than other domestic airlines' ones. However, you still have the opportunity to get yourself a VNA ticket because they often release some promotions for their customers.
In the list of newly-established Vietnamese airlines, Vietjet Air is the first private airline in Vietnam established in 2007. After experiencing many difficulties in the early days of its launch, the airline officially launched its first commercial flight at Christmas of 2011. After many years of operation, it still manages to remain at the top of the list of best airlines in Vietnam.
The ticket price at Vietjet Air is always low and the airline often launches many attractive promotions that provide opportunities to help people travel to places at a reasonable price.
However, one drawback that gives people a bad experience when flying with Vietjet is that the airline often delays or cancels their flights unexpectedly. If you are planning to go on a business trip or having urgent business, you should consider before booking to avoid such unfortunate incidents.
Jetstar Pacific Airlines- BL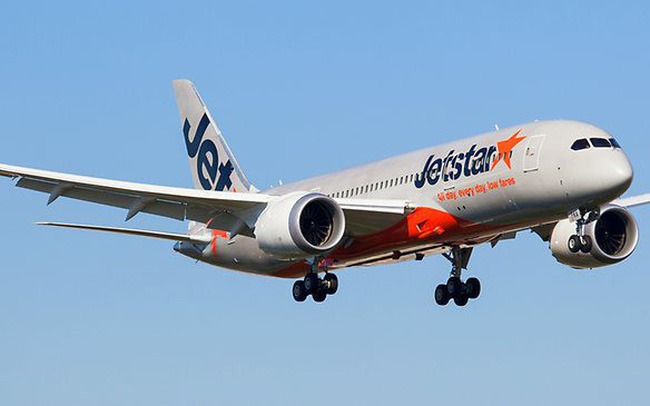 As the first low-cost airline in Vietnam, Pacific Airline started its operations in 1991 but officially joined the global Jetstar Group system in 2008 with the largest east gate being Vietnam Airlines and changed its name into Jetstar Pacific Airlines.
The airline operates many flights to more than 33 domestic and international destinations. On peak occasions, Pacific Airlines also increases flight frequency to better serve passengers.
On July 31, 2020, this airline unit had an important transformation, changing its brand name back to the original name of Pacific Airlines, synchronizing all commercial functions with VNA. The airline also officially launched a new brand identity and flight attendant uniform as well as stopped all activities with the Jetstar Group system.
Bamboo Airways, despite being late to the game, has left a deep impression on customers since its launch and became one of the best airlines in Vietnam. Bamboo Airways always focuses on investing and exploiting a new modern fleet of aircraft such as Boeing 787, Airbus A320Neo, Airbus A321Neo, etc., which are invested in modern equipment, comfortable interiors, and operate with international standard performance to best serve their customers.
In particular, in 2019 the airline surprisingly announced to own the new Boeing 787-9 Dreamliner, a wide-body aircraft model with luxurious interior and outstanding performance that helped Bamboo Airways become the first domestic airline in Vietnam to offer a premium First Class experience.
It can be seen that Bamboo Airways is doing its job well and gradually winning the hearts of many tourists with its smart pricing strategy and high-class 5-star service quality.
VASCO Airline- 0H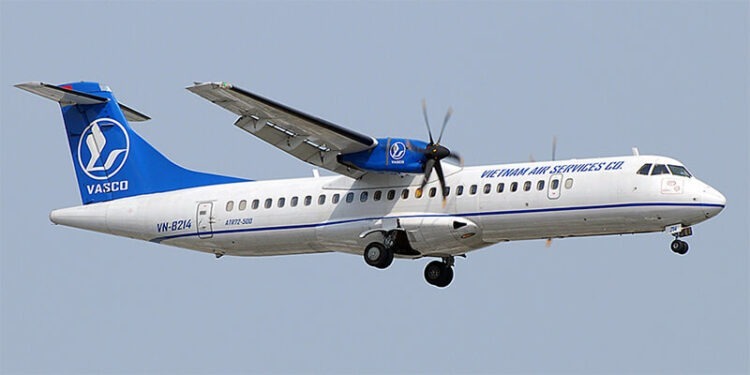 If you regularly book short-haul flights or flights to the South region, you are probably quite familiar with domestic airline VASCO. Established in 1987, the airline is a subsidiary of Vietnam Airlines, VASCO specializes in exploiting AN 30, AN 2, and KingAir B200 aircraft to provide special aviation services from Vung Tau to drilling rigs, surveying geology, search and rescue, cargo, correspondence, etc.
In 2006, VASCO became an independent airline and VNA holds the majority of shares. The airline is considered one of the best airlines in Vietnam.
Although VASCO does not focus on exploiting large and modern aircraft systems like ordinary domestic airlines, VASCO actively operates small aircraft such as the legendary Airbus A320 and ATR-72. That advantage has helped VASCO exploit many flight routes from Ho Chi Minh City to localities in the South of Vietnam and islands.
Comparison of the 3 best airlines in Vietnam: Vietjet Airs, VN airlines and Bamboo airways
Bamboo airways vs Vietjet Airs
In terms of price
Vietjet Air is one of the leading low-cost airlines in Vietnam, also ranks 3 in the list of best airlines in Vietnam. Airfares of the airline are only from 0 VND in special promotions. In other times, if you buy tickets about 1-2 months in advance, the ticket price is usually only from 99,000 VND (excluding taxes). This price is suitable for low-income people and students.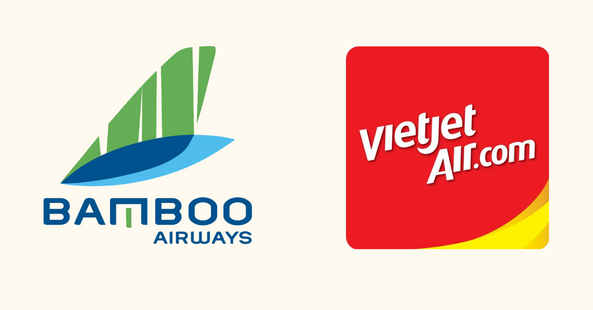 Bamboo Airways is a relatively young but very reputable airline in Vietnam. Airfares of the airline in promotions are usually from 280,000 VND (excluding taxes and fees). This price is suitable for people with average economic conditions and above.
Flight route and destination
Besides economic conditions, the destination is also an important factor in deciding whether you should use Vietjet or Bamboo. Although Vietjet Air is a low-cost airline, it has been operating in Vietnam for a long time. The airline has exploited all domestic routes. Obviously, this means you can travel anywhere with Vietjet.
Bamboo has just come into operation in recent years and has not yet exploited all domestic routes. If your destination is a small airport, do your research carefully before choosing to travel with Bamboo.
In terms of punctuality
Up to this point, Bamboo Airways operates far fewer flights than Vietjet Air, so Bamboo Airways' punctuality rate is up to 95% compared to 84% of Vietjet Air. In the future, if the number of flights of the two airlines is equal, it is difficult to say. Thus, at the present time, talking about ticket prices, Vietjet Air is still the cheapest airline in Vietnam's aviation industry. However, compared to the criteria of flight service quality and the possibility of less delay, Bamboo Airways is rated higher.
Bamboo airways and Vietnam airlines
In terms of price
Fares for children of Vietnam airlines: from 2 to under 12 years old: 90% (domestic routes) and 75% (international routes) of adult fare. Under 2 years old is charged 10% of adult fare.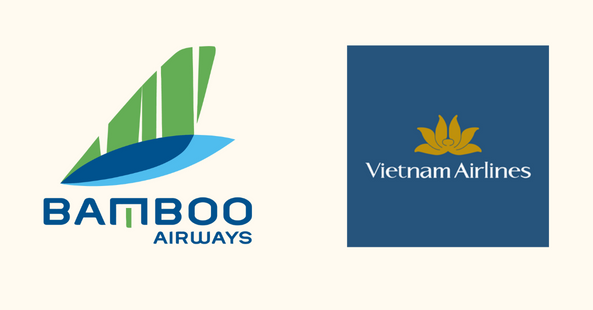 Vietnam Airlines has quite strict regulations and division depending on domestic, international departures domestically, international departures from abroad to different countries will have different prices. Domestic ranges from 300,000 – 600,000 VND for each type of change or upgrade. Meanwhile, international flights range from 20 – 150 USD for fares originating from Vietnam, from 20 – 170 USD for fares originating from abroad.
Bamboo's fares for children: from 2 to under 12 years old, 75% of adult fare. Under 2 years old: only pay service fee of 100,000 VND/child/trip excluding tax.
Change of flight date and time from 250,000 to 340,000 VND depending on ticket class
Name change 450,000 VND/person/way
Ticket upgrade: 374,000 VND/person/time
Ticket price for children: from 2 to under 12 years old, 75% of adult fare.
Under 2 years old: only pay 200,000 VND/child/trip excluding tax.
Ticket price for change of passenger information, flight date and time, upgrade: VND 800,000 (from Vietnam).
In terms of flight route and destination
Up to now, Bamboo Airways has opened up to 36 domestic and international routes, serving more than 3 million passengers. The airline's plan in the future is to increase this number to 37-40 domestic and international routes, in order to help passengers reduce flight time, costs, and transit. Besides, apart from Korea, this airline is planning to open direct flights to Europe and America with the most advanced service.
Being one of the best airlines in Vietnam, Vietnam airlines is operating domestic and international flights. These trips include a wide range of flexible bilateral & codeshare trips in Vietnam, Asia, Europe, America and Africa.
In terms of service quality
After a period of experience, Bamboo Airways' passengers all rated this airline as having better service quality than expected. In the meantime, Vietnam Airlines has always been considered the airline with the best service quality in Vietnam. However, some customers who have traveled by plane thinks that the difference in service quality of Bamboo Airways and Vietnam Airlines is not so considerable.
Vietnam airlines and Vietjet
In terms of airfares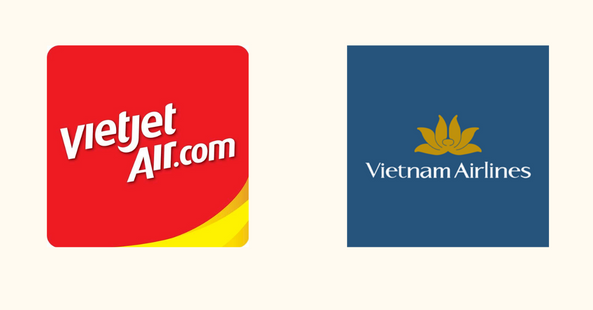 Talking about price, the fare of Vietnam Airlines will be much higher than that of Vietjet. This is quite understandable when this is an international airline with good quality. However, due to the high ticket price, not many customers can reach it.
Meanwhile, the ticket price is Vietjet's advantage, since people with low budget can have a more reasonable option for travelling. Not only that, Vietjet is an airline that regularly launches many promotions to reduce ticket prices or tickets for 0 VND. As a matter of fact, cheap air tickets are Vietjet's advantage compared to Vietnam Airlines.
In terms of service and baggage regulations
The staffs of Vietnam Airlines and Vietjet Air are undoubtedly professional. Since both of them are on the top of the list of the best airlines in Vietnam, their cabin crews are trained to be able to handle any contingencies.
Baggage regulations of Vietjet and Vietnam Airlines
Each airline has its own rules for carry-on and checked baggage:
When buying Vietnam Airlines tickets, passengers will be exempted from 7kg of hand baggage and 20kg of checked baggage.
Meanwhile, with Vietjet when buying tickets, passengers will get 7kg of checked baggage. With hand luggage, passengers need to buy more depending on their needs.
Above are comparisons between the best airlines in Vietnam that VTJ wants to share. We hope to help you easily choose the best flight ticket with the best price and service quality. If you need direct assistance with booking flight tickets in Vietnam, please contact us via…