It may come as a surprise to you to find that your school will be expecting you to celebrate Halloween in Vietnam in a huge way! Although you may have thought it was a festival predominantly practised in the USA, Vietnam totally adores Halloween and you thus need to be ready as your school will be expecting big things!
How people dress for Halloween in Vietnam
The first thing you need to think about when celebrating Halloween at school is what to wear. There will be an expectation for you to dress up – however, please remember if you are working with children that they can easily get scared so make sure you tone down your costume – no blood – more fun instead of scary !
The good thing is that it is easy to find cheap costumes – the cheapest will be on the online stores Lazada and Shopee – although make sure you order well in advance so that there is time for them to arrive.
Where to buy costumes for Halloween in Vietnam?
As an alternative, your best bet is a stationary shop – you will undoubtedly find a large selection in all stationary shops from the beginning of October onwards with there being a combination of masks, accessories as well as cloaks etc. Another cheap place to find Halloween materials is the discount shop – Daiso – where everything is 40, 000 VND.
If you are in Hanoi then the place for inspiration is Hang Ma Street – which changes its materials for all of the major celebrations e.g. Christmas / Halloween etc.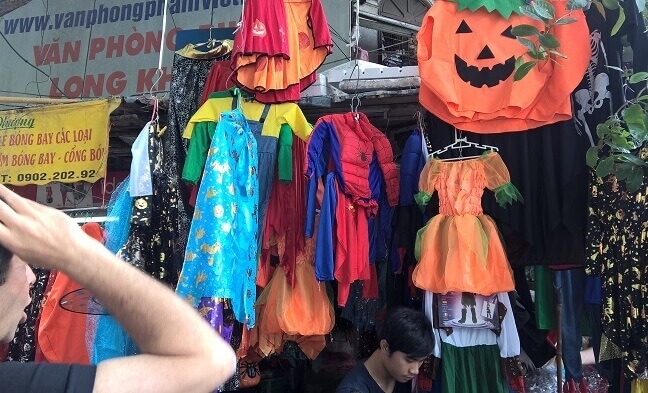 This street is fascinating however be aware that it can get super busy the closer it is to Halloween – so be sure to go early. There are no set prices so it is recommended that you ask a few prices at various stalls to get an idea of approximately how much things are. After you have an approximation of prices then you can work on choosing and bargaining for the actual things you need.
Halloween incorporated in classes
Around Halloween time you will be asked to include some Halloween activities within your class. Depending on the age of your students, this may be simply Halloween based worksheets all the way up to playing Halloween themed games.
Halloween is also a good time for advertising so be ready to be involved in lots of promotional activities. You will typically find your school is lavishly decorated .And, one of your roles will be taking photographs with members of the class in front of the decorative background. These photographs will then be used for advertising purposes.
Be ready to pose for photographs with students !
Parents will also be keen on taking photographs of you and their child ( if you work with children ) so be prepared to stand and smile a lot during Halloween in Vietnam!
Outdoor activities you might partake during Halloween in Vietnam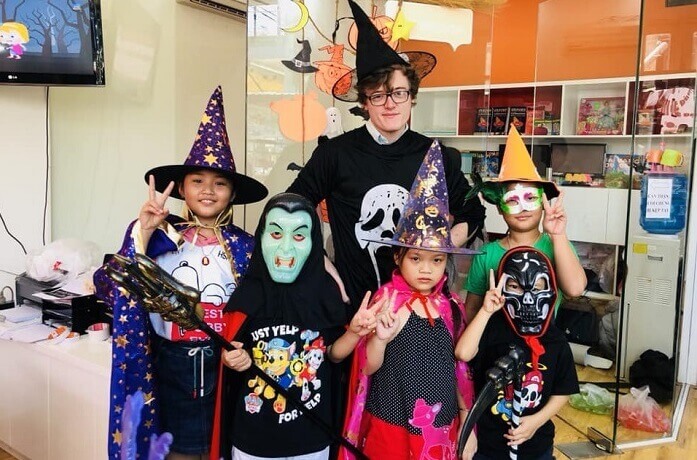 It is also possible that your school will use Halloween as an opportunity to advertise for new students. They may well hire an area in e.g. a shopping centre. That's where children can come and be involved in Halloween themed games and activities as part of a promotional activity.
Although this is time consuming ( especially as it will inevitably be at the weekend) it is not difficult and consists of you simply being enthusiastic to students and parents whilst helping them carry out the activities.
Overall, you will most likely be surprised to find how big Halloween in Vietnam is – so forget being camera shy and just embrace the situation. Who knows, you may enjoy being a witch or a mummy!