Hanoi, the capital city of Vietnam, is a vibrant and bustling metropolis known for its rich history, ancient temples, and chaotic motorbike-filled streets. However, amidst this urban chaos, Hanoi boasts a treasure trove of parks, providing serene oases of greenery and tranquillity for locals and visitors alike. These parks serve as vital breathing spaces in the city, offering respite from the fast-paced life, the noise of peeping horns, and a chance to reconnect with nature. 
Hoan Kiem Lake and Ngoc Son Temple
At the heart of Hanoi lies the iconic Hoan Kiem Lake, which is located in the middle of the old quarter so easily accessible to all.  Surrounded by bustling streets and historic landmarks, the lake and its serene surroundings provide a peaceful escape for Hanoians and visitors alike. In the early mornings and evenings, locals flock to the lake to participate in tai chi, jogging, or simply strolling along the promenade.
In the middle of Hoan Kiem Lake stands Ngoc Son Temple, accessible via the picturesque red-painted Huc Bridge. The temple, dating back to the 19th century, is dedicated to the national hero, General Tran Hung Dao, and the scholar Van Xuong.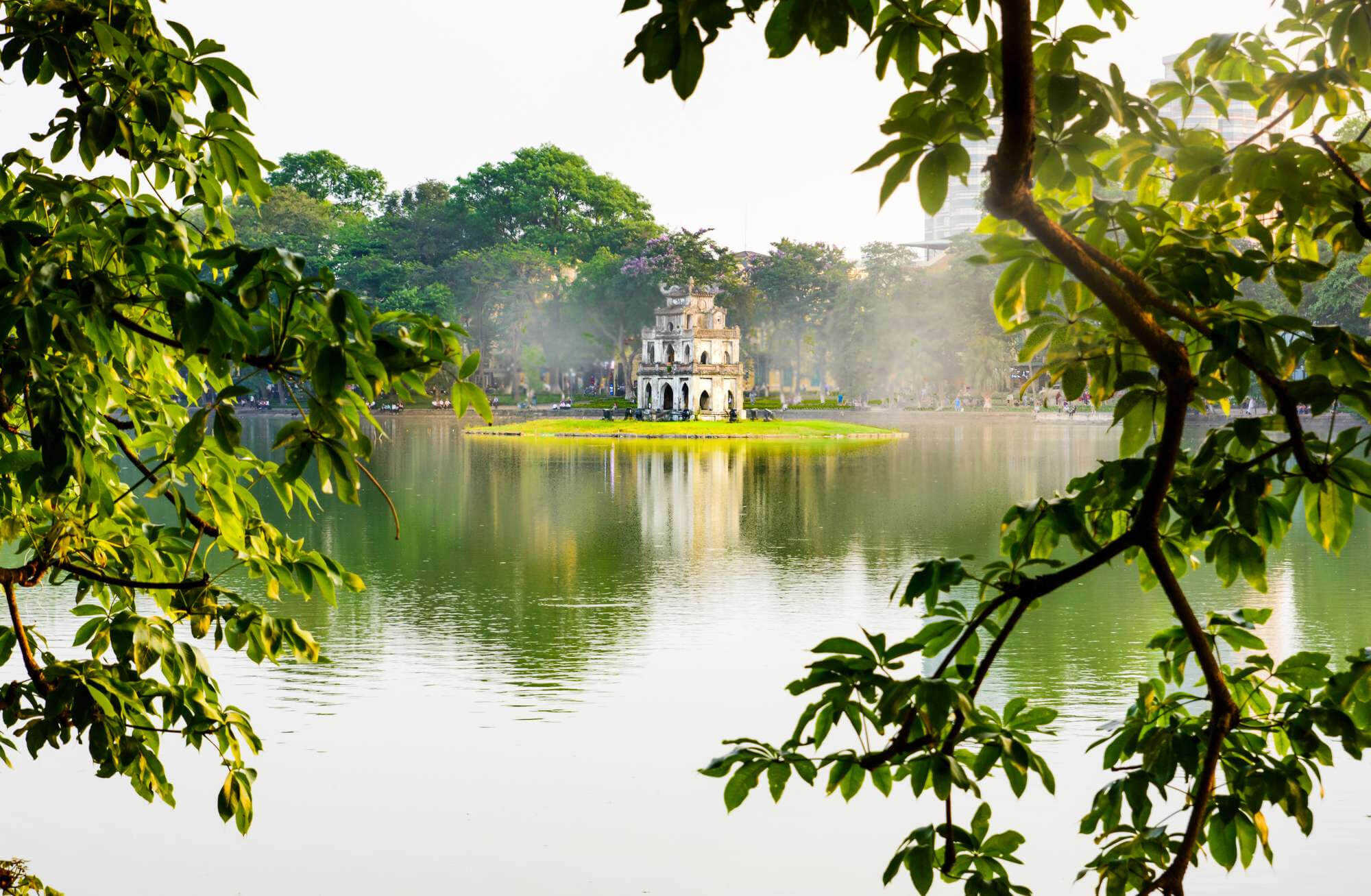 Hoan Kiem Lake is conveniently located in the very centre of Hanoi
Thu Le Park and Zoo
Nestled in the busy streets of Ba Dinh District, Thu Le Park is a popular destination for families – especially at the weekends when people go with large picnics. Note that in the middle of the day, everyone retreats into the shade so it is particularly peaceful and deserted at this time! 
As this park also houses Hanoi Zoo there is a charge for entry (although this is very reasonable ) and the zoo – although not the best in terms of modern animal habitats etc (something the Hanoi city council is working on) you can see a variety of animals. 
If however, you do not want to see the zoo, the lush greenery and well-kept gardens of Thu Le Park are enough to justify the entrance fee. It is a great place to stroll around in relative peace and it is easy to spend the whole day there. 
There are various small cafes and shops within the compound so you are never too far away from a cold drink or an ice cream! 
Thu Le Park and Zoo covers a huge area in a central location in Hanoi 
Thong Nhat Park (Lenin Park)
Commonly known as Thong Nhat Park or "the park with two names," this large green space was initially named after Lenin but was later changed to Thong Nhat Park, which translates to "Reunification Park." This significant change occurred after the reunification of North and South Vietnam in 1976. 
This is a very large park with a large lake. Be warned however that the lake does not have a fence so do make sure that you keep an eye on young children near the water. 
Entrance to the park is a minimal fee, with there being motorbike parking at the various entrances with a small parking charge. It is located next to Hanoi Circus, about 15 minutes by bike to the Old Quarter. Although large, there are only three gates –  on Tran Quoc Toan Street, Le Duan Street, and Dai Co Viet so if traveling by bike make sure that you are dropped off at an entrance. 
There are a few recreational activities, such as boating on the lake as well as limited amusement park rides, however, most people simply go for wandering around. Very limited food outlets can be found inside the park however as it is surrounded by roads a shop or café is easily accessible on the outskirts of all sides of the park. 
Thong Nhat Park (Lenin Park) has a huge lake with miles of walkways 
West Lake and Truc Bach Lake
Further North in the city is Hanoi's largest freshwater lake, West Lake (Ho Tay), which stretches over 500 hectares. This is an area that is very popular with ex-pats and there are a lot of restaurants geared for foreigners in this area. 
Encircling the entire lake is a scenic road, perfect for cycling or leisurely walks while enjoying views of the water and the cityscape. There are numerous bicycle places around the lake where you can hire a bike for a few hours/half a day. The whole area of  West Lake is dotted with various cafes, restaurants, and bars, so it is easy to cycle or walk for a while and then take a break in a lakeside café overlooking the water. 
Nearby, is a much smaller lake – Truc Bach Lake. Like West Lake there are a lot of cafes surrounding the area, the main difference being that this lake is much quieter than West Lake. This is the lake where the American pilot John McCain was shot down during the Vietnam War and subsequently captured as a prisoner of war.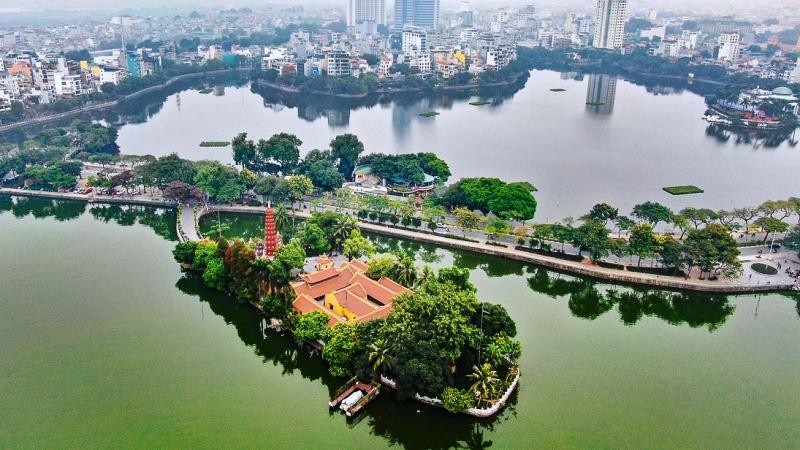 Truc Bach Lake offers a leisurely quiet location 
Bach Thao Park (Hanoi Botanical Garden)
Nestled in the heart of the city, the Hanoi Botanical Garden, also known as Bach Thao Park, is a very quiet place with beautiful grounds and a very peaceful atmosphere. Established in 1890 by the French colonial government, this green oasis covers over 33 hectares and is home to an extensive collection of plant species, including many indigenous to Vietnam. The park is well labelled for nature enthusiasts, whilst at the same time offering a serene environment for leisurely walks within beautiful settings.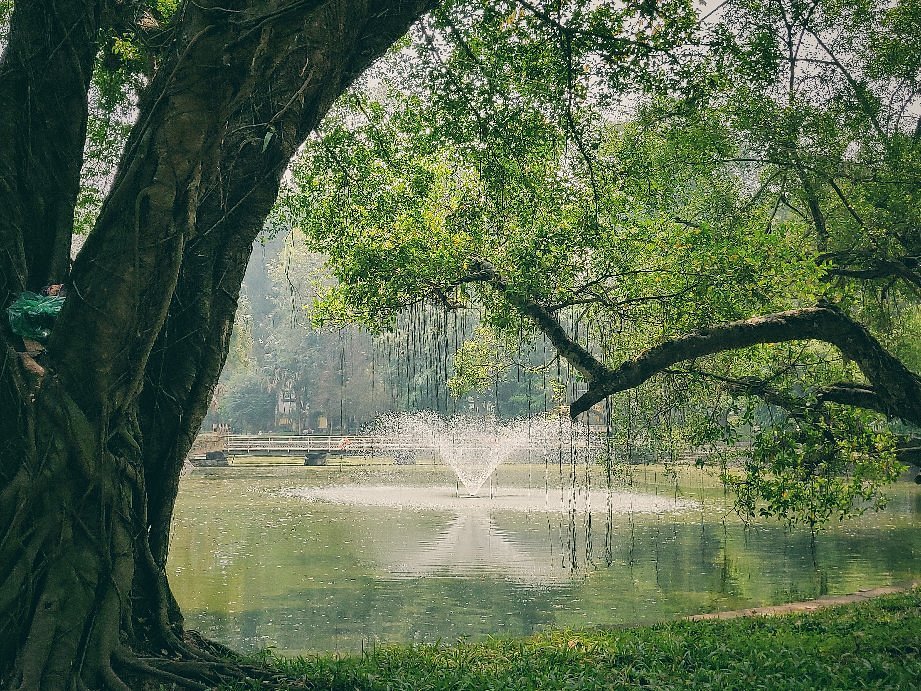 Bach Thao Park (Hanoi Botanical Garden)- a perfect location for all nature lovers
Hanoi's parks are not just green spaces; they are integral to the city's soul and character. From ancient lakes, sprawling botanical gardens, and serene animal-filled sanctuaries, each park offers a unique experience. These green oases provide Hanoians and visitors alike with an opportunity to connect with nature and unwind from the urban chaos. Whether it's taking a morning stroll around Hoan Kiem Lake or picnicking at the zoo,  exploring the parks of Hanoi is an essential aspect of understanding the heart and soul of this vibrant city.