Vietnam is a fascinating place to travel around – flights are cheap and plentiful and there is also a wonderful bus and train system. There are innumerous hotels in the country – even a little place in the back of beyond will have a place to stay but with such a wide choice of accommodation choices it is not always as easy as it first looks.
This article will guide you through the common pitfalls and things to look out for you, enabling you to book your next vacation with confidence. 
TYPES OF ACCOMMODATION
There are three main types of accommodation – homestays, apartments and hotels. It is possible to camp, although the places to camp in Vietnam are few and far between – with the hot weather ( or the Winter's cold weather in the North ) it is not an ideal climate for camping. 
A homestay is typically a more basic experience and is usually with a family. These are very popular in more rural areas and range from something very basic such as a mattress on the floor and a traditional breakfast to something more geared for a foreign teacher with dormitory-style rooms with individual beds and mosquito nets with a bar and café on the premises. 
Although it is possible to book the larger homestays online through popular booking sites, many homestays are only able to be reached via Facebook. As a result, when looking for a homestay it is a good idea to ask locals on the regional Facebook groups e.g. Expats in Hanoi etc. or simply type in the name of the place e.g. Son Soc + homestay on Facebook and a list of suggested posts will pop up.
Try to do your research about the place as some are great and offer the tranquil experience you may be looking for whilst others have karaoke machines which will go until the early hours of the morning! 
Staying in an apartment may seem like an unusual weekend destination, as in the West you can typically rent apartments for longer-term. However, in Vietnam, it is a common occurrence. Apartments vary tremendously in price and facilities, however, most of them will have a pool and gym – although make sure that you ascertain whether these are included in the rental price or if there is an additional payment.
The advantage of staying in an apartment is that you can have visitors – unlike a hotel where visitors are not encouraged and some hotels state that visitors can only be accommodated in the lobby instead of in your room. Apartments in Vietnam typically have a security guard on the ground floor so an apartment option is safe for all. 
Hotels in Vietnam vary incredibly – from the very basic to incredibly deluxe. You do need to do your research when booking a hotel as I will explain in more detail later but in general when booking a hotel check the star rating first – this will give you a very good indication of the type of hotel you will be staying at. A one-star is super basic – it may be a dormitory type accommodation and probably won't have any windows – even if you have a single room – and may be rather difficult for those who are not seasoned travellers.
A two-star hotel is basic – but just about acceptable. You may be lucky and get a window, however, space will be very limited ( there are some SUPER small rooms in Vietnam – from 12 m2 upwards ) and there will be no luxuries such as TV and bathrooms may be separate or shared. 
A three-star hotel is comfortable  – it will typically offer larger rooms ( although it may still be very small and have no window ) but typically you will have your own bathroom / clean sheets/television ( with satellite channels ) and there is often a choice of having a breakfast option. 
Four and five-star hotels in Vietnam can be very fancy – with larger rooms ( although a window is not guaranteed ) separate bathroom/television / safe / gowns / free toiletries/tea and coffee facilities etc. – most of which are at affordable prices! 
HOW TO BOOK
In Vietnam, there are two main websites that are used for online bookings – Agoda and booking.com. Please note that often if you look up a hotel on these sites and then go to trivago ( a compare engine ) and put in the hotel name then you often find a better deal so you press that link and you will probably find the same hotel you just looked at in Agoda at a slightly cheaper price. 
Many of the hotels prefer you to pay onsite, so although you give your credit card details on the website you will find that you have not actually been charged and instead need to pay directly at the hotel – this can be in cash or by card. 
It is possible to walk in and rent a hotel room however the price will typically be much higher than on the website. Instead, if you don't have anything booked and are scooting around and looking, then it might be better to go into places and check them out and then walk outside and compare the price given to the online price and book online if needed. 
THINGS TO LOOK OUT FOR
Vietnam is the master of photoshopping  – making even the tiniest gungiest place look like a massive palace. As a result, it is essential to make sure that you check the following VERY carefully : 
Location – hotels in Vietnam can be dotted all around – just because the hotel is called " beach view " this does not mean that it near the beach and can be  4 miles away.  On the websites it gives you a map to check location – so use this to see how many other hotels are nearby. If there are lots of other hotels around that area then it is probably a fine location however if the other hotels are all clustered elsewhere then be aware!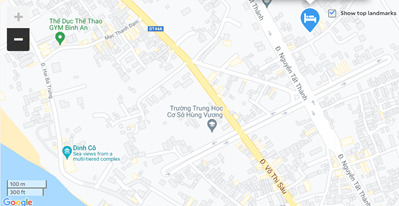 Be careful with location – although this place looks close enough to the beach in fact it is a massive 16 kilometres!
Room size – as already mentioned, rooms in Vietnam can be incredibly tiny. Do make sure that you check the room size – as a basic guide 15 m2  is very small and anything below is tiny. 20 m 2 is a normal-sized room with anything above being generous. 
Bathroom – do check carefully to see if there is a shared or separate bathroom – do not just assume that because the price is higher then you will have your own bathroom! 
The photographs – take the time to examine the photos – if they have been taken with a wide view angle then be suspicious of size or something that they don't want to show. Try to work out the place from the photographs – it is common for them to take photographs of things to make them appear they somewhere else – for example, we once stayed in a place where there was a wonderful photo of a lovely pool  – and yes – the pool was lovely HOWEVER it was in front of the building – in the car park – so people parking their car could see you as well as people walking past the busy street outside!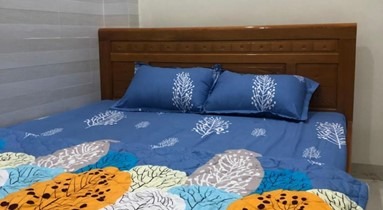 If this is all the photo on the website shows then you have to question what might be at the side!
It is essential to read the reviews from other customers as this is where you will get most information – if there is anything that is vitally important to you e.g. a pool or the quality of breakfast etc. then you can focus in on those areas to get as much information as possible. 
Overall, although it may seem a time-consuming thing to check all the details rather than simply find a place that looks nice and book – but you will be shocked as to how much reality can be altered to suit ! – and it is always better to be safe than sorry!