Vietnam Education Development Joint Stock Company, VPBOX
| | |
| --- | --- |
| Company Location | Biet thu G28, Lang Quoc te Thang long, Tran Dang Ninh, Cau Giay, Hanoi, Vietnam |
| Company Website | http://www.vpbox.edu.vn |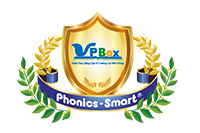 VPBOX, PHONICS-LEARNING BOX UK VIETNAM REPRESENTATIVE, an educational institution established in 2007,  aims at researching & finding new and modern teaching methods which are suitable to the Vietnam education through the cooperation with other International Education organizations. In order to achieve this strategic objective, VPBOX are implementing two tasks:
Task 1: Together with other educational institutions, VPBOX  has been contributing to improve the quality of teaching and learning English at  primary schools and the success of the 2020 project of the Ministry of Education.
-  Phonics-LBUK is a research-based English Programme that is explicit, systematic, intensive and sequential in structure with strategic instructional exercises. This wholesome English Programme, used the Actual Received Pronunciation or Queen's English Pronunciation, comes in a well-planned thematic-based syllabus to ensure that our young ones are well-equipped with the necessary capabilities when it comes to the effective usage of English.
- Phonics – LBUK is designed by one of the leaders in the field of Computer-Aided e-learning solutions and is academically supported by Professor Gerry Knowles, an English expert in linguistics and phonetics, the author of many famous books such as Patterns of Spoken English (Longman, 1987) and A Cultural History of the English Language  (Edward Arnold, 1997). Phonics-LBUK  has been successfully implemented in many countries around the world such as Malaysia, HongKong, Thailand, Indonesia, Singapore, India, China, Korea, Taiwan, SriLanka & Vietnam.
- Phonics-LBUK was evaluated by the MOET on October 13, 2008 before putting into practice at primary schools. Phonics-LBUK is currently thriving across the country with nearly 150,000 pupils and 1000 Vietnamese & foreign teachers
Task 2: VBOX is currently the representative of Cambridge ESOL, code VN255. We are responsible for organizing the Cambridge ESOL exams for pupils, students & teachers at all levels.
Current job openings at Vietnam Education Development Joint Stock Company, VPBOX