Once you have made the brave step of getting yourself a motorbike, then you need to think of the next vital step – that of insurance.
There are 2 types of motorbike insurance in Vietnam, compulsory and voluntary.
Compulsory motorbike insurance in Vietnam
This is a legal requirement and if the traffic police stop you then they will be asking for proof of this insurance. It is important that without this insurance you are illegal ( even if you have gone to the effort of getting a driver's license ) As a result, some insurance companies – both health and life – can reject your claim if you do not have this insurance as technically you are breaking the law by riding your motorbike on the streets without it.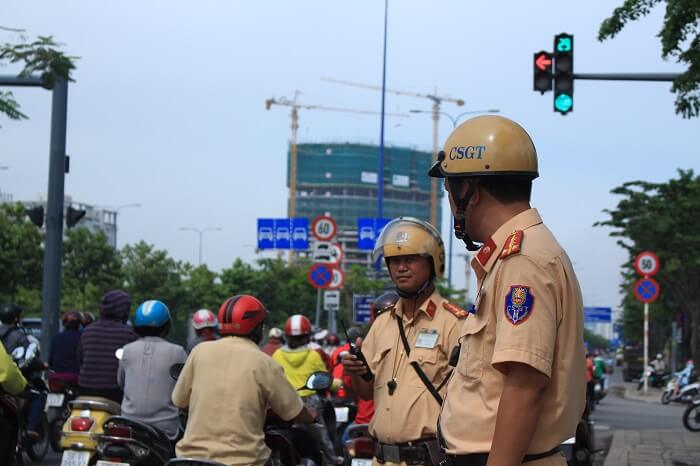 This is a third party insurance and in general covers :
100 million VND per person per case in relation to people
50 million VND per person per case for assets
Voluntary motorbike insurance
If you have an old second-hand motorbike, then there really is no need to have insurance for your motorbike in case of theft and damage. However, if you have slashed out on a really decent motorbike which is worth some decent money, then it is a good idea to also have voluntary motorbike insurance in addition to the compulsory.
The price for this type of motorbike insurance in Vietnam is dependent on the overall value of your motorbike – however like the compulsory insurance is very reasonably priced.
The blue card
When buying a motorbike you will have heard a lot about the blue card. The blue card is the legal card which shows that the motorbike has not been stolen and is in fact legally purchased.
It is important to note that the blue card is issued in the original purchaser's name – so if buying second hand then the card will not have your name.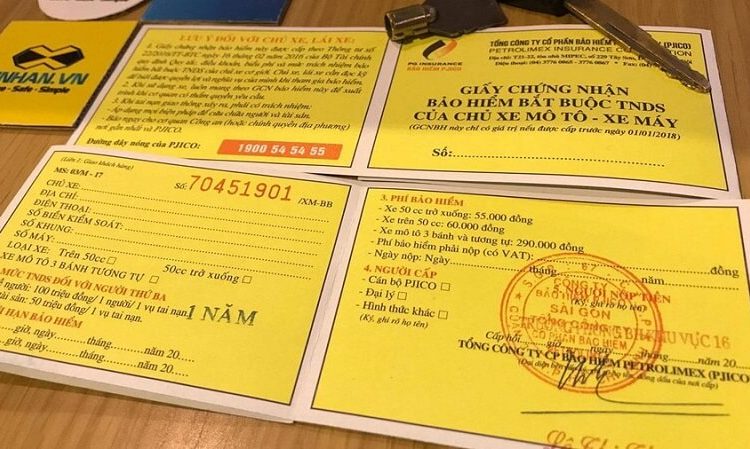 Please note that this is fine for the case of the insurance – the bike is the thing that is insurance so the insurance will still work – even if your name and the name on the blue card are not the same.
The only problem you may have with the blue card is if it is forged. Forgery of the blue card is common as without it then you are unable to sell on your bike, get insurance etc. As a result, try to take someone who knows about these things with you when buying your bike so that they can compare their knowledge of the blue card with the card that is being presented.
Where to buy motorbike insurance in Vietnam
There are various places where you can get the motorbike insurance in Vietnam – with varying usefulness.
The most common place if from a local mechanics – the price is about 40,000 VND and is basically only a piece of paper which means that when you get stopped by the traffic police then you are able to show this compulsory document and thereby not need to pay a fine ( usually cash in hand to the traffic policeman )
If you want something a little better – then you can get motorbike insurance from an insurance company. I have fortunately not had the need to test out the insurance so not sure if it actually works – but do feel that there is a chance of getting some claim with an insurance company.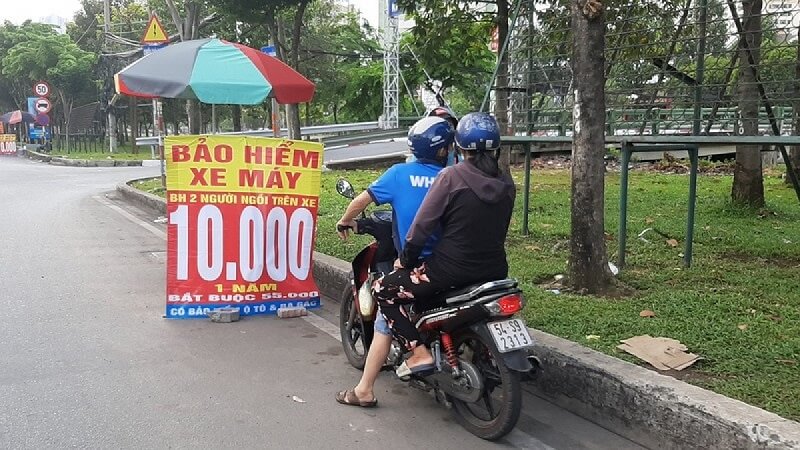 The major insurance companies in Vietnam that deal with this are BaoVIet, Liberty and Infinity. The prices is still super reasonable – around 80,000 VND per year.
If dealing with an insurance company then you need to show them a copy of your blue card and your Vietienmese motorbike driving license.
Note that if your motorbike is 50 CC then there is no need to have a motorbike driving license.
If you do not have a driving license then you will need to resort to the mechanic option rather than the option which will probably pay out in the case of an accident.
Rental motorbikes
If you rent a motorbike rather than own the bike, it is important to make sure that you have insurance. All reputable companies will have the compulsory insurance and they usually keep both the blue card and the insurance paper at the rental headquarters.
As a result, it is suggested that you ask the company if you can take a photograph of these two documents so that if stopped you are able to instantly show these documents.
Overall, it is super easy and super cheap to get motorbike insurance – so rather than taking the risk, it is recommended that you make the effort to get the insurance and ride the roads without worry!