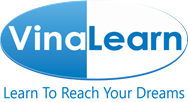 WELCOME TO VINALEARN ENGLISH CENTER
Are you up for a challenge, something new or pushing yourself beyond the perceptions of your own capabilities? Do you have an open mind? Then Vietnam is the place to be.
Vinalearn English Centre offers that and more, not only do you work at an English Centre but you will also have a chance to work at both public and private schools, providing lessons for different levels of English and inspiring English learners to go further .
While Vinalearn English is still a relatively new company, we have grown substantially over the last 3 years. This is in part because of our devotion to supplying public schools across Ho Chi Minh City with the highest quality teachers and to our different style of management, which puts us apart from most other Vietnamese language centers. Our teachers are not only well trained, but are also given the freedom to utilize their unique cultural and educational experiences for the benefit of the students.
Vinalearn is a different type of English center in that we take a "less is more" approach to managing teachers. We provide any and all support through our hard working head teachers and Vietnamese staff, though it is our philosophy that once our qualified teachers are trained, their lesson plans will become a reflection of their own experience, knowledge and temperament and should not be micro-managed. It's Vinalearn's job to assist and support, not to control.
Both teaching and learning with Vinalearn is a rare and enlightening experience and we will happily welcome all those who share our goal for a more culturally aware, educated and successful Vietnam.
Vinalearn English Center is located at 364 Tran Phu Street, Ward 7, District 5, Ho Chi Minh City, Vietnam.
Current job openings at Vinalearn English
Currently this employer doesn't have any openings.