The good news is that there is a huge array of toiletetries in Vietnam – with even the smallest supermarket offering a range. This is fine if you are coming on holiday and simply need something to keep you clean, however, if you are living in Vietnam then it is good to know exactly what is available so that if needed you can bring things from your own country!
Where to buy your toiletetries in Vietnam
There are huge displays of toiletries in all supermarkets – however small, meaning that you can always get the basics. They are very reasonably priced and there are often special offers with smaller travel sized products being given as a free gift (or a free towel / cosmetic bag etc ) 
There is a tendency for basic products such as shampoo and body wash to come in very large sized bottles, but since it takes years for these to go off then a big sized container is fine!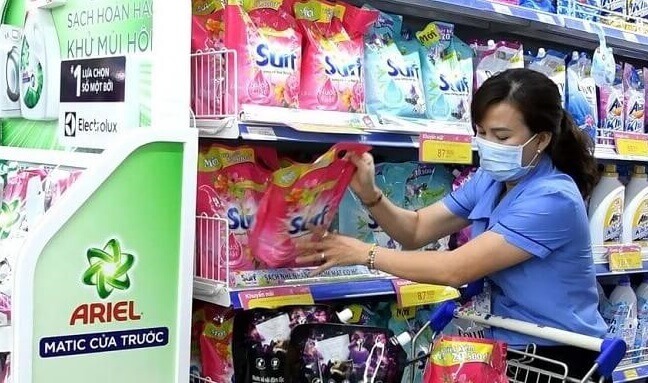 In addition, there are some chemist chains which focus on toiletries and supplements rather than medicines, such as Medicare, which can be found in almost all shopping malls. 
If you are looking for more natural products, then the British "Body Shop "is available in major cities – although prices here reflect the imported nature of the goods. 
There are a range of local natural and homemade items – rather than being chains, these are local and can be found by googling and/or looking on Facebook. 
Shampoo 
Vietnamese look after their hair very well, having it cut incredibly regularly and spending a lot of time on aspects such as gentle curls etc. As a result, there is a very large range of shampoos on offer in all of the supermarkets –from the well known brands such as "head and shoulders " to more unusual Korean types. 
If you particularly like hair products from your country, then you will probably be able to find the common international hair products at hairdressers which are geared for both Vietnamese and Foreigners e.g. The Hair Workshop. These include all of the Moroccan Oil products as well as the Tigi items. Please note that these are priced at an international level (which is comparable to what you would have paid at home) which may seem incredibly expensive when looking to buy toiletetries in Vietnam.
Black hair products – very common type of toiletetries in Vietnam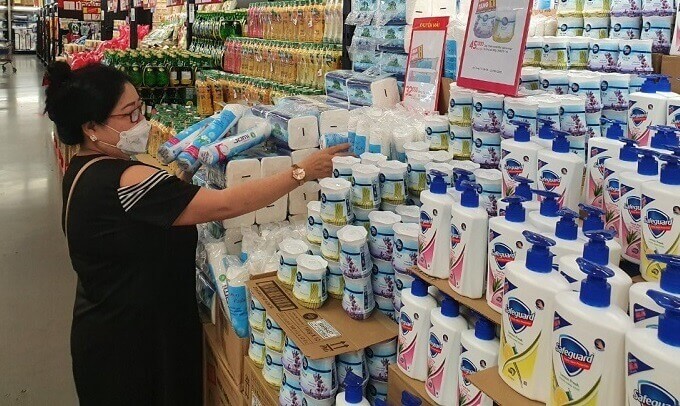 Unfortunately, one of the major gaps in the toiletries market is products for black hair. It is possible to get some thicker hair creams, but these tend to be of lower quality. Coconut oil is widely available however so can be a good alternative. 
The online shopping places of Lazada / Shopee do have a few products, but these tend to be expensive and poor quality. As a result, it is suggested that you bring your own products with you. 
Hair dye 
Although a full range of hair dye colours are available in hair salons, it is very hard to find a good range of colours in the supermarket or locally. There is a wide variety of very dark hair dyes, from light brown to black, however, these seem to consistently turn your hair black (or almost black) rather than the colours on the packets. There are gaudy blonde hair dyes available, however, these are poor quality. 
As a result, unless you want to be having your hair consistently dyed at the salon, then it is suggested that you bring your own favourite brand of hair dye with you. 
Tampons/pads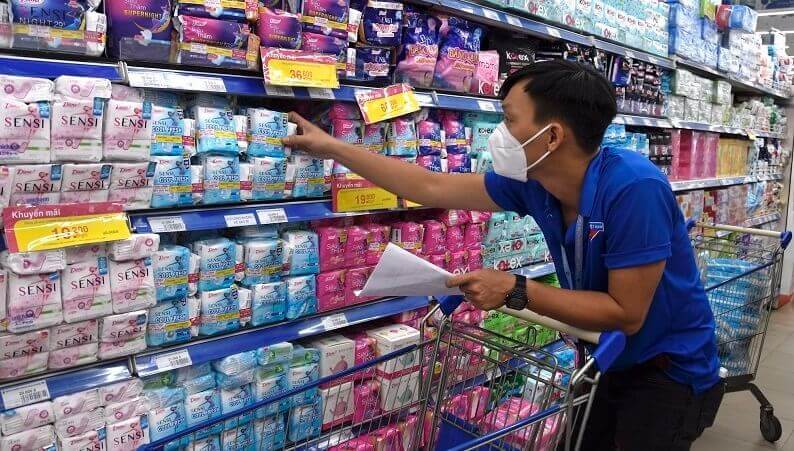 Most Vietnamese women use sanitary pads, so there is an incredibly wide range of pads available – from super light to incredibly thick! These types of toiletetries in Vietnam are available in a wide range, from the standard to special wings. 
Tampons on the other hand are incredibly hard to find and are of poor quality- typically only offered in the one standard small size. Thus, it is sensible to simply bring your own supply. 
Bars of soap
Soap is a pretty popular type of toiletetries in Vietnam– however, there is a tendency to have liquid soap rather than bars of soap in supermarkets etc. If you do want a bar, then you do need to search a little and your choice will be limited.
Instead, you would be better to look at the more natural options – there are a lot of places that sell handmade soap – although these tend to be local rather than nationwide. 
Sun lotion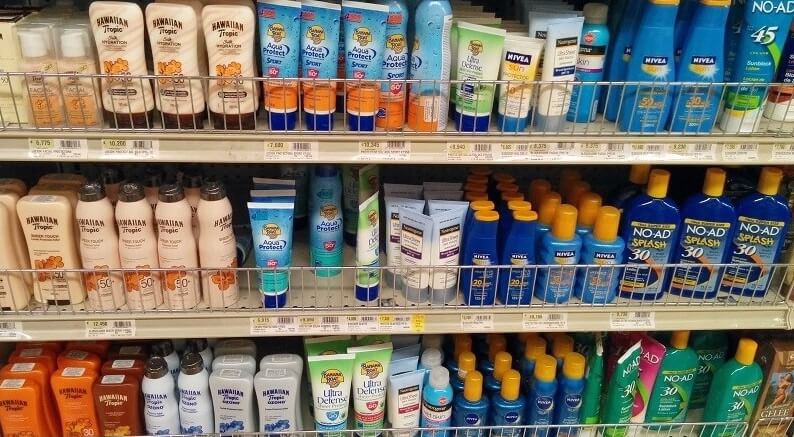 Most Vietnamese women wear sun lotion on a daily basis as there is a strong culture that pale is beautiful so there is a strong aversion to avoiding the sun, 
However, although the sun lotion is worn daily, this is restricted to the parts of the body that are exposed to the sun (and since Vietnamese totally cover themselves when out in the sun this is the face only) – so it is used more as an ex-pat would use a small jar of moisturiser. As a result, rather than the giant bottles of sun lotion that are available in the West the bottles of sun lotion in Vietnam tend to be mini size.
Mini bottles of sun lotion are sold in Vietnam rather than giant bottles as in the West 
This means it is much more economical for you to bring your own from the West so that you can have the large bottles and lather it all over your body.
Deodorant/toothpaste 
Pleased to report that these are readily available in Vietnam, so you do not need to bring these with you!
Specialist skin products 
You will be able to buy local face creams and face masks etc from supermarkets and shops anywhere in Vietnam. If you use the large companies e.g., Clinique / Neutrogena / Nivea etc then you can also find these in shopping malls in the very large beauty sections. Prices are comparable to those in the West – so although they seem very expensive, they are in fact in keeping with Western prices. 
Beauty areas which are comparable with the West are found in all shopping malls 
Overall, you will be pleasantly surprised at the huge range of toiletetries in Vietnam and the ease with which you can get all that you need even in smaller places as supermarkets are very well stocked. Do make sure, however, that you bring those few products that are not available in Vietnam as once they are forgotten it may be a long time to wait before you go back home again!