Supermarket shopping is the main way to shop for most foreigners in Vietnam, however, although there are similarities to the shops in the West there are also a lot of differences and it can be rather confusing to work out where and how to shop. In this article, we are providing you with some useful information about Vietnam's most popular supermarkets.
What are they like?
As with supermarkets in the West, shopping carts and baskets are located near the front entrance of the stores and are free of charge to use. In most of the supermarkets, your own bags of items (except for small handbags) are not allowed into the shop. Instead, there is a special area (usually near the front entrance) where an employee is sitting in front of a row of lockers (or a room if in a larger store) You simply give your bags to the person and they will put your items into a locker and give you the key. When you have finished shopping, you simply return the key and receive your items. This service is free of charge.
If you have a bag with valuables in it, for example, a laptop computer etc. then do not leave your bag and instead show it to the security guard at the supermarket entrance. They will either attach a tie to the zip section of the bag so that the bag cannot be opened or wrap your bag in a plastic bag to seal it.
Large supermarkets not only sell a range of food items but also a range of household items, electrical items as well as clothes. The quality of some of these is very high and it is worth taking a look at the items.
As in the West, the food items are classified according to type, with prices typically being displayed underneath the item. In some supermarkets (big C), there are check areas, where if you are not sure of the price of an item you can scan it yourself and check the price. As the names of items are in Vietnamese it is not always easy to work out the prices of individual items – so a great tip is to look at the bar code of the price label and compare that to the bar code on the item. If you are still unsure, then it is fine to take the item with you to the counter and ask for the price.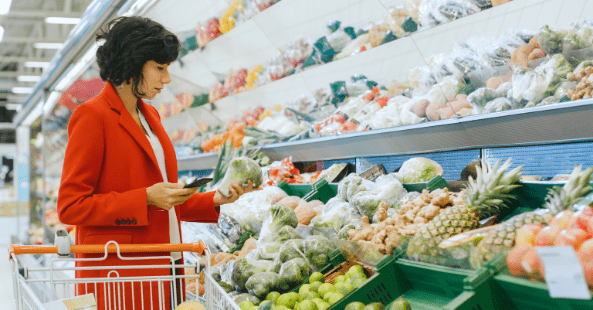 For me, the biggest shock when entering a supermarket for the first time was the live fish section. Most large supermarkets have a variety of fish tanks that house a range of seafood, ranging from prawns and lobsters to turtles and eels. Although supermarkets differ slightly, in general, if you wish to have something live from the tank you take the small fishing net (which is at the side of the tanks) and fish yourself for the live item you need. There is then an employee that you give your live item to and they will kill it, pop it into a bag of ice and pass you the bag so that you can continue shopping.
In addition to the live seafood, there is a selection of already prepared seafood, with you typically choosing the pieces you want and popping them into a bag of ice.
In the meat section, the different types of meat are typically arranged together, with the most common being pork, chicken and beef. There are, however, a variety of other meats, with frog being highly popular as well as meats such as ostrich, buffalo etc. Although Vietnamese also eat other meats such as cat, dog and different types of mice, these are not typically sold in the supermarket but available at the market instead. As in the West, meats can either be pre-packaged or sold by weight, with there being a choice of either asking for a certain amount or collecting a bag and putting it in yourself.
Takeaway food is a huge business in Vietnam, so most of the names in the list of Vietnam's most popular supermarkets also have an area where you find a selection of takeaways. These can be rather elaborate depending on the store and can include whole Shushi areas, pho sections, selections of meat and rice, salad varieties etc. Most large supermarkets also offer a restaurant-style area where you can sit after purchasing these items.
These areas typically offer a microwave (so you can heat up your food if you chose e.g. a prepacked chicken and rice) and hot water (if you have chosen instant noodles etc.) which are free for use. The supermarket eating area will have plastic forks and spoons as well as disposable chopsticks for your use – simply help yourself to these free utensils. There is typically an area of condiments e.g. sauce/chili's / garlic which you can use to enhance the flavor – these are available free of charge.
To make the process easier if you want to sit and eat at the supermarket, there is a separate till for these items so you can pay for the items you are going to eat now and leave the rest of your shopping in the trolley/basket for later. Make sure that you keep your receipt since there is a security guy who goes around and checks that you are eating only paid-for items.
One of the best parts about supermarket shopping in Vietnam is the free delivery. Depending on the shop and its location, free delivery is typically within 5, 7, or 10 km and you need to spend a minimum of 200, 000 VND ( although some places require more ) You will be able to easily work out the free delivery price and distance since it is prominently displayed near the exit of the shop.
Supermarkets typically will not deliver cold or frozen food and some supermarket chains will not deliver wine or breakables. You do not need to pack the items ready for delivery, instead simply go to the free delivery area and fill in the form (although it is in Vietnamese the employees will assist you with the three areas needed – name/address/phone number). You then leave the items in the trolley and are free to continue without being saddled with heavy bags. Delivery is usually within a few hours and is a smooth and easy process.
In general,  Vietnam's most popular supermarkets are as below:
Vin Mart
Co-op – much more popular in the South than the north
Mega mart
Big C
VIN MART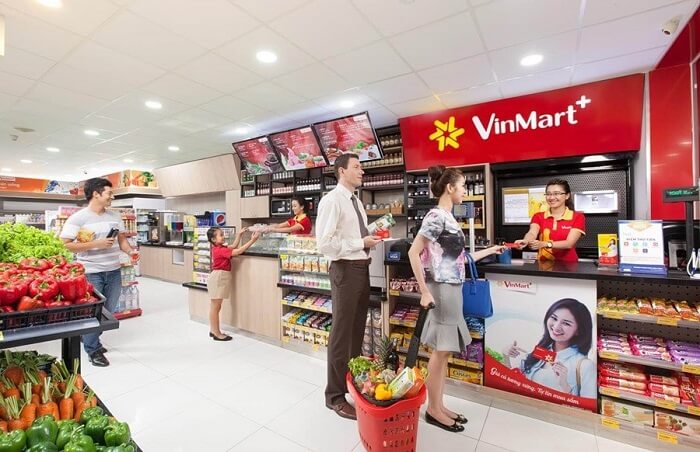 VIN mart is part of the massive Vin Corporation that has schools, milk, buildings etc and it is on its way to making it to the top 1 of Vietnam's most popular supermarkets. There are about 3,000 Vinmart stores in the country making it the most populous food shopping chain.
In addition to the large supermarkets, small convenience stores sell a section of the basic supplies.
Vin mart stores are generally very clean and spacious, well-spaced out, and well ordered. They offer all of the basics at a cost-conscious price, although are not necessarily the cheapest overall.
Like many supermarkets, Vin mart has a loyalty scheme that is free to join. It is extremely simple to get a card by signing up instantly at the inquiries area. Simply show your card every time you pay and points are automatically added. To use your points simply ask to use your points when paying and they will be converted into Vietnamese dong and that amount deducted from your bill.
Co-op mart- top 2 of Vietnam's most popular supermarkets
This is the most popular supermarket chain in the South of the country. They have a wide range of their own goods that are cheap and of high quality.
The clothes and shoe section of the co-op is very good and although not extremely cheap is very hardwearing and very good value for money. They also have a good section of underwear in larger sizes, which is very useful for the larger Western physique.
The shops themselves tend to be a little chaotically laid out and seem to be permanently busy, but since there are always a lot of checkouts, the queues rapidly disperse. Prices in the frozen area are grouped together rather than individually, making it quite difficult to work out exact costs, although, with perseverance, the prices can be worked out.
The co-op has a very good loyalty membership scheme – again, very easily joined at the information desk. In addition to the point scheme, they often have membership special offers at weekends where if you purchase items over a certain amount e.g. 200,000 VND then you are eligible to purchase one of the special offer items for a nominal fee e.g. a bottle of oil for 4,000 VND, etc.

Mega Mart
This is perhaps the cheapest supermarket chain. It is geared towards wholesale and it offers a membership scheme only for companies.
The layout of this supermarket is more basic than the others, although it still has nice wide aisles and items well labelled and organised. They have a lot of their own products, which offer even more value for money.
Note that this supermarket does not give free plastic bags (as with all of the other supermarkets) – they do however offer free boxes and a free area with sticky tape or you can purchase one of their reusable bags.
Big C- top 1 of Vietnam's most popular supermarkets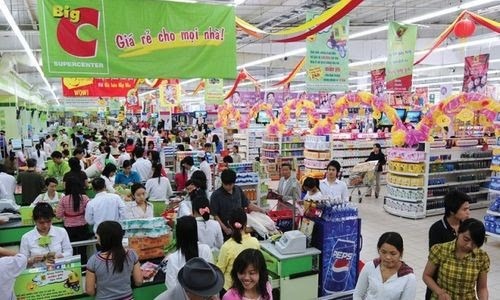 This is a very popular supermarket chain and it can get incredibly busy at weekends and peak times. It offers very good value for money and has a range of its own products.
Shops are typically extremely large and attractively laid out, making a visit an enjoyable experience. In addition to food supplies, Big C sells electrical items (both small e.g. hairdryers and large e.g. freezers) a range of clothes, toys, stationery as well as household items and gifts.
Big C offers a point membership scheme.
At all of the supermarkets, payment can be by cash or by a card, with many supermarkets having ATMs at their entrance.
Overall, although supermarket shopping can be daunting in a new country, it is an experience. Experiment each time you go, buying one new product that you are not sure of and over time, you will gain confidence and experience to grab your trolley and head off with enthusiasm and ease.