Unlike VTJ's recently introduced games, Circus Shuffle Cups Game has a different gameplay but is still extremely interesting.
Why should you play the Circus Shuffle Cups Game?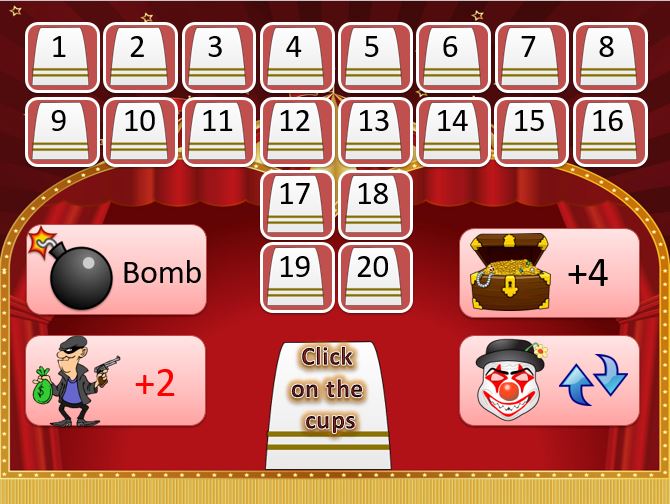 For the same reasons as many of VTJ's other carefully selected and collected games, which include:
– Highly applicable, extremely useful for online classes. Effects in the game are done very well, guaranteed to bring excitement and newness to your online learning session.
– Easy to monitor scores and to edit the content. The game also comes with vivid visuals and lively transition effects.
– When the cups are shuffled, students will not be able to tell which cup contains the bomb and which cup contains the high score, so the selection is purely based on guesswork, making the game interesting but still novel .
– Suitable for all types of content: grammar, vocabulary, word meaning, etc.
How to play the Circus Shuffle Cups Game?
– Students divide into teams to play. If the class is large, or if the class is less than 4 people, each can play on their own.
– Students choose one number to start answering the quiz, and when they give the right answer, the teacher proceeds to shuffle the cup and let them choose.
– The students are able to see what are inside each cup, but that doesn't help them much to make a wise choice.
– In each question page in the Circus Shuffle Cups Game, there is a Clown head. When each team finishes their turn, go back to the main page by pressing that Clown head.
The most common rewards are the coins that value from 1-2 points. Besides, there are some other special rewards like bombs, or Thieves…
– The icons inside the cups represent different rewards as below:
| | | | |
| --- | --- | --- | --- |
| | | | |
| Swap points with one of the opponent teams |          Lose 2 points |            Get 4 points |              Lose all points |
Download the game HERE! Have fun with your class!