Nestled in the mountains and forests in Thai Nguyen, Hoa Binh, Phu Tho… these cool waterfalls and streams near Hanoi are the ideal escape from the boiling weather of the summer.
These destinations are only about 100 km from Hanoi, convenient to travel during the day or two days and one night. If you are afraid of the ocean but still love to swim, these destinations are the most suitable!
Unspoiled waterfalls and streams near Hanoi
Cua Tu Stream, Thai Nguyen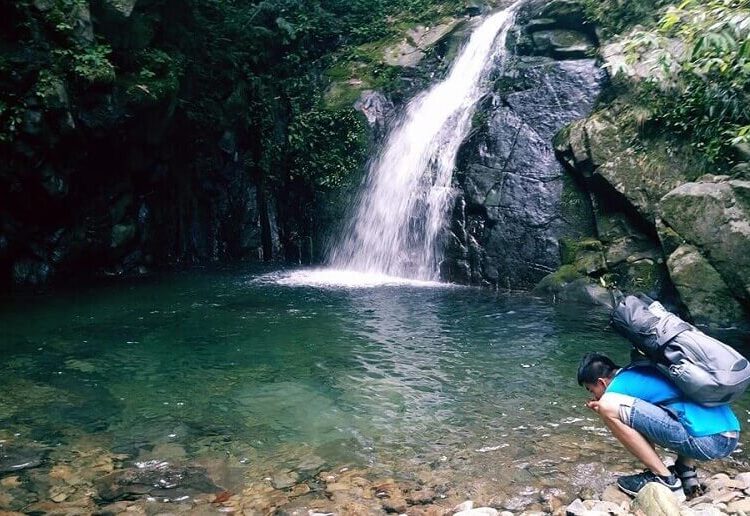 Cua Tu stream is located in Hoang Nong commune, Dai Tu district, about 45 km from Thai Nguyen city center and about 120 km from Hanoi. You can find it on the east side of the Tam Dao range, originating from the high mountains, flows through Hoang Nong commune and then flows into the Cong River. Nestled in the forest, weaving through the cliffs, the stream consists of 7 waterfalls, some with cool lakes. Possessing unspoiled beauty, cool air, and trekking routes with many mountain slopes and cliffs, this area is usually chosen by nature-loving tourists.
The scenery here is still wild because there are not many tourists coming here very often. The route here is suitable for even first-timers. At the waterfalls there is a lake where you can swim. Visitors should stay at Hoang Nong Farm homestay and book a guided tour here.
Boi stream in Hoa Binh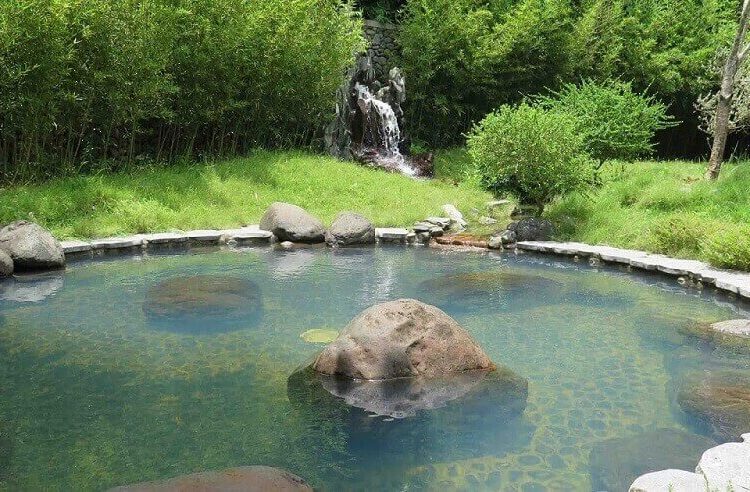 Although many tourists call it a stream, the actual camping area in Boi River is a shallow water part on the bank. Along the shore there are many such shallow water spots in the area of ​​Sao Bay commune, Kim Boi district, but visitors should go to the safe area along the 12B road. Unlike other streams near Hanoi , you are able to rent tents, tables and chairs here.
The water here is only ankle-high, but flowing fast. These streams near Hanoi are definitely a suitable destination for picnics on hot days. This place is also close to famous resorts such as Serena Resort Kim Boi, An Lac Eco Farm & Hot Springs.
Mu waterfall stream in Hoa Binh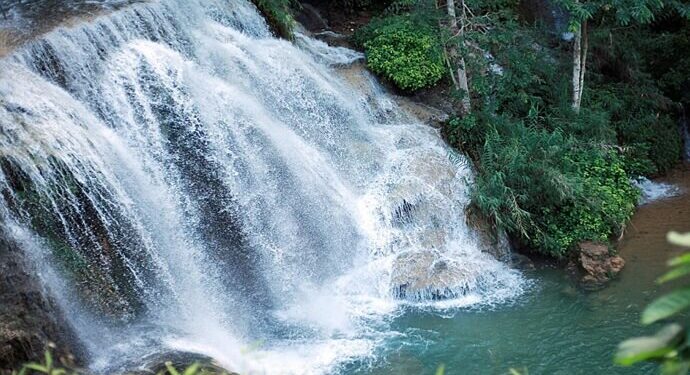 Located in Tu Do commune, Lac Son district, Mu waterfall originates from Mu stream in Buoi river basin. The waterfall has a height of more than 100 m and 6 floors. Below it is a natural swimming pool with clear blue water. In summer, the water flows down from above with white foam. When standing close, you can feel the little water drops splashing gently on your face from the steam. About 2 km away is Mu stream with shallow water, suitable for the whole family to have a wonderful camping time.
Right next to the stream, there is a homestay accommodation in Suoi Mu 2. The advantage here is that the space is close to nature and very untouched. (Actually all the waterfalls and streams near Hanoi in this list have this in common) Visitors stay on stilts, enjoy the specialties of the mountains and forests prepared by the people and can go to the stream at any time with a few steps.
Xuan Son National Park, Phu Tho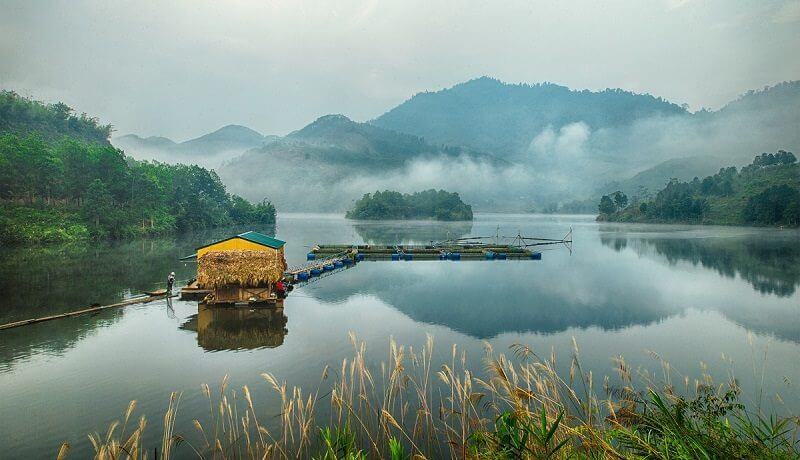 Xuan Son National Park is located in Tan Son district, Phu Tho province, 120 km away from Hanoi. Considered as a "green lung" of the province, the garden is more than 33,600 hectares wide. This place includes diverse forests, fresh springs, waterfalls, caves… In the middle of hot summer, when getting closer into the forest, the sun is less intense, the air is much more pleasant.
Spring bathing is one of the favorite activities of many tourists in this national park. The streams meander parallel to the natural forests. Flowing from crevices and rocky caves, the stream is divided into many small lakes that are hundreds of square meters wide. There are also many high waterfalls here such as the 9 cloud waterfall, Ngoc waterfall, Mo waterfall… Coming to the garden, in addition to trekking, bathing in streams, visitors can also experience community tourism, and explore the culture of the Dao and Muong people. .
That is our list of some natural waterfalls and streams near Hanoi, if you have ever visited these places, let us know about your experience by commenting below!