Are you an explorer and adventurer, always with a great passion for extreme sports? You live and work in the capital Hanoi, have not been anywhere for a long time and you need an address to relieve stress? VTJ's article will bring you information about 3 super exciting extreme sports in Hanoi for you to experience with your friends!
1. Paragliding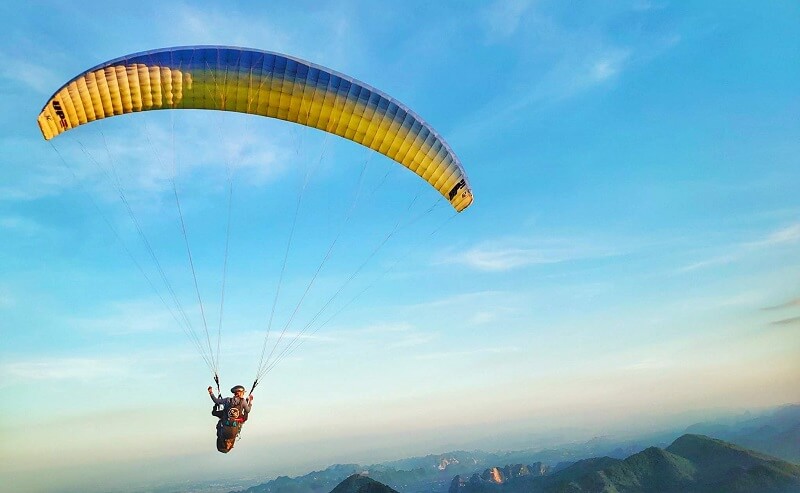 Paragliding is one of the adventure sports that you must try once in your life. This sport will help you feel the freedom and conquer the overwhelmingly vast sky. Paragliding is now quite popular in Vietnam and is present in many famous tourist cities of our country. So you can easily find information and start experiencing this extreme sport.
To participate in the paragliding experience, you just need to be in good health, not afraid of heights and have no heart problems. The age allowed to experience is from 3 to 70 years old, you do not need to have much skills but just follow the instructions of the accompanying pilot to have a safe and memorable flight.
Addresses to experience paragliding in Hanoi
Nowadays, you don't need to go far, but even in Hanoi, you can also participate in this exciting adventure sport. However, you should choose reputable clubs and pilots with international licenses to have the best and safest experience.
Some reputable paragliding clubs in Hanoi you can contact to register for experience:
Mebayluon Paragiliding
Viewing Paragliding
Paragliding Adventure Medellin.
Time to experience paragliding in Hanoi
– Suitable time for paragliding: from October to December of the solar calendar every year.
– Location: Bui Hill in Chuong My district, Hanoi city
– Cost of participation: From 1,500,000 VND to 2,000,000 VND/time depending on the club, pilot flying with, flight date, flight time and experience time.
Note when participating in paragliding:
Absolutely follow the instructions of the pilot flying with, should wear neat clothes, wear sports shoes when experiencing, when playing, there may be a slight feeling of nausea due to pressure changes.
2. Go Kart (speed racing)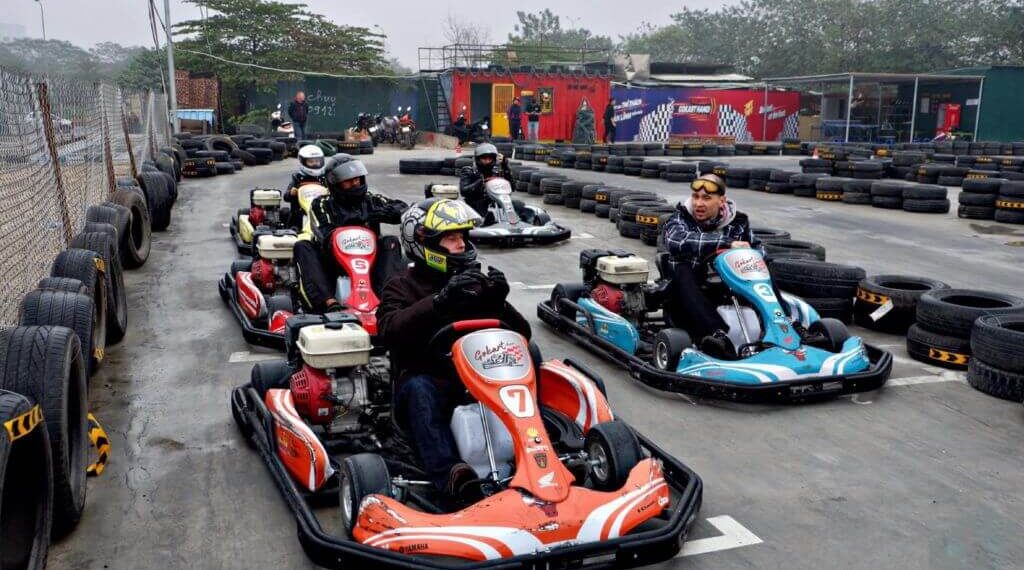 Speed racing is an extreme sports game for speed enthusiasts. Joining this game you will feel like you are the car racers on the real Formula 1 race track.
It is interesting that nearly every professional racer in the world starts with this game because it simulates tracks, turns and motor cars. If you are concerned about the safety of the game, don't worry, because you will be guided by the coach and have about 10 minutes to get used to the car before joining the race with your friends.
You are the driver, you can completely control your speed, so if you are afraid, you can drive the car at a speed that suits your ability to drive to avoid problems when losing control. The age that can participate in the game is children from 13 years old and above, over 1.3m tall. Currently go Kart is very popular with young people, so this game has appeared quite a lot in big cities including Hanoi.
Addresses to experience Go kart in Hanoi
Some suggested addresses for those who want to experience this sport in Hanoi can refer to:
GO KART HANOI
Address: Ngu Hiep Market, Thanh Tri, Hanoi
Opening hours: From 9am to 9pm.
Phone number: 0392168998
Ticket price in December 2021: VND 197,000/person for a week ticket, VND 237,000/person for a weekend ticket with 20 minutes of play.
Hanoi Super Karting
Address: Yen So Park, Hoang Mai, Hanoi
Opening hours: From 9am to 9pm.
Phone number: 0932369777
Ticket price in December 2021: 250,000 VND/person with 20 minutes of play.
Go Kart Vietnam
Address: Dam Tranh Ecological Area, Thach Ban, Long Bien, Hanoi
Opening hours: From 9am to 9pm.
Phone number: 0902 180 086
Ticket price in December 2021: VND 265,000/person for a week ticket, VND 315,000/person for a weekend ticket with 20 minutes of play.
3. Driving off-road motorcycles ATV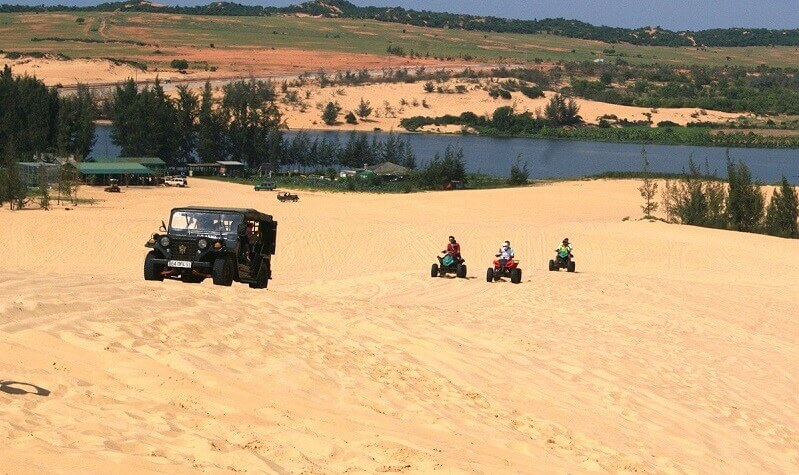 If you have ever traveled to Binh Thuan, you must have seen this type of ATV off-road motorcycle on the famous sand dunes. High-speed cars traveling on steep sand slopes will give visitors memorable heart-pounding experiences.
Currently this extreme sports game is available in Hanoi. So, if you have never experienced it in Binh Thuan, this will be a great opportunity for you. This game is a craze among young people in Hanoi because of the excitement and novelty of the game. In addition, when you come here, you can also take super cool photos next to the ATV to bring back as a souvenir.
Address:
The right time to experience: A sunny day, not too hot or too cold
Location: Village of Culture – Tourism of Vietnamese Ethnic Groups in Dong Mo tourist area, Son Tay, Hanoi.
Participation cost: From 200,000 VND to 1,000,000 VND/person depending on the time of experience.
Above are some extreme sports you can experience in the capital of Vietnam. If you are interested in our articles about traveling in Vietnam, don't hesitate to subscribe to get the latest notification!