Massage, to most people, is considered not simply a hobby, but also a passion. If you are new to Hanoi, you are likely to start looking for some realiable addresses where you can put your mind at ease during a good massage session all by yourself. Therefore, in this article we will find out about the top 10 places where you can enjoy a massage in Hanoi!
1. Hoang Kim Massage – Sauna And Body Massage In Hanoi
Hoang Kim Massage is a popular place for having a massage in Hanoi that is widely known among Hanoians. Don't hesitate to come to Hoang Kim Beauty Care Center to have a good time since they provide a wide range of services: body detox, weight loss treatment, special treatment for acne, melasma, freckles, …
The space here is extremely quiet and peaceful, which will surely help you relieve all the burdens and stressfulness of life. With modern facilities, enthusiastic professional staff, the massage service here will definitely not let you down.
2. TRE Boutique Massage – The Best Spa Massage Location In Hanoi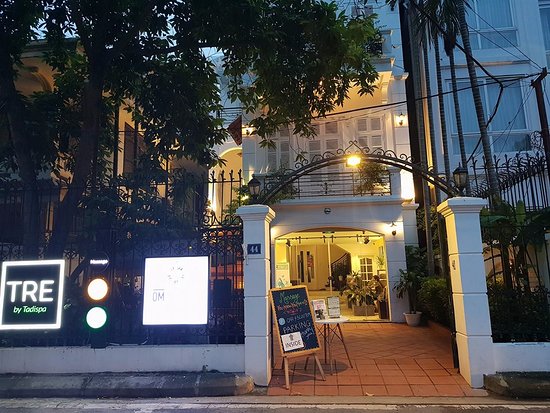 TRE Boutique Massage provides both female and male body massage services in Hanoi. Their massage techniques is believed to considerably improve your physical health condition. Even if you are aching all over, this place will do magic to your body and make all the fatigue go away. The main source of customers of TRE Boutique Massage comes from abroad. Most people are very satisfied with the massage service here.
3. Osum Spa – a quality massage address in Hanoi
The space of Osum Spa is very luxurious, which is mainly styled in a classic European way. The specialty here are the gentle pleasant aromas and pleasantly mellow music. Coming to Ossum, you will be consulted by the experts on the massage package that's most suitable for you.
The spa has a massage method that combines rock salt and natural essential oils. This method effectively eliminates toxins and excess fat accumulated in the body, making the skin smoother and shinier. Finally, you will enjoy a nutritious snack of cereal porridge which is surprisingly delicious and nutritious. Osum Spa is a very suitable address for those who want to have beautiful skin as well as to have some relaxing time on your own.
4. Kingston Life – Where to enjoy different types of massage in Hanoi
Belonging to the Kingston beauty care system chain, this is a brand that has made a mark on the beauty market in general and massage in particular.
Coming to Kingston, you not only relax but also experience massage in various forms from different cultures around the world: hot stone massage, Red Dao medicine soak, Japanese herbal ball , Thai pearl oil… Kingston Life will definitely be a reliable massage address in Hanoi to help you rest and relax after a long tiring day.
Opening hours: 08:00 – 22:00 Price: 200 000 VND to 1 500 000 VND
Phone: (04) 37 195 888
5. Polar Spa Massage – An Address For Men's Massage In Hanoi
As we all know massage is no longer just for women. Nowadays men are also aware and concerned about their health and beauty. Understanding that, Polar Spa Massage with an all-male staff was born to meet this need.
Unlike female massagers, the male massagers here have definitive and powerful techniques. Polar spa massage in Hanoi is the ideal place with a diverse service system of rooms: luxury, vip, regular, standard, … This place operates until late at night: from 10:30 to 23:30, ready to meet the needs of all clients.
6. Moc Spa – Beauty Specialist in Hanoi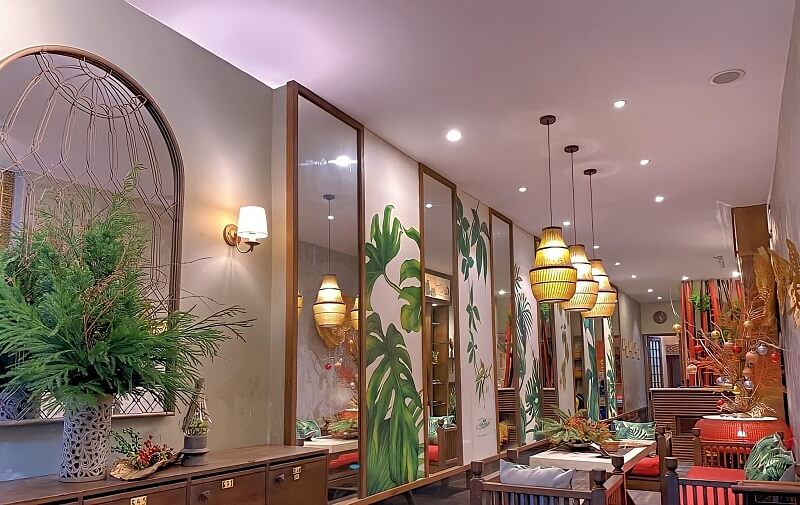 Using products imported from France, the US, Australia, etc., combined with methodical techniques, the Moc Spa brand seems close and friendly but still retains its luxury and class.
Coming to Moc Spa, you will be consulted by professional experts on various skincare matters. You will be able to choose from different skin care treatments such as: special acne treatment, special treatment for melasma, skin aging.
Moc Spa is fully equipped with all amenities located in many spacious and airy rooms to facilitate all customers. With a reasonable price, this place has successfully served many customers from home and abroad.
Opening time: 9am to 9pm
Price: from 300 000 VND
Phone: 04 3941 3901
7. Amadora Wellness & Spa – Quality Body Spa In Hanoi
Amadora Wellness & Spa has a very distinctive vibe that makes it stand out from this list. It promises to bring you the most serene and peaceful experience of relaxation. As that being said, Amadora is one of the few places that provide massage in Hanoi with world standard quality.
The space here is inspired by Cham-pa culture, with the main warm golden brown tone, while the wooden items create warmth and harmony. The space is interwoven with many trees, which is done on purpose to make customers feellike they walk into a different world when coming here.
Amadora Wellness & Spa's services are also very diverse: facials, body care, body scrubs, men's care, face masks, multi-functional hydrotherapy, Hand and foot massage, body scrub, back massage,…
Opening hours: 9:00 a.m. to 9:00 p.m.
Price: 350 000 – 2,075,000 VND. (Tips not included)
Phone: 024 3978 5407
8. Sakura Spa – Spa Body In Hanoi With Japanese Style
Sakura spa promises to give you a new experience in the Japanese cultural space. From costumes, decoration to massage techniques, every detail in this space is carefully set up. When enjoying the massage service at this place, you will feel like being immersed in the aroma of ecstatic cherries.
Among the places to provide massage in Hanoi, the service style of the staff here is extremely dedicated and thoughtful. If you want to experience having a massage in a quiet space like in those Japanese movies, don't forget to try out Skura.
9. Da Yen Thao Spa – Body Massage In Hanoi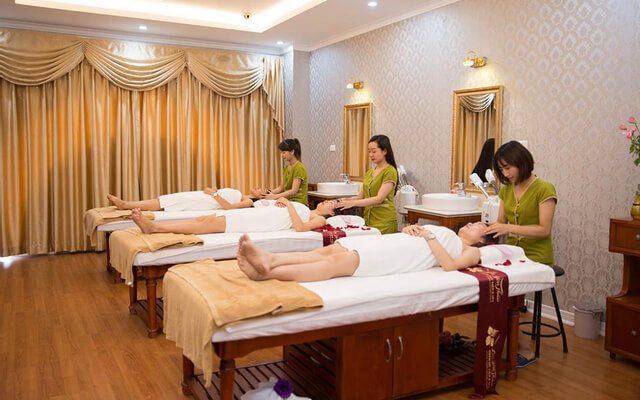 Da Yen Thao Spa is a prestigious and quality massage address in Hanoi. This place has a set of modern and modern equipment, located in an airy space of five-star standards. In addition, a staff of more than 5 years of experience and professional training will give you a very memorable experience at Da Yen Thao Spa.
This place also offers a variety of body massage services such as essential oil body massage, hot stone body massage, pregnant body massage, Swedish body massage. Along with effective beauty treatments from nature, Da Yen Thao will definitely give you the best time of relaxation 
10. Salt Spa – Professional body massage in Hanoi
Salt Spa gives you relaxation with various forms of massage using salt instead of conventional herbs. These massage methods bring unique effects such as reducing bone and joint diseases, reducing headaches, etc., which will definitely give customers completely new experiences.
Have you chosen your favorite spots for having a massage in Hanoi? Let us know in the comment below or give your own review on these addresses! We will see you in the next articles!