"Phuot" is a common word used to refer to those who like backpacking, or traveling alone when exploring new lands with a motorbike.
In this article, VTJ will share with you the best places for buying backpacking supplies in Hanoi. We hope you will always enjoy every journey that you take when backpacking in Vietnam!
1. UMOVE- backpacking supplies store in Hanoi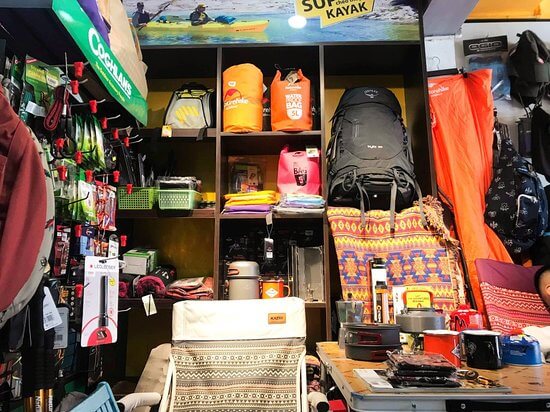 Surely every professional backpacker knows the name Umove. Umove is a joint stock company, the first and largest retailer of travel and outdoor goods in our country. With nearly 3000 items, you can easily find the necessary backpacking supplies for your trip.
Items such as: gloves, waterproof backpacks, clothes, shoes, hats, towels, tents, sleeping bags, inflatable boats, water bottles, etc. are of high quality and of clear origin.
Because the quality and origin of the goods here are guaranteed, the price here is a bit more expensive. For backpacking supplies, the lowest price is about 15 – 20 thousand VND for products such as glasses, straps, socks, etc.
The highest price is in the range of 1 – 3 million VND for professional backpacking products, high protection products such as Dammtrax helmets, trekking shoes, specialized motorcycle shoes, etc.
Address:
Van Cao, Lieu Giai, Ba Dinh, Hanoi
Nguyen Thi Dinh, Cau Giay, Hanoi
Gao Market, Hang Buom, Hoan Kiem, Hanoi
Hotline: 0904 906 848 – 0243 771 3305
2. UTRIP
After 5 years of operation since its establishment, UTrip has been really successful because of its professional service style and diversified and quality goods. UTrip provides a variety of items for travel, trekking, picnic, picnic activities both at home and abroad.
However, the product price here is quite high, a North Face windbreaker outside the market costs an average of about 900 thousand VND, but at UTrip you have to spend about 300 thousand more. So you should consider buying here. If you can afford it, then without a doubt this is the address for quality backpacking supplies for you.
Address:
Nguyen Ngoc Nai, Thanh Xuan, Hanoi
Nguyen Khang, Cau Giay, Hanoi
Ton Duc Thang, Dong Da, Hanoi
Hotline: 097 533 41 14

3. LEAD PHUOT
LEAD PHUOT is the address I often visited when I was a student. Here offers items for backpackers but at student prices. If you are looking to save money but still want to go backpacking, this is a very suitable place to shop for your trips.
With the enthusiasm of the staff and the price that is extremely affordable for students (flag shirt: 30 thousand/piece, multi-purpose towel: 10 thousand/piece, good quality gloves: 200 thousand/piece, etc.) ), Lead Phuot will make your trip as easy and safe as possible.
Address: Vu Trong Phung, Thanh Xuan, Hanoi
Hotline: 0169 411 3675
4. ARMY BOX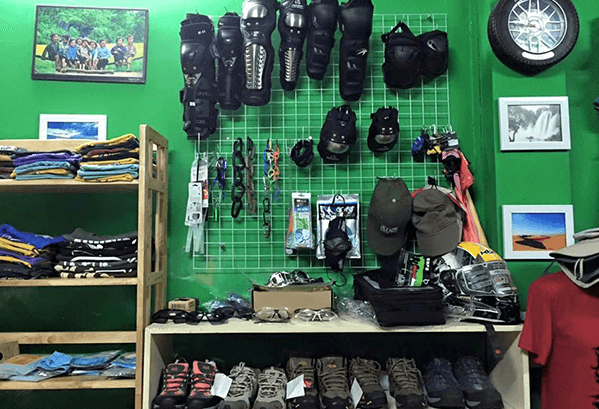 Inspired by a dusty cafe for backpackers to sit back and talk, exchange and share experiences and skills from their journeys, Army Box is a place that will stimulate passion for sports. your "phishing".
While enjoying a cup of hot coffee and chatting, you will be introduced and advised on all the backpacking supplies you need for your own trip.
The price here is not too expensive (tattoo gloves: 20 thousand/pair, bandana: 55 thousand/piece, dustproof glasses – 3/4 hat glasses: 250 thousand/pair, …), so you will not feel like being "ripped off" despite buying many things. Visit this place now if you're ready to take the time to chat with your backpacking fellows!
Address: Alley 87 Lang Ha, Dong Da, Hanoi
Hotline: 0829.331 122
5. PHUOT PRO
Phuot Pro is a quite popular backpacking address among student backpackers not only because of its cheap price but also because of its location quite close to universities. The service attitude is very attentive, the types of items here are as diverse as the famous backpacker shops. The prices of these backpacking supplies are very affordable, such as: 38 thousand / flag shirt, 20 thousand / multi-purpose scarf, 68 thousand / camouflage scarf, 600 thousand / camouflage Trekking shoes, …
Address: Dang Tien Dong, Dong Da, Hanoi
Hotline: Updating
6. WETREK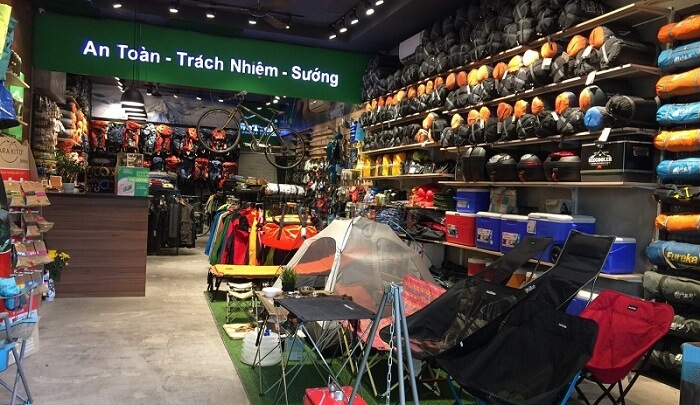 WeTrek is known for more than just a retailer of Outdoor and travel products. It is also known as an electronic library where you can easily find practical knowledge, useful experiences about backpacking that are widely shared in the community.
The staff here are people who have the same passion as customers for the roads. WeTrek's products are quite diverse, provided in a methodical and professional manner, so the price is also higher than the shops for students.
The price of a pair of motorcycle gloves ranges from 250 to 900 thousand; climbing backpacks cost about 750 thousand – 3.5 million VND,…. Experienced backpackers will often choose this place as their familiar address.
Address:
Nguyen Ngoc Nai, Thanh Xuan, Hanoi
Hoang Van Thai, Thanh Xuan, Hanoi
Email: chamsockhachhang@wetrek.vn
Hotline: 0287 305 1988
7. PHUOTSTORE.VN
Phuotstore.vn is also a name that is often passed around in the backpacker community.
The store offers a variety of items for you to choose from, including essential backpacking supplies such as: clothes, towels (65 thousand / cambodia bandana); protective gear (265 thousand / AXO protective armor,..); sleeping bags, tents (prices from 600,000 – 2 million VND), …
In addition, Phuotstore also provides motorbike rental service: (about 400 – 600 thousand / 3 days) with a deposit, helping anyone who is a fan of backpacking without having their own means of transportation can satisfy their passion.
Address: Kim Nguu, Hai Ba Trung, Hanoi
Hotline: 0914.854.648
Email: hn@phuotstore.net
8. PHUOT ARMYHAUS
Armyhaus Travel – Phở Shop is also an address for backpackers to visit. According to research, the products at Armyhaus are quite diverse, but mainly for travel, backpacking, adventure, picnic… But there are also a lot of motorcycle products, mainly imported and distributed by GoPro in Vietnam.
Armyhaus is highly appreciated for the quality of its products and services, so you should visit at least once! The price here is also quite reasonable (150 thousand / probiker protective armor, 115 thousand / pair of rain boots with shoe cover 450 thousand / volunteer crossbody bag, …). In addition, the shop also has a lot of interesting things for you to discover.
Address:
Nguyen Viet Xuan, Thanh Xuan, Hanoi
Tran Quoc Hoan, Cau Giay, Hanoi
Hotline: 0966 778 790 VND
9. SIEUTHIPHUOT.COM
Sieuthiphuot.com is a nationwide chain of backpacking supermarkets that provide backpacking supplies with quality commitment at low prices. Because it's called a "supermarket", this is the address where you can find any backpacking item that you can remember the name of.
Because this is a supermarket system, prices fluctuate strongly. You can earn beautiful small items from 15 to 20 thousand or buy yourself protective items up to several million.
A plus point for Sieuthiphuot.com is that there is a payment discount program, the more you buy, the lower the price will be!
With the slogan: "Cheap price for backpacking community". Hopefully Sieuthiphuot.com will be able to become your companion on every road.
Address: Hoang Cau – Dong Da – Hanoi
Hotline: 0983.364.207 – 04.6292.0885
10. DO PHUOT VN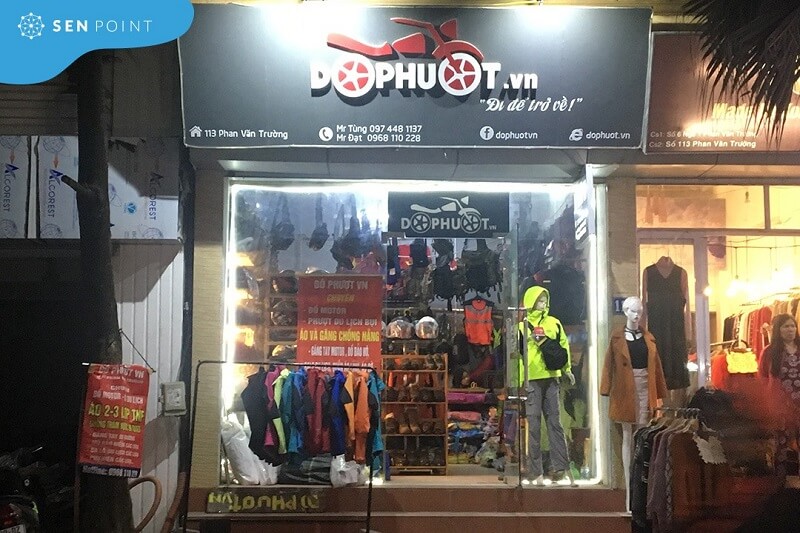 With the slogan The convergence of backpackers, DO PHUOT VN has also gained a certain foothold in the backpacking community.
With a fairly reasonable price: 270 thousand/set of camouflage; 140 thousand/Fox plastic armor; 390 thousand / 3D soldier backpack, .. and many other diverse items.
The backpack.vn is also a place that can meet the needs of the most demanding customers.
Address:
Phan Van Truong, Cau Giay, Hanoi
Thai Ha, Dong Da, Hanoi
Hotline: 0968 110 228 – 097 448 1137
Hopefully, through the suggestions for you about "Top 10 cheap backpacker shops in Hanoi" by VTJ, I hope readers can find suitable backpacking supplies for their upcoming journey.