Which streams and waterfalls near Ho Chi Minh City can you visit on the weekend? The names that we suggest for you in this article are Truc stream, Mai waterfall and Giang Dien waterfall. These places are only a few hours away from Ho Chi Minh City.
A short trip to a place with green trees will definitely be a suitable suggestion for this hot June weather!
Mai Waterfall
This is an indispensable place in the list of streams and waterfalls near Ho Chi Minh City. Mai Waterfall is located on the La Nga River, located at Tan Phu Forest Enterprise, Dinh Quan District, Dong Nai Province. It borders Binh Thuan province, about 130 km from Ho Chi Minh City. For a long time, this place has been a destination for tourists who love nature because of its cool space and unspoiled landscape.
Mai waterfall is not high but stretches along the forest. From the center of the waterfall, if you go downstream, you will see many precious and great trees; … And upstream, you will have the opportunity to step on precarious rope bridges, while below are rapids. There is also Voi Phuc island, which is a large rock shaped like an elephant in the middle of the waterfall.
Just like the streams and waterfalls near Ho Chi Minh City, you can do many fun activities at Mai Waterfall. These include camping, picnics, fishing, bathing in waterfalls, swinging on forest ropes, learning about flora and fauna, enjoying rustic dishes from La Nga river fish, wild vegetables, wild free-range chickens, wild boars. In addition, about 5 km from Mai Waterfall is the area of ​​Bau Nuoc Hot natural underground rising up, the temperature is about 50-60 degrees Celsius. Visitors can bathe, soak their feet and have a relaxing time here.
Giang Dien Waterfall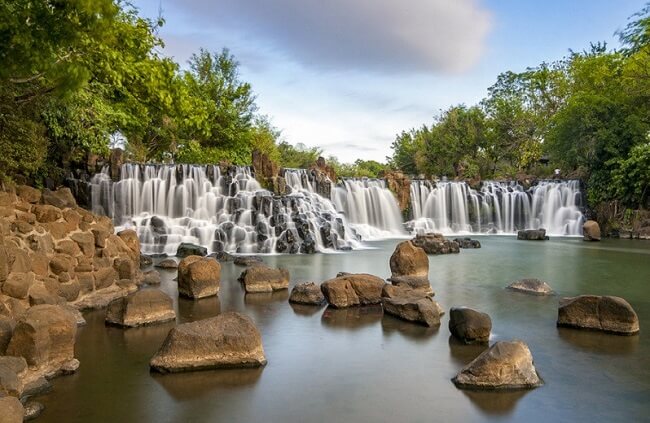 The destination is located in Giang Dien Waterfall Ecotourism Area in Hoa Binh Hamlet, Giang Dien Commune, Trang Bom District, Dong Nai Province, about 45 km from Ho Chi Minh City. Previously, Giang Dien waterfall was located in the quarry area. Its natural flow has majestic terrain, charming scenery. After this place becomes a tourist area, there are more landscapes of valleys, lakes, forests, restaurants, amusement parks…
The 67-hectare tourist area is located along the Buong River with a large, cool, and green space. This place also has an overnight stay service. Guests can choose to stay in eco tents, tree houses, hotels in the middle of the oil tree forest.
Visitors' favorite activities are immersing themselves in the green space, bathing in waterfalls, swimming in lakes and enjoying the countryside's cúi·. From June to August, the resort has a free admission program for good students.
Truc Stream- the most untouched place in the list of streams and waterfalls near Ho Chi Minh City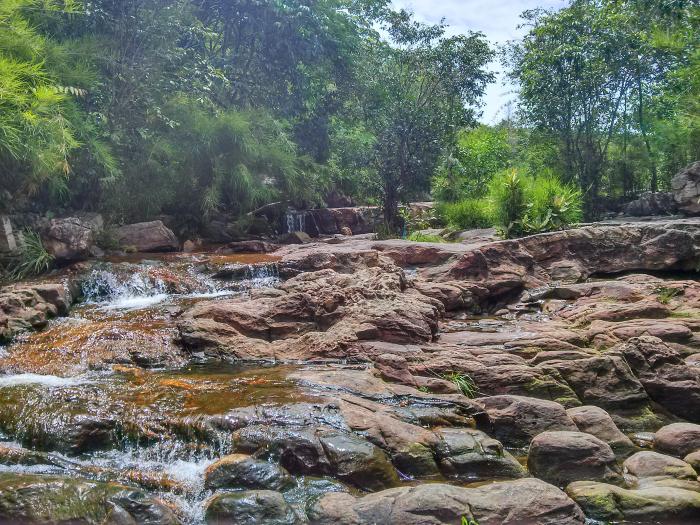 The name that is no stranger in this list of streams and waterfalls near Ho Chi Minh City is Suoi Truc. It belongs to Dinh Thanh commune, Dau Tieng district, Binh Duong province. Suoi Truc is located near the famous spiritual tourist destination, Thai Son Pagoda – Cau Mountain and the scenic Dau Tieng Lake, about 80 km from Ho Chi Minh City.
There are many wild bamboo bushes that shade both sides of the stream. On the stream, there are many large and small lakes for children and adults to bathe. Visitors often bring food, choose flat rocky beaches to picnic and have fun during the day.
There are many directions to Suoi Truc, convenient for both motorbikes and cars, and cool roads. However, this place does not have a variety of food services, only a small beverage shop. Visitors should prepare food, water, and blankets if they want to stay for a long time. Some areas in the stream currently have a lot of waste from styrofoam boxes, nylon, plastic cups, leftovers… Therefore, guests who come to play should clean up after eating, and bring all their belongings home.