Food is a huge deal in Vietnam – from the numerous coffee houses and cafes to the restaurants and street food places. A huge variety of different cuisines can be found. From Vietnamese to Korean to steak houses and Mexican, there's a variety of food to choose from. However sometimes you only want familiar comfort food – and this is where the fast food places come in. Although you can get your familiar favorites, these fast food places have an Asian twist in them. This article will help to guide you through the system, the offers and how to enjoy your favorite fast food in Vietnam.
There are various "knock–off "fast food places – where they have taken the key names and altered them slightly. However these are limited to specific locations rather than being a countryside chain.
Within Vietnam, there are three main Western fast food outlets – McDonald's / KFC (Kentucky Fried Chicken) and Burger King. In addition, there is the Asian fast food outlet – Lotteria.
Special offers of fast food in Vietnam
Fast food in Vietnam are moderately expensive relative to the local food prices in Vietnam thus it is always good to look for offers. All of the fast-food outlets have special offer lunches (typically available between 11.00 (or 11.30 – depending on the company) and 2.00 Monday through to Friday.
Although some places advertise these, other companies do not, so you have to specifically ask for them. In addition, some of the servers prefer to charge you the full price for the same item unless you ask for the special lunch so it may be a good idea to look up the offers online and then show a snapshot of this when you are in the store or take a photograph of the advertisement for the lunch deal (which maybe somewhere in the store) and show that.
Note that the lunchtime special offers change every three months or so – so you may find yourself going in for your regular lunchtime special and find the menu has changed! You will even find yourself addicted to eating fast food in Vietnam after a while!
In addition to the lunchtime special offers there are various offers which you can see around the store. These typically consist of a pack of food for a family e.g. two burgers / two chips / two chips / 1 chicken piece etc. and offer a significant discount on the price of the individual pieces.

PAYMENT AND DELIVERY
Mcdonald's has a ticket only service in many of its stores, which can be very confusing. There are large touchscreens near the entrance and you use this to make your order. You can pay by card on the touchscreen or with cash.
The other fast food outlets do not have these touchscreens and you simply queue up (although lines are typically not very long) and ask for your order and make the payment (card or cash)
There are two choices with your fast food in Vietnam – to take them away and or to eat in. All of the major fast food outlets are part of the takeaway system such as Grab Eats – so using an app such as this you are able to get your fast food delivered directly to your house on a motorbike. Alternatively, you can go to the store yourself and get a takeaway.
The third option is to eat your food in the store. The process of eating in is very different to fast food outlets in the West where you typically stand and your food is popped on the tray and off you go. In Vietnam, they instead give you a table number stand and you take this away and place it on your table and after a short while ( typically within 5 minutes ) it will be delivered to you.
Amazingly, when eating fast food in Vietnam, your food will be delivered on a proper plate, with metal cutlery (although why you need a spoon and fork for a burger is still beyond me!) and your drink in a proper glass. I find this lovely and takes the experience up to another level – making it feel as if you are in a proper restaurant rather than a fast-food outlet.
Brands of famous fast food in Vietnam
Although the typical burger is available in all of the stores, there is a wide variety of more Asian dishes, which usually focus on rice.
KFC MENU
Although KFC offers the usual range of chicken and chicken burgers, in addition, they offer a very nice shrimp burger (burger Tom) – which although sounds very odd – should be tried (if only for its uniqueness!)
There are a range of chicken-based dishes that are coupled with rice – with the amount of rice being very generous indeed!
LOTTERIA MENU
There are a wide range of burgers in Lotteria – in addition to the plain burger and the shrimp burger ( burger Tom ) they have other Asian influenced favoured burgers – Pho Mai burger / Teriyaki burger and Bulgogi burger.
They also offer a range of rice dishes – with there being a choice of plain or flavoured rice depending on the dish
As well as the rather unusual aspects of spaghetti (which is available in many fast food outlets) and soup!
MCDONALDS MENU
Out of all of the fast-food outlets, Mcdonald's in Vietnam menu is the most similar to that in the West. They offer a lot of the same breakfast items and burgers but do also offer a range of rice dishes
BURGER KING MENU
Out of all the fast-food outlets, Burger King, in general, seems to be a little more expensive than the others are. They have a huge selection of burgers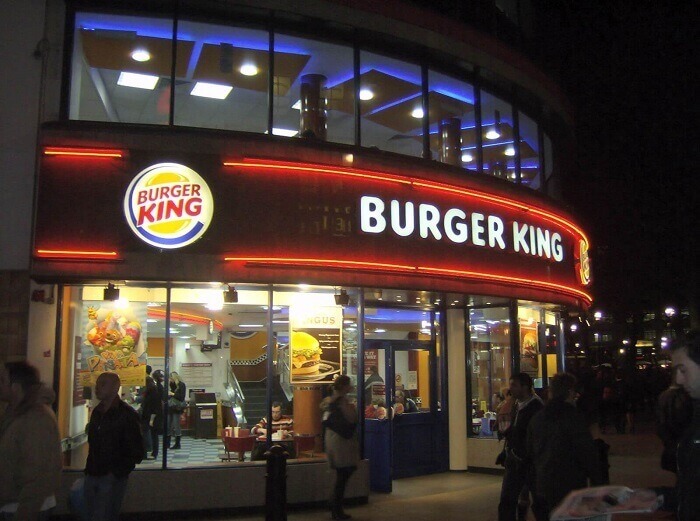 In addition, they have a selection of chicken and a very large range of rice dishes – coupled with chicken or beef
DESERTS
Ice cream is one of the most commonly-served kind of fast food in Vietnam. Almost every fast food store has it. The cheapest are the cones (which are super cheap) which you are allowed to sit inside and eat as well as for takeaway, with there being a range of additional ice cream-based desserts.
Egg custards are also available in KFC – with McDonald's offering the typical Western deserts found in McDonald's around the world.
DRINKS
All of the fast-food outlets serve the usual fizzy drinks – coca-cola / Pepsi / 7 – up etc. however, there are also a range of alternative drinks depending on which store you are at.
The most popular and biggest variety is with the different types of tea – a very popular drink in Vietnam. Nestea is a brand of milk tea and there are different varieties such as peach tea and green tea.
Milo is also available – which is a branded type of chocolate milk drink.
Overall, although the fast food in Vietnam are not always similar to those in the West, you are sure to be able to find your favorite basic burger. These places also offer their own unique Vietnamese slant – so be sure to branch out and try something new!