Once you have been in Vietnam for a while then you will know the places that everyone visits when on holiday – Hoi An, Danang, Hanoi and Ho Chi Minh City, Dalat etc. and start to question whether there is someone off the beaten track that it is easy to get to and has convenient decent hotels. The good news is that Tuy Hoa (also known as Phu Yen) is that place – the most eastern part of Vietnam, Tuy Hoa is (as yet) an unknown tourist destination which offers sea, sand and tranquillity!
Where is it located in Phu Yen?
Tuy Hoa is set towards the South of Vietnam – about an hour and a half from Hanoi by plane. It is down from Quy Nhon (a popular beach location) and up from Nha Trang (another popular place ) It is officially a city and has one super long sandy beach as well as a rather spread out city area. 

How to get there?
When you are browsing flights, Tuy An- Phu Yen does not pop up – it does not appear on Google searches for beaches in Vietnam etc, so you have to specifically look for flights to Tuy An. As it is not a popular tourist destination then there are only a couple of flights there a day from Hanoi or major cities – however, these flights are conveniently timed – arriving or leaving at about 1 pm, with another flight in the early evening. 
Tuy An airport is very small – more of a small building in the middle of nowhere rather than an airport per se. There are only two terminals although there is a café and a few shops which mainly sell frozen fish of various kinds. There is a bus to take you to the plane, however, sometimes you simply walk across the tarmac to the plane! 
Walking to the plane across the tarmac in Tuy Hoa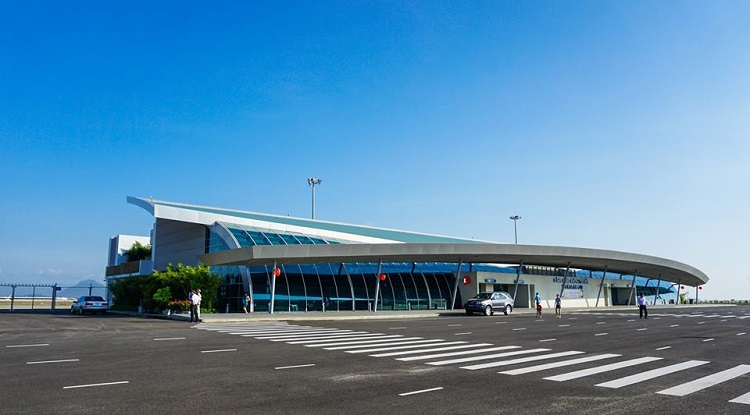 Although there is internet, it is almost impossible to connect to (which is important if you were planning on catching a grab ) To get into the town, there are lots of metred taxis directly outside so it is easy to simply jump in a taxi and travel the 10 minutes or so ( about 100,000 VND cost ) into Tuy Hoa. Travelling by Grab a car would be about 75,000 VND and a grab bike about 40,000 VND.
Staying at a beach hotel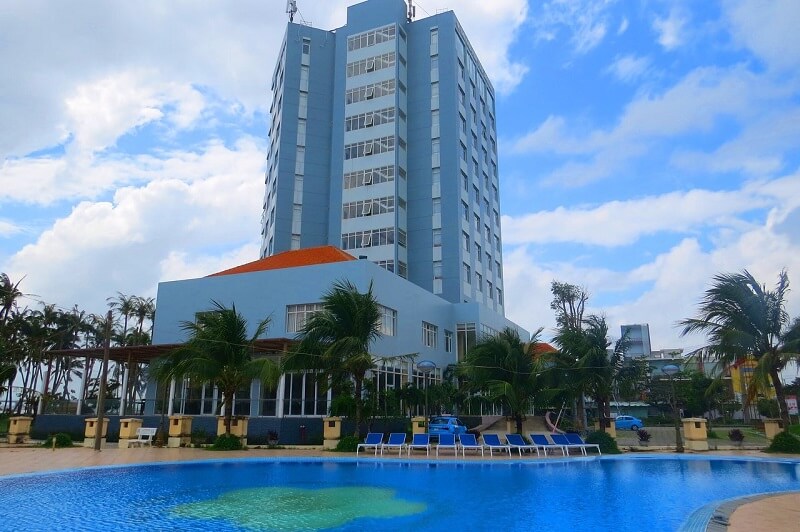 Unusually for a coastal town, rather than the whole town being focussed around the beach, the main town is set quite a way back from the beach (about a 20 minute walk ) so you need to choose between hotels in the city and walk ( or catch a grab) daily to the beach or stay at a beach hotel.
Although there are a lot of hotels situated in the main town however there are two real alternatives near the beach – Sala – which is a 5 star hotel and Saigon Phu Yen Hotel – which is supposed to be a 4 star hotel. These are two very different properties – Sala costs about 1. 3 million per night, however, really is 5 star with lots of attentive staff, a pool on the beach etc. On the other hand, as the only hotel directly on the main beach, it is very popular so is busy all round year – especially with the addition of team training groups who use the area for very large group events complete with loud music and mega loud microphones! 
The alternative is Saigon Phu Yen hotel – which is advertised as 4 stars but in reality, is a 3 star at most – the pool has a blank concrete setting, the buffet breakfast isn't available if there aren't many guests and it has a general feeling of once being something more. However, it is much quieter than Sala as much less popular, which means you often get the pool to yourself, and the staff are enthusiastic and kind. Prices start at about 700,000 VND per night 
Swimming, having beers, discovering the nature of Phu Yen
The beach consists of miles and miles of sand – however, please note that the sea is always very rough with quite a strong current so although you can paddle and splash in the water, it is not possible to swim in the water. 
There is an area next to Sala hotel where there are deckchairs and you can buy a warm beer for 20, 000 VND, or alternatively, you can sit at the outdoor bar in Sala and have a cold beer (23, 000 VND )  fresh juices ( 65,000 VND ) or cocktails ( 95,000 VND )
There are lots of attractions outside the town, however, in the town itself, the best attraction is Nhan Temple – which is a Cham tower. It is located on the outskirts of the town – easy to walk a mile or so from the city or get a grab car or bike which will take you to the bottom of the mountain on which Nhan Temple is located on.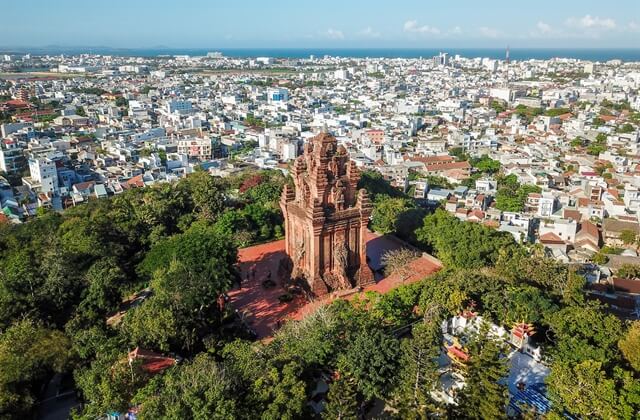 Entrance to the Nhan Temple is free – there is a map at the entrance to tell you of the main sights in the complex and there are paved roads and signs throughout – so although you are walking upwards up the mountain it is not trekking – instead walking up a paved area.
There is also a very large and attractive park in the centre of Tuy Hoa – with pools and bridges and definitely worth a visit!
Where to shop for snacks / drinks
Although there are lots of small shops, these inevitably price everything a little more than a supermarket and have a limited variety. There are two chain supermarkets in Tuy Hoa – Winmart (that used to be called Vinmart) is in the town's one and only shopping mall (which also houses Highlands Coffee/ the fast food restaurant Lotteria  as well as the town cinema ) as well as Co-op which is tucked away from the main street which also houses the fast food restaurant, Jollie Bee )
Overall, Tuy Hoa is a delightful place to visit in Phu Yen– although easy to visit it is somehow off the beaten path at the same time – with the sight of a foreigner still causing nudges (and sometimes a shout) as they are spotted few and far between. With so much to offer, it will only be a matter of time before the high rises sprout up along the beaches and Tuy Hoa will become a totally different place – so make the effort and visit now- before it is too late!