The Vietnamese are very proud of their culture and heritage. They are very conscious of what they wear and how they behave in public. It is important for people to dress appropriately for the occasion like weddings. When you attend a wedding in Vietnam, you should wear formal attire such as a suit or dress clothes, but you can also wear a tuxedo or an evening gown if you want to be more formal.
Read the following section to know the complete guide provided by VTJ on what expat should wear to a wedding in Vietnam!
A glimpse of wedding in Vietnam

Drinking is a must
The signature of a wedding in Vietnam must be…a lot of alcohol. Whether it's greeting, giving a speech or even playing music to wait for the bride and groom to enter, Vietnamese can raise a glass and drink wine/beer. When you hear "Một hai ba dô", you should have a glass of wine in hand and join everyone.
The most typical food in every wedding
Food at weddings is also very diverse, however, it is often wrapped up in a few typical dishes. A wedding in Vietnam will usually always have seafood salad, "nem – chả", boiled shrimp, "chả ram" and hot pot.
What gift should you bring to a Vietnamese wedding?
Unlike the Western wedding gift nightmare where you have to choose the right present that the bride and groom want, a wedding in Vietnam are easy when everything you need to bring when going to the wedding is…money.
Costumes
And finally, the most pleasant part of a Vietnamese wedding is probably the costumes. At traditional weddings, which are characterised by open-air theatres, using round tables and popular red chairs, the men's outfit is usually only wrapped in a suit and sometimes, you just need a polo, a polite jean and a simple sneaker. As for women, you can wear a simple dress, it doesn't have to be too discreet but it shouldn't be too revealing. A complete and detailed instructions for costume in Vietnamese weddings will be provided in Section 2.
What should expats wear to a Vietnamese wedding?

Costume for traditional wedding in Vietnam
Ao Dai is a cultural symbol as well as a dress that shows the solemnity and seriousness of the person who's wearing it. Women when coming to a wedding in Vietnam, especially the elderly, often wear ao dai. However, to avoid becoming too outdated, expat should wear innovative ao dai styles or have rejuvenated details. This is act of respect toward the Vietnamese tradition, while at the same time it still makes you look good and relevant
Besides, Vietnamese people are also very amused every time they see foreigners wearing their traditional costume at a wedding in Vietnam
However, if you do not have an ao dai available, a party dress can also do the trick that is polite enough when going to a wedding in Vietnam.
The majority of guys in Vietnam wear suits when attending weddings, which seems to save them more time than ladies. A black or grey suit is formal enough. However, guys can also wear jeans and shirts to be more comfortable at the weddings without occupy the spotlight of the groom.
Costume for western-style wedding in Vietnam
As I said above, for a typical traditional wedding in Vietnam, you only need clothes like jeans and polo for men or simple dresses for women. However, we are living in the 21st century, Western-style weddings have begun to be introduced into Vietnam. 
Western-style Vietnamese weddings are usually gala dinners held in restaurants or at resorts rented by the bride and groom's family. Attending these weddings, a simple polo shirt and jeans seem out of place. Attendees are usually announced about the dress code. Men will wear a polite suit, usually black, white or cream depending on the dress code, women often wear gorgeous evening dresses with a stunning makeup layout.
What not to wear to a wedding in Vietnam?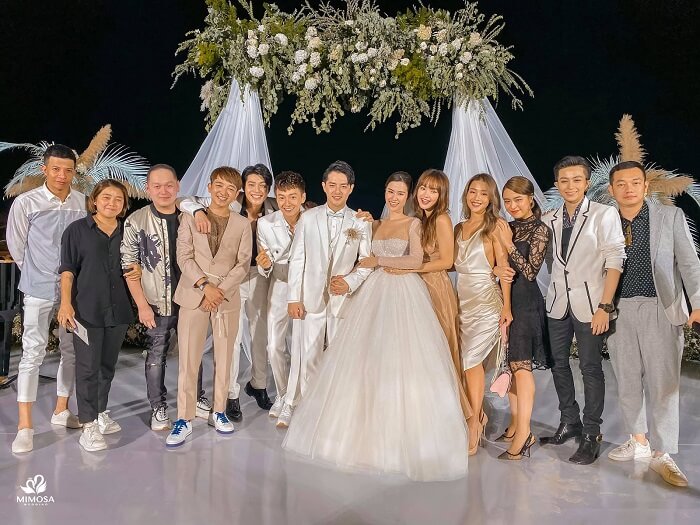 It is important to know what not to wear to a Vietnamese wedding. A wedding in Vietnam are very important occasions for both the bride and groom's families. They put a lot of effort into the preparation and it is considered bad luck if someone from the bride or groom's side attends in inappropriate attire. Many people are not aware of the cultural differences and then feel awkward.
Usually, brides in Vietnam often wear white wedding dresses with traditional Vietnamese costumes of red or yellow colour. Women attendees, as a matter of fact, have to avoid these colours.
Contrary to men, a suit does not seem to be suitable for women coming to a wedding in Vietnam when it is too formal and makes you look like some managers on your way signing an important contract.
All in all
Vietnamese weddings have bold Southeast Asian colours, unlike in Western countries. It is important to know what you should and shouldn't wear to a Vietnamese wedding. Through this article, VTJ hopes to provide an overview of the clothes that expat should choose when attending a wedding in Vietnam. Read more articles at VTJ website to learn about culture in Vietnam!