You've heard a lot in groups of expats about Vietnamese New Year or Tet, and you're probably curious about how it's like. So let us help you with some guide below!

What is Vietnamese New year?
The Vietnamese new year called Tet or (Vietnamese Lunar New Year) is the most important event in our country since the very beginning. It usually takes place in the early spring, when people believe that is the time Mother Nature brings hope and joy to all the people for the new year ahead.
On this occasion, millions of people will move through the country, return to their hometown in order to spend time with their loved ones. They also clean their houses, buy new clothes, cook special holiday foods and wait for the first moment of the new year to come.
When does the Vietnamese new year take place?
The dates of the Vietnamese new year are different each year but it usually takes place around January or February. The holiday usually lasts for 7-9 days, and the government has the last say on the exact number every year.
What do people usually do on the Vietnamese new year holiday?
1. Before Tet
Clean and decorate the house
Before the moment of the new year, Vietnamese people have an important cultural activity that is cleaning and decorating their houses to welcome new lucks on the first days of the new year. 
Not to mention, house cleaning is a must-do because no one wants their house to look dirty when their relatives or friends visit on such a crucial occasion like Tet holiday.

Cook traditional food
Banh Chung ( Vietnamese Square Sticky rice cake)
Banh Chung, Banh Tet are indispensable traditional dishes, and also a meaningful gift for relatives and friends during the Lunar New Year in Vietnam. Therefore, the family members often gather together to prepare and  cook Banh Chung a few days before Tet.
It is made of mung beans, sticky rice, pork mixed with black pepper, salt and onion,  and "dong leaves". After wrapping Banh chung, people will boil them for 7-8 hours to make sure that they are well-cooked.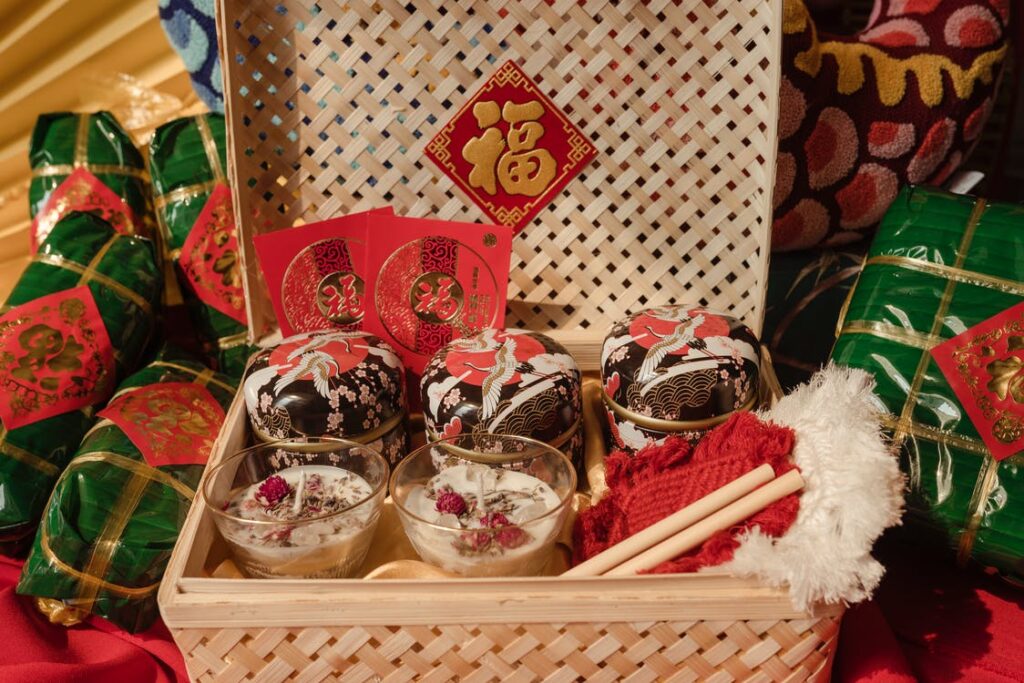 Gio Cha (Vietnamese sausage)
Another indispensable dish on the Tet holiday in Vietnam is Gio cha, which is wrapped in banana leaves. 
Thit Kho Trung ( Vietnamese braised pork with eggs)
This is delicious food commonly used in family meals not only annually but also on Tet holidays. It is a delicious and appealing combination of boiled chicken eggs, pork, and coconut water.
2. On the first days of the new year
Give lucky money and give best wishes
Adults often prepare envelopes filled with money to give the children when meeting them as a symbol of luck and happiness for the new year. 
Wear colorful clothes (Red, yellow, and blue)
Vietnamese people believe that red, yellow, or blue is associated with good fortune, happiness, and prosperity. As a result, they usually wear red outfits on the first day of Tet, which will bring a lot of luck for the upcoming year.
Go to the pagoda
Besides traveling, Vietnamese people have a custom of going to pagodas at the beginning of the Lunar new year to pray for safety, health, luck, and happiness for the year ahead. 
FAQs
How do I say Happy New Year in Vietnamese?
We know that Vietnamese is a challenging language for foreigners to speak due to its complicated tones. 
However, if you have a chance to visit your Vietnamese friend's house during Tet holiday, you could make a great impression on them by sending them some wishes using Vietnamese. Below are some simple sentences that you should try:
Chúc mừng năm mới!: Happy new year

An Khang thịnh vượng: Security, good health and prosperity

Vạn sự như ý: May things go as your expectation

Năm mới, thắng lợi mới: New year, new triumphs

Làm ăn phát tài: May your business prosper

Sức khỏe dồi dào: Plenty of good health
What shouldn't I do in the Vietnamese new year?
Fight or saying bad words/ unfortunates
During the Tet holidays, talking about bad luck or arguing on this occasion are some big "NO"s.
Vietnamese people believe that spring is the season of proliferation, so they will not do cruel things like killing or hurting animals. Instead, they will try to set them free, and releasing birds is a typical example on new year's Day.
If house-cleaning is a must before Tet, it is prohibited on the first day of New year. This is because people are afraid that they might sweep or "throw out" all the good luck that is brought to them in the new year.
Why do people wear ao dai on Vietnamese new year?
On important occasions like Tet, both men or women tend to wear ao dai to show their respect to the tradition and culture of the country.
In conclusion
Hopefully, after reading this article, you will understand more about the Vietnamese new year. By the way, Vietnam Teaching Jobs wish you a new year, prosperity filled with much happiness when residing in this S-shaped country!