Here are some addresses for dogs and cats rescue in Vietnam that you should know if you want to help the poor animals find a home.
Dogs and cats rescue in Vietnam: Ho Chi Minh city
1. Saigon Time Dogs and Cats Rescue – SGT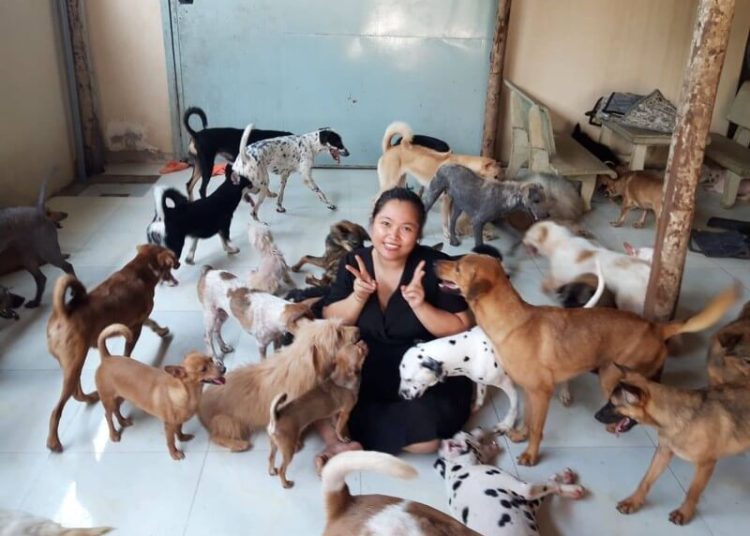 Founded in May 2014 in Binh Chanh with only 5 people, the group's goal is to rescue dogs and cats that are in vain and abandoned. Each year, the station rescues about 1600 cats and dogs, and is currently taking care of nearly 328 pets, most of whom have diseases such as polio and tumors.
Account holder: Tran Uyen Nhu
Account number: 0251002680777 Vietcombank bank, Binh Tay branch, district 6
Account number: 060231686684 Sacombank bank, Binh Tay branch, district 6
Momo wallet: 0906618100
2. SAR . dogs and cats rescue in Vietnam
Established in 2015, SAR animal rescue group is a well-known dog and cat rescue group in Saigon. The group focuses on rescuing abandoned, wandering, sick, beaten, tortured and injured ones without medical care.
Account holder: Nguyen Thi Kim Hen
Account number: 060171753212 Sacombank, Tan Binh branch
3. We Act For Animals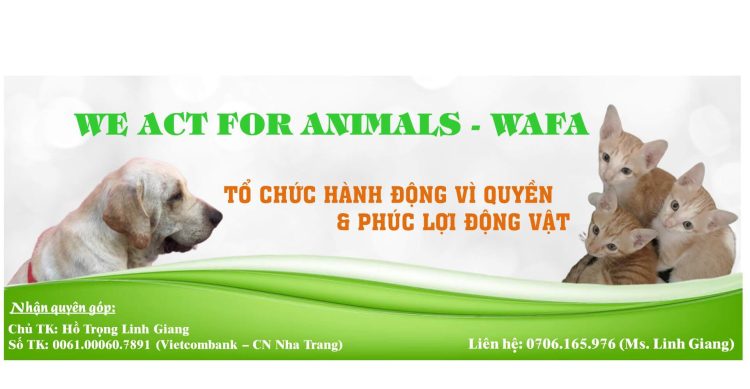 WAFA (We Act For Animals) is a voluntary, non-profit organization for dogs and cats rescue in Vietnam. They focus on rescuing, care and finding owners for abused, neglected and sick pets. In addition, WAFA also builds a foster network across the country, including individuals and households with conditions to take care of pets for a short time before finding an owner.
Account holder: Ho Trong Linh Giang
Account number: 0061000607891, Vietcombank Nha Trang branch
We Act for Animals Source We Act for Animals Source
4. YeuDongVat Foundation for dogs and cats rescue in Vietnam (YDV)
In August 2010, Animal Lovers Association (YDV) was established in Ho Chi Minh City. With the criteria for animals, the association has taken the first steps to build and develop an animal-loving community in Vietnam.
During many years of operation, the association has done practical things such as animal rescue, connecting the community of animal lovers, thereby raising social awareness about animal issues as well as aiming for a better vegan community.
Account holder: Nguyen Truong Giang
Account number: 0331003759409 Vietcombank, Ben Thanh branch
Paypal: ydv.donation@gmail.com
5. Orphaned Cat House
Orphaned Cat's house is the address that is taking care of dozens of "four-legged babies". This place is not only a home, but also helps the poor pets find "parents" who truly love them. The requirements for adoption are: you must commit not to abandon the baby again and have them sterilized when it's about time.
However, if you do not qualify, the owner will help you sterilize for free. In addition, the Instagram of the Orphaned Cat House is also a place where you can find the secrets to taking care of the picky "little bosses".
Dogs and cats rescue in Vietnam: Hanoi city
1. Hanoi dog and cat rescue station
Hanoi Cat and Dog Rescue Station (CPAPS) was established in April 2012. This is one of the first rescue stations in Hanoi. The station is always ready to handle cases of homeless, abandoned cats and dogs with health problems.
Hanoi Pet Rescue Station is the predecessor of HPR – also known as Hanoi Pet Rescue. This is the first NGO licensed rescue station in Vietnam.
Phone number: 0834524650
Hotline: 0975678923
Account holder: TT THIEN CUU BAO VE DONG VAT NUOI
Account number: 0451000424413 Vietcombank, Hanoi branch
Paypal: info@cpapasvn.org
2. Pet Adoption – Hanoi Pet Adoption
Hanoi Pet Adoption is one of the most long standing stations for dogs and cats rescue in Vietnam in general and Hanoi in particular. Active since 2015 until now, the group has helped and compensated for more than 2,000 abandoned, abused or lost dogs and cats.
In addition, the group always tries to find a home that will love the pets for life. The group also helps raise awareness of owners' responsibilities through social networks and volunteering activities.
Account holder: Pham Thanh Hang
Account number: 0011004054939 Vietcombank
Account number: 12610000951797 BIDV bank, Ba Dinh branch
Account number: 19031456730888 Techcombank, Hanoi branch
Paypal: Hanoipetadoptionorg@gmail.com
3. Hanoi Agricultural Animal Rescue
This is a station under the Faculty of Veterinary Medicine, Vietnam Academy of Agriculture, established in March 2014, to rescue abandoned or lost animals. With the motto of treating animals like family, the station always receives urgent calls at any time, anywhere.
The station is also a place to share knowledge and issues related to dogs and cats rescue in Vietnam. In case the owner is not eligible to go to the clinic, the owner can also call the hotline or text the station's page for advice and help.
Phone number: 0856515518
Account holder: Dinh Thi Ngoc Anh
Account number: 0541000333156 Vietcombank
We will constantly update the list of addresses for dogs and cats rescue in Vietnam so that you can refer to when finding a poor animal that's in need. See you in the next articles!