Vietnam is a beautiful country with low cost of living and friendly local people.  It is also known as a peaceful country with a stable political background, which makes Vietnam an ideal destination for most tourists.
However, there seem to be many negative feedbacks from foreigners about the country and people of Vietnam as well. The list below includes top 10 common issues a foreigner is most likely to experience when living in Vietnam.
Top 10 common issues a foreigner is most likely to experience when living in Vietnam
1.Traffic
"It's a frightening yet exciting experience"- said a foreign friend of mine.  Participating in traffic here is considered as an extreme sport for many expats living in some big cities of Vietnam, without any exaggeration.
Traffic is often congested, especially during rush hour. The travel time sometimes lasts for several exhausting hours.
People's awareness of participating in traffic is still undeveloped. Most foreigners find it uncomfortable and frustrating when local people are willing to run red lights, encroach on lanes, etc.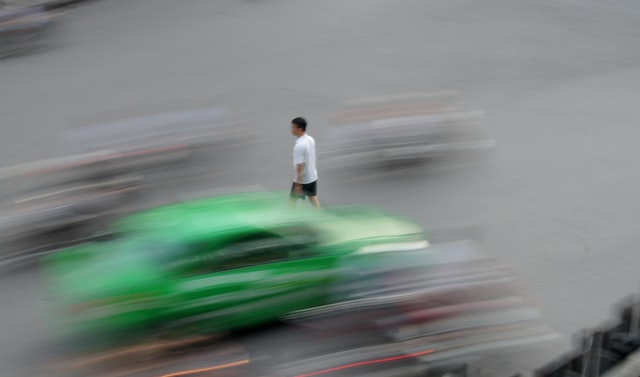 Although Vietnamese people mainly travel by motorbikes, many foreigners feel like it's too risky to travel by this means of transportation, and most of them have difficulties in getting a driver license to drive their own bikes.
During the pandemic, it's uncomfortable for anyone to use public transport, so some foreigners prefer the transportation service such as Grab Bike or Gojek. But to some people, it's also another horrifying adventure, as some drivers aren't afraid to do dangerous turns, ride on the sidewalks, or sometimes drive on the wrong lanes just to get you to your destination in a minimum of time. They are really helpful when you are in a rush, but if you aren't, it can be a nightmare sitting in the back of those drivers. 
2. Language
Vietnamese is considered by many foreigners as a difficult language to learn. Therefore, it's a hard time for most foreigners to communicate with Vietnamese people.Only a few Vietnamese people know foreign languages, including international languages ​​such as "English", but foreigners can try learning some basic sentences to help them get around easily.
3. Weather.
Vietnam's climate is tropical with a lot of rain during a year, with strikingly hot summers and mildly cold winters (but it also depends on the region). Although the weather is not so extreme most of the time, it is not easy to adapt if you come from some Western countries with low temperatures all year round.

4. Pickpocketing and petty theft
This is still one of the biggest concerns of people living in Vietnam. Although the Vietnamese government has taken many measures to prevent such occurrences, it can't always be spotted or under complete control. Many tourists have encountered these types of petty crimes in Vietnam and expressed their irritation towards this issue.
5. Food safety and hygiene
Vietnam has a rich and diverse tropical cuisine which is greatly influenced by many neighboring countries in the area. Especially the street food of Vietnam is diverse, rich, many special dishes. Moreover, Vietnamese food is not too spicy, too greasy like some other Asian countries. To enjoy these special dishes, visitors have to discover every nook and cranny of the area where they live to find the best-selling food stores. However, street food becomes less appealing to foreigners because of the health risks and hygiene issues they might cause. Some people experience stomach cramps or food poisoning because of eating street food, so if you are afraid of the unhygienic dishes, you should go food shopping and cook your own meals or come to reliable diners.

6. Polluted environment
Vietnam is on its way to become a modernized and industrialized economy. In large cities, the urbanization rate is too fast, leading to severe destruction of the environment. Garbage can still be found in the sea, streets, rivers and lakes, etc. Nevertheless, we can't deny the tremendous effort of the government throughout the years in reducing the pollution issues within the country.
 7. Buying a house in Vietnam
For those who intend to work for a long time or live in Vietnam, buying a house is not an easy matter. Because the procedures are quite complicated and limited according to the provisions of the Law when foreigners buy houses here.
8. Noisy neighbors
Many foreign friends I know have reported that their neighbors often sing loud karaoke and make a lot of noise at rest time. Vietnamese people love to sing and talk loudly when having a lively party, so it is quite easy for neighbors to be disturbed when a house is having a party going on.

9. Administrative procedures
Many foreigners coming to Vietnam complain about administrative procedures in Vietnam. Most find it quite cumbersome and time-consuming. Some of them can be mentioned such as:
– Work permit.
– Residence application procedure.
– Procedures for entry, exit and transit.
More specifically, the non-transparent ways of some officials also cause quite a lot of trouble for foreigners. However, in the process of integration and development, Vietnam is currently conducting many transformations in different fields, especially in administrative reform.
10. Weak infrastructure
Vietnam is a developing country, infrastructure is still weak, especially housing, healthcare, transportation, and education. It is still in the process of being invested and developed. Foreigners, before intending to travel or work as well as settle in Vietnam, have always faced these not-so-simple problems.
Despite many of the above weaknesses, Vietnam is still a country worth living in. In the step of international integration, Vietnam is a potential country with fast economic development. Moreover, this is a beautiful country blessed by nature, sociable and friendly people.