Being a country that counts people of 54 different ethnic groups as its citizens, Vietnam is no stranger to the idea of expatriates living within its border. From the open-sea oil-drilling platforms in Bach Long Vi to the rocky mountains of Ha Giang, one will find that foreigners today shape up an important aspect of the local culture.
Some Soviet-state citizens call Vietnam their second home. Vung Tau even has its own Russian town, one of some very few in the world. The reason for such presence is that Vietnam's state-owned petroleum corporations are heavily invested in by the Russians. The friendship pact back in the old days ensures them a long-effective and important economic opportunity that they simply can not abandon even after the Soviet Union disintegrates in 1991. Thanks to their motherland's support in the war, to these days, Russians likely still remain, or are perceived to be, among the most loved foreigners in Vietnam.
But the changing time sees to it that they are facing fierce competition.
Ever since the country reopens its door again to the world in 1986, Vietnam has seen an ever-increasing influx of foreign nationals coming and moving into the country. From what once uses to be a small community of expatriates mostly from Russia and the likes countries, Vietnam now proudly boasts an array of diverse nationalities. Many come to work for the international firms that have since "đổi mới" (change) set up their operation here. Millions of others come for the experience of traveling in such exotic world, once wrapped in mystery through the tales of American returning from war.
Authors write of Vietnam during the war as "a sweaty hellhole, yet as soon as you leave you may just well want to come back". The now peaceful charming place sure lures many to consider extended stay. Perhaps known to only few, Vietnam once is a safe haven for Cantonese dissidents fleeing the Mainland, angry at the loss of their dynasty to the Qing Empire.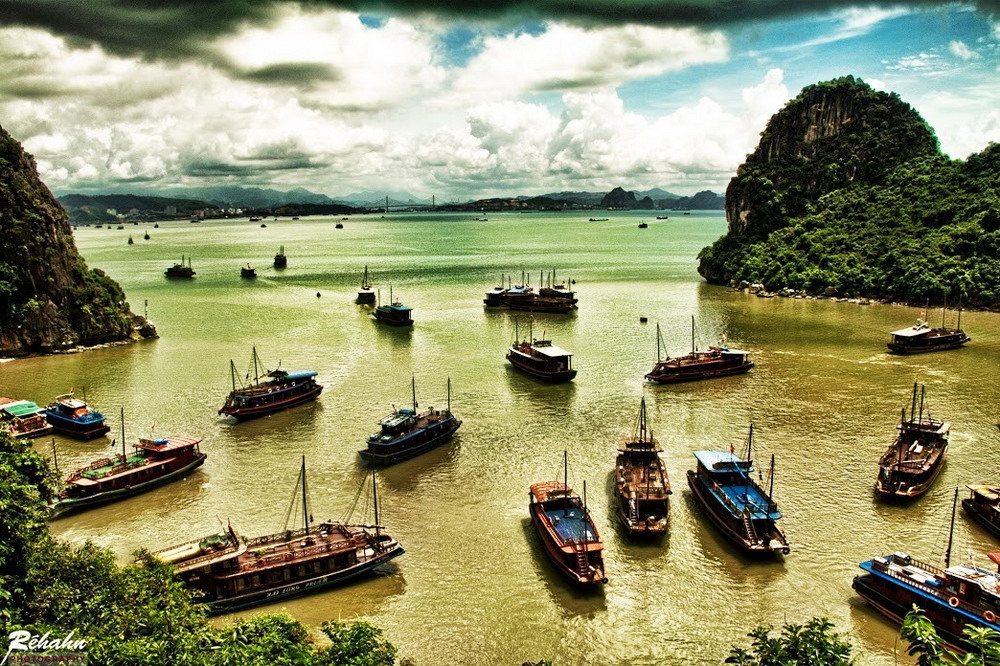 In fact, Ho Chi Minh City is home to the only Cantonese-speaking town in the world. Before 1975, there used to be a good number of Chinese ethnic communities in the country. Now there are smaller groups scattered across the northwest and many residing in the southern provinces. Also, changes have brought about the comeback of many Chinese immigrant workers, notably in provinces like Ninh Binh. Those that have been in the country for long and settled here are considered Vietnamese citizens as well. Many do not speak any Chinese at all.
In such so-called new home, many expats from different backgrounds, those who have come and loved this land too much to leave, decide to make it comfortable here. Shops, clubs and organizations catered to the specific needs of groups pop up in many cities across Vietnam. There will be no difficulty to find bars that offer exotic Irish ales, restaurant carry true American-flavored hamburger or French vine cellars who stock up on Burgundy-made varieties. In the two major cities, there are Pham Ngu Lao street in Ho Chi Minh and Ta Hien in Hanoi that are known as the watering holes of most foreigners, where multi-nationality expats converge through out the year.
These days, in adaptation to the new order, English has replaced Russian to become the first and most obvious choice of foreign language for Vietnam's students. A good majority of Vietnamese youth is using the language with ease. Beside, as the Vietnamese are famous for their fearsomeness in battle and their uttermost hospitality in peacetime, English-speaking foreigners can feel very welcomed in this land.
There certainly will be no shortage of help should one strands offshore. As Vietnam progresses into the modern world, more and more foreigners will likely show up at its border, hoping to secure their dream in a strange-yet-familiar land. And to all of them, Vietnam will likely just say "Welcome to your new home!"
Source: Vietnam Online